JUNK stores can be great fun to visit because there's always the off chance that you might something invaluable.
Pre-loved, second-hand, or used – these words describe the same things, and they are becoming increasingly popular these days..You can find them at bazaars and sometimes even in stores, sold at prices that make every shopper happy for a great steal.
Let's face it, if a product looks good, is usable, and reasonably priced, why wouldn't you buy it?
This doesn't only apply to apparels, though. Second-hand goods that are in demand include electronic appliances, furniture and fashion accessories.
Those moving into a new home who may not have the luxury of purchasing a new set of furniture can opt to explore junk stores or even retro stores that reproduce, upholster and even redesign old furniture to make them look new again.
Whatever your guilty pleasure is, when looking for the best deals at second-hand shops, there is always something for everyone.
StarMetro hunted down some junk stores selling second-hand items to see what was available and how much their products retail for.
1 PJ Junk Store
This family business has been in operation in the same location for more than 30 years.
Three shop lots are filled with home, office and electronic items.
The company's major focus is on home and office furnishing.
Like most junk stores, items here are stacked together in their dismantled form and will only be assembled upon request by customers.
The shopowners will show you their online catalogue where you can view and decide what you want to see assembled before purchase.
Prices of all items are negotiable.
PJ Junk Store is located at 44, 46, and 48 Jalan SS 2/10, SS2 Petaling Jaya. For details, visit their Facebook page, pjjunkstore.
2. One Stop Buy and Sell Enterprise
You have probably heard of Selangor Junkyard Trading Company but did you know it has been a year since name and ownership changed?
One Stop Buy and Sell Enterprise is operating at the same spot as its predecessor and sells household and office furniture not more than three years old.
They have a few electronic items but it is not their main selling focus.
Here, you can also find old fashioned television cabinets along with side tables, bar counters and strong sturdy cupboards for your wardrobe.
Items sold are priced from below RM100 to more than RM1,000. Prices are negotiable.
One Stop Buy and Sell Enterprise is located at 15, Jalan Bandar 16, Pusat Bandar Puchong.
3 Abumama.my
Junk King in Puchong ventured online and Abumama.my was born.
It buys and sells new and pre-owned office supplies and calls itself a one-stop office solution for small and medium-sized enterprises (SMEs). Customers are just a click away from their online catalogue.
Prices are not listed online so customers are advised to contact them via email or visit their showrooms to negotiate prices.
The price range for their products are from RM50 and below for older items to RM200 for new products.
4 RECRO
Step into RECRO in Taman Tun Dr Ismail and be transported back to the 1960s.
Retro music fills the air and timeless pieces with simple designs of the past will immediately catch your eyes.
The family business began in 1998 under the name Second Charm but changed its name two years ago.
The store first sold pre-loved clothes, shoes and furniture, but later focused on furniture, said its owner Aishah Shaharuddin.
RECRO offers advisory, restoration, reupholstering and customisation of furniture, and has begun reproducing vintage furniture to give it a retro look.
The price range are between RM550 to RM1,500 for chairs and RM2,500 to RM5,500 for sideboards.
RECRO is located at 53, Lorong Rahim Kajai 13, Taman Tun Dr Ismail, Kuala Lumpur.
For details, call 03-7732 8048 or 018-948 4008 (Aishah).
5 Jumble Station
The Jumble Station in Jaya One, Petaling Jaya offers a variety of second-hand goods donated by the public.
Items sold here are in good condition. Among the items found at this corner lot store are electronic goods, kitchen appliances, plastic containers, baskets, shoes, clothes, children's toys, accessories and books.
Books are priced between RM5 and RM10 and children's books are as low as RM1.
There is a corner for antique items. Proceeds from sale of goods are used to support single parents of the organisation Parents Without Partners Bhd.
Jumble Station is on Level P1 of The School, Jaya One. For details, call 016-220 2958.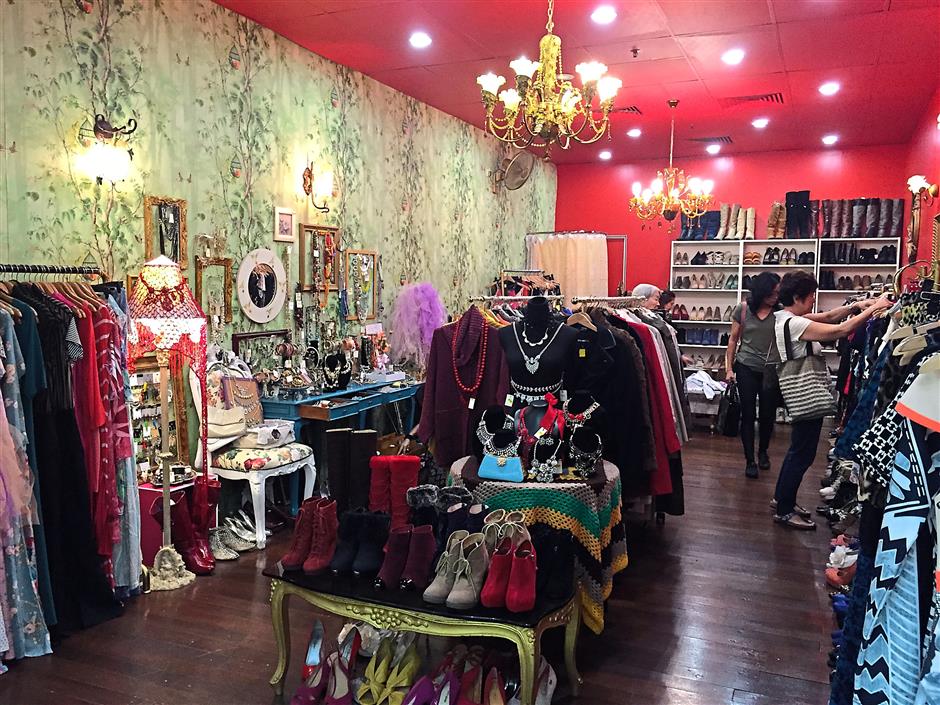 6 Chia's Cotton Chic
We all love a bargain and Chia's Cotton Chic offers that to women of all sizes.
There is not just one but three stores selling all kinds of outfits for women.
The first two located on the second floor of Amcorp Mall sells new but off-season clothes from Australia while the shop on the third floor sells pre-loved clothing, shoes and accessories from Japan.
The two-year-old store sells bundle Japanese clothes for RM5 up to RM35 for casual and dressy outfits while off-season clothes are priced between RM5 and RM100.
For details, call 016-617 7999.
7 LEA Born Enterprise
This store offers second-hand winter jackets and leather jackets with tags sewn on to identify its authenticity.
There are also some that are not pure leather. If you are going for a rockstar look, you can also get second-hand or new boots from Australia and accessories such as scarfs and handbags to match.
You can also find denim tops, sports shoes and home decorations.
Leather jackets are priced between RM39 and RM100. There are also T-shirts from RM10 for one and RM25 for three.
LEA Born Enterprise is located on Level 3 of Amcorp Mall, Petaling Jaya.
8 Klumby
Although this store is relatively new in Cheras, its owners, Mohd Izuddin Kamal and Amirul Ikmal are no strangers to the second-hand and vintage market having run another shop nearby.
The store has a range of clothes, shoes and accessories such as wallets and watches on sale.
Its main focus, however, is clothing of second-hand, off-season and even vintage selections.
Prices range from RM18 and RM700 for leather jackets, branded jeans and shoes.
All items in store are obtained from Japan.
Klumby is located at No.26 and 26-1 Jalan Dwitasik, Bandar Sri Permaisuri, Kuala Lumpur.
For details, call 017-655 8303 or follow them on their Instagram page @klmby.kl
9 Buntil
The store is split to two lots - one selling new items and the other off-season and second-hand clothes and shoes.
It also has its own brand of products called BTL which turns clothes into bags and shoes.
Off-season clothing are priced from RM100 to RM200 but are cheaper when bought in bundles.
Footwear are priced between RM150 and RM300.
Buntil is located at 16, Jalan Opera C U, Taman TTDI Jaya, Shah Alam with franchises in Ulu Langat and Alor Setar. For details, call 012-538 9505.
10 Joe's MAC
Joe Rozario has mapped out his entire shop into a treasure hunt map so that you know which direction to find your desired treasure.
MAC stands for music, art and collectibles. You cannot walk by the lower ground of Amcorp Mall without hearing music blaring from his store. His music selection prices range from RM10 to RM600, with the most expensive being records from the late P. Ramlee.
Walk around and find paintings, handicrafts, musical instruments from traditional to modern ones and do not miss the little walkway which leads you to another room filled with shelves of fiction and non-fiction reading materials as well as music CDs and tapes.
Joe's MAC is at LG, Lot 07, Amcorp Mall, Petaling Jaya.