LOCAL and international traders from India are leaving shoppers spoilt for choice at the 14th Deepavali Carnival 2015 in Bukit Jalil, Kuala Lumpur.
Boasting some 400 booths, the carnival has everything one needs for the upcoming Deepavali festival from decorative pieces to antiques and rows of sparkly outfits, in their air-conditioned tents.
Its organising chairman, ASC Agenda Suria Communication Sdn Bhd chief executive officer Jaggarao Simancha said the number of local traders had increased, to suit the taste of Malaysians.
(Air-conditioned tens make shopping comfortable.)
"Seventy per cent of the traders are local," he said, adding that as a result there was an increase in the variety of products.
The carnival organisers also beefed up their entertainment segment with better infrastructure and shows to pep up tired shoppers.
Among celebrities who had made an appearance were popular Zee TV characters Abhi and Aliya from Kumkum Bhagya and South Indian film actor Jiiva.
(Artisans Chennai specialises in unique show pieces including life-size statues and swings.)
According to Jaggarao, public response has been overwhelming and the company is expecting some 450,000 visitors for the entire duration of the 11-day carnival that will end on Nov 9.
Shopper A. Shalini, 26, said she visited the bazaar a couple of times before making a decision on her purchases.
"I take my time looking over all the products before making up my mind. It's better to sleep on it and come back for something I really like," she reasoned.
Also spotted at the carnival was four-year-old Kumaresh who was eagerly trying on the latest Modi suit that is creating waves in the fashion industry.
(Many stalls at the Deepavali Carnival in Bukit Jalil sells women's accessories.)
The handsome boy was all smiles when trying on a black suit with a blue blazer chosen by his father Suresh Maruthi, 45, from Kelana Jaya.
"I have been shopping here since they first started in Bukit Jalil four years ago. I find it easier to shop here because it is convenient," he added.
Trader Hari Om said the Modi suit was the rage this year and most of the 400 pieces he brought in sold like hotcakes.
"I think people like it because it is trendy and comfortable as the jippa is made from cotton while the blazer is made from jute," he added.
Another popular booth is Akash Overseas that sells traditional Indian footwear.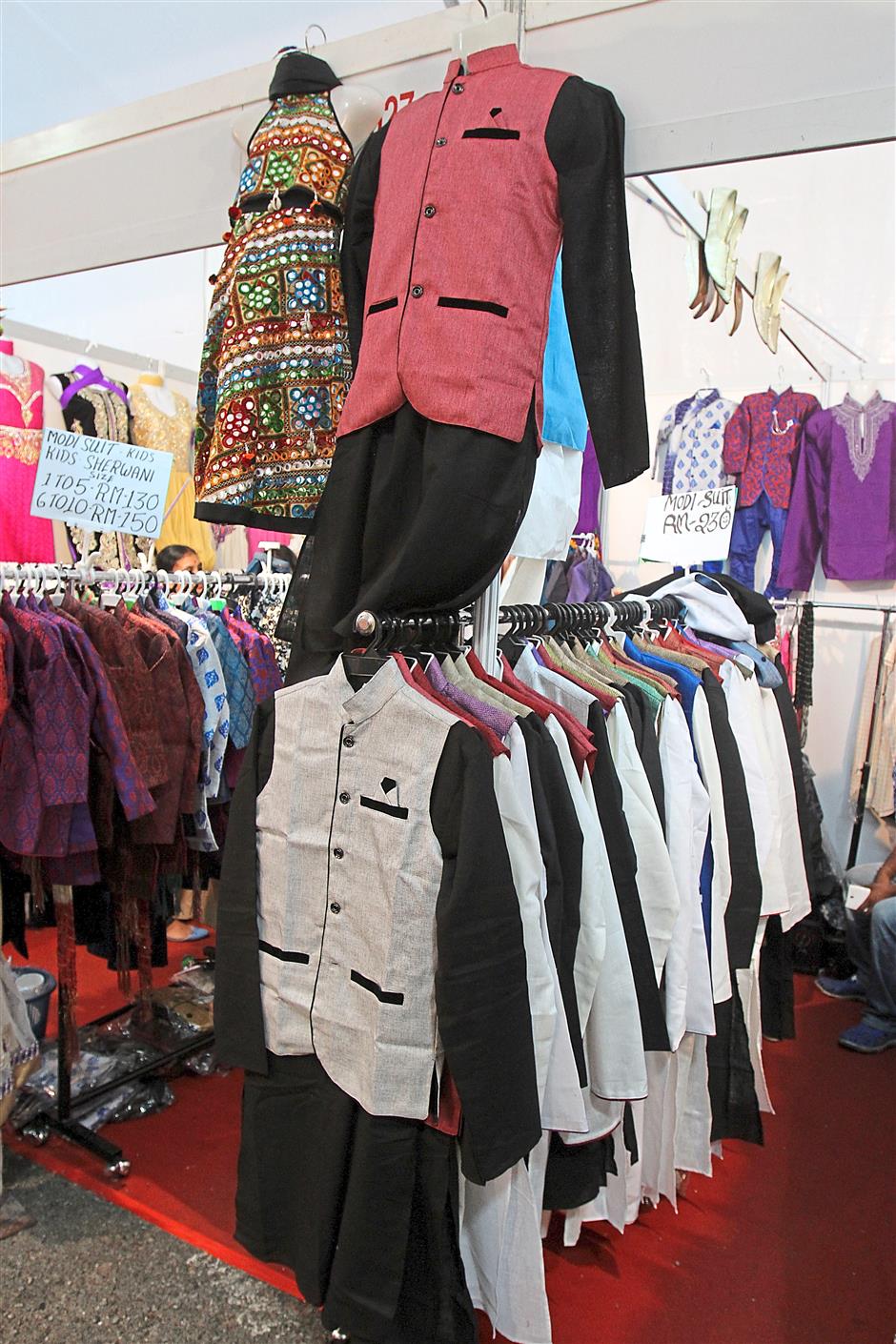 (Modi suits, which are the rage this year, on sale at Mamaji Sdn Bhd's booth.)
Sales manager Amrik Singh, 73, said they stocked handmade shoes called chappal from Patiala, Jaipuri chappal and the Kolapuri from Maharasthra.
"The sandals are made from quality genuine cowhide and are very comfortable. They are handmade and the designs are very unique," he added.
A number of stalls at the carnival sell gold and women's costume jewellery.
Among them is Parakkat Jewels from Kerala, which has two outlets in Malaysia located in Brickfields and Klang.
Its Klang branch manager V. Ganeshan said the shop specialised in 24karat gold-plated jewellery.
"The items have a life warranty and a one-year free maintenance service.
(A family choosing traditional Indian sandals called chappals at the Akash Overseas booth which specialises in Indian traditional footwear.)
Those looking for art pieces can head to Artisans Chennai that specialises in unique showpieces including Tanjore antiques, swings and life-size statues.
Artisans Chennai partner Dinesh Balani said the company also sold Chola Bronze pieces.
"These pieces are very sharp in quality compared to regular bronze pieces. We also have Tanjore paintings that come with old solid teak doors that range from 60 to 90 years old," he added.
Deepavali is not complete without sweets and Digpal (M) Sdn Bhd has an array for dessert lovers. Shoppers can choose from the common sweets such as palgova, laddu, jilebi, soan pappadi, gulab jamun, and halwa or try an unusual one like the seem pal.
Digpal director Sarabjeet Singh said seem pal was made from the first batch of milk from a cow and was a well-known delicacy.
"We need some 10kg of milk to come up with a one-and-a-half kilogrammes of Seem Pal sweet. It is basically a combination of the milk with sugar and maybe almonds," he added.
They also have soothing masala tea for the thirsty shopper that pairs really well with freshly made pagoda (fritters).