Did you know the gambus is thegranddaddy of today's guitars?
The scent of wood chips hangs in the air of Grreng Grreng Studio. From the moment you walk into this part-school, part-jam studio and part-workshop, you know there are artists in residence.
Over the course of an average month, the workshop knocks together 30 gambus. Impressive, given that these are produced by only two men and not a factory of people.
Luthier extraordinaire Abdul Said Saong, 40, holds up a gambus — a lute that originated in the Middle East — for some show-and-tell.
"The gambus has a fretless neck with 11 strings, 10 of them paired," he says.
"The bowl here is made of strips of wood. We usually alternate strips of light and dark wood; usually spruce, maple and pine," he continues, tapping what looks like a very robust belly.
"Our signature design is that the stockhead resembles a hornbill's beak.
Abdul Said was once an apprentice to one of Malaysia's most respectable luthiers, Jeffrey Yong.
"I had always wanted to own one of Jeffrey Yong's guitars, so one day, I went to his shop to buy one, and I met him. We spent some time talking about guitars. I visited him several times at his workshop. He inspired me to learn how to make guitars and I really learnt a lot working for him.
"I can do all kinds of repairs and custom jobs on every conceivable stringed instrument, including the gambus. I have always had an interest in woodworking. I grew up around tools, so learning how to use them came easily."
Now it's his turn to take on the role of teacher through his gambus-making course offered at the workshop.
"The training here starts with the process of mastering how to use all the woodworking tools. At the end of the course, you will develop a respect for the craftsmanship, for the wood, and the sound."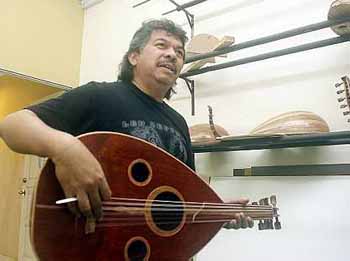 School of Ghazal
Imagine, you could be playing an instrument very few others know how to. Abdullah Mohd Redza, 24, resident gambus teacher at Grreng Grreng Studio, has that privilege.
"I was given a gambus by my dad years ago as a gift. I was very taken by it. I became obsessed with trying to figure out the instrument, which led to becoming really crazy over Arabic music. The nuts and bolts of it, the culture surrounding it, everything," says the Akademi Seni Budaya dan Warisan Kebangsaan (Aswara) graduate.
If you can play the guitar, says Abdullah, learning to play the gambus is just a few lessons away.
"The gambus is held similar to the guitar, and the weight is supported on the thigh and right arm, so the left hand is free to move around the finger board. For the first lesson, I would show students how to hold the instrument and how to manipulate the plextrum (the pick).
"The gambus has an open fingerboard like a violin or cello, so it depends on where you press down on the string. Each time you move your finger, little by little, you are getting a different tone."
What's so special about the gambus, says Abdullah, is that it reaches notes that are not part of Western music.
"You cannot play these notes on the guitar or piano," he says.
"Think about the two keys on the piano — the white and black key — which are next to each other. Now imagine that there are two or three keys between these keys and qualities of pitch that are in between. These are the 'voices' of the gambus."
Buying a gambus
Essential to understanding the sound and rhythm of the gambus is that one begins with a good gambus.
"I would recommend getting a really good deal on a decent gambus recommended by others as a good beginner's gambus. That way, if you decide that the gambus isn't for you, you won't feel too bad about how much you spent on it," says the proprietor, Emdy Zahar, 50.
"The beginner gambus can cost between RM800 to RM3,000 (for a top-of-the-range model). A lot of people buy a RM2,000 gambus, and then a year later, they'll tell you they haven't played it in nine months. The most important thing about buying a gambus is to play it before you buy it, and making sure it sounds good to you.
"There are many gambus in the market made of high quality wood but with a senseless sound. A good gambus maker can make an instrument with low quality wood have a high quality sound.
For someone new to the gambus, have the seller play something on it, he advises.
"Another important thing is your knowledge of music. If you have never picked up a gambus, but have been playing another instrument like the piano, then you may already have a good grasp of music theory. This will speed the learning process along," says Emdy.
"If you have not played an instrument, you may buy an inexpensive gambus, and after a year or two, your skill might warrant a better gambus. But if you already know a lot about music, it may only take you a few months.
"I would recommend spending a little more and getting a gambus that you would be happy with a few years from now," says Emdy.
"Also, try to select an instrument that fits the type of music you are interested in playing. If you have a particular sound you are looking for, try looking online to find out what gambus your favourite gambusist plays."
Emdy has high hopes that one day the gambus will rock its way to mainstream music.
"Perhaps people will drool over a gambus the way they drool over a classic Gibson."
Grreng Grreng Studio
7, Jalan AWF 3A
Ampang Waterfront
Ampang, Selangor
Tel: (03) 4280 3703
E-mail: grrenggrreng@yahoo.com
> The gambus was believed to have been introduced into the Malay Archipelago by Arab traders between the 9th and 15th centuries. It is the lead instrument for Zapin and Ghazal. — Source: The Gambus of the Malay World by Larry Hilarion.