Japan has many old castles that are still in existence and even functional today, either as a museum, temple or for tourism purposes. In line with the rising global travel trend of staying in castles and temples, Japan has opened up two of its castles to allow overnight stays.
In 2020, Ozu Castle in Ehime Prefecture opened its doors to guests for overnight stays; this was followed by Hirado Castle in Nagasaki Prefecture. According to the Japan National Tourism Organisation Kuala Lumpur (JNTO KL), Fukuyama Castle (in Hiroshima) and Nakatsu Castle (in Oita) are also scheduled to open as accommodation properties in the next few months.
Ozu Castle
Ozu Castle was built in the 14th century and overlooks the Hiji River in Ozu, a town that flourished during the Meiji (1868-1912) and Taisho (1912-1926) eras. Ozu was known for wax and silk production back in the day, while the Hiji River was once a busy port for traders.
Wealthy merchants built mansions and set up beautiful teahouses in Ozu, but over time, a number of them were left abandoned and were in disrepair. This included the Ozu Castle, which saw its main tower demolished in 1888.
In the early 2000s, the local community and government decided to work on resurrecting the town and restoring it to its former glory. They started with the main tower of Ozu Castle, rebuilding and restoring it using traditional methods and techniques as stipulated by Unesco (United Nations Educational, Scientific and Cultural Organisation). The work was completed in 2004.
A stay at Ozu Castle allows you to experience what it is like to be the lord of a castle. — JNTO KL
The success of the project inspired the community to form Kita Management, and work on restoring even more architectural heritage in Ozu. The old mansions and teahouses were loaned from their owners by Kita, turning them into boutique hotels and high-end restaurants.
The company also collaborated with Japanese hotel brand Nipponia to manage the properties and to come up with bespoke hospitality experiences, one of which is the castle stay.
Guests who book this experience will get the royal treatment from the moment they arrive at the airport in Matsuyama, about an hour away from Ozu. Once at the castle, Nipponia staff will attend to the guests, preparing them for their journey back to the 1600s, when the first lord of the castle Sadayasu Kato lived. The castle is open to the public during the day, so guests staying the night will have to wait till after sundown to begin their full experience.
Hirado Castle. — JNTO KL
Hirado Castle
Built in 1559 by Matsura Shigenobu, a lord of the Hirado clan, Hirado Castle (cover picture) is also known as Kameoka Castle. It is located on Hirado Island and overlooks Hirado Bay.
The castle was actually demolished back when feudal domains were demolished. But in the 1960s, the main tower and five turrets of the castle were carefully reconstructed. The castle has been a tourist attraction since then.
Today, guests can book a stay in the Kaiju Yagura (or Kaiju tower/turret), which was renovated in 2020 and given a bit of a facelift. Its interior boasts a fresh take on traditional Japanese designs, featuring locally-sourced materials.
Kaiju Yagura has a stunning view of the ocean and the Hirado Bridge that connects the island to the Kyushu mainland.
One of the experiences that you can enjoy at Hirado Castle is learning iaijutsu, a combative quick-draw sword technique practised by the samurai.
Zenkoji is the oldest Buddhist temple in Japan. — JNTO KL
Zenkoji
Zenkoji is known as Japan's oldest and most revered Buddhist temple, said to be built in the year 642. Within the temple you can find the Ikko Sanzon Amida Nyorai (Zenkoji Nyorai) statue, said to be the oldest Buddha image in Japan.
This statue cannot be gazed at by anyone, and has remained covered and concealed from all eyes since 654.
However, a second statue was sculpted in its image to serve as a figure of worship for devotees. This replica of sorts is known as the Maedachi Honzon.
A stay at Zenkoji means having the chance to participate in its rituals and ceremonies, like the "goma" prayer (where wooden sticks with prayers written on them are burnt), and a "shakyo" or "zazen" (different forms of meditation).
Zenkoji also offers a special traditional Buddhist cuisine called "shojin ryori", featuring seasonal local fruits and vegetables.
Zenkoji has 39 temple lodgings. It is located in Nagano Prefecture; Nagano City is under two hours away from Tokyo via the bullet train or shinkansen, so it is pretty easy to get to.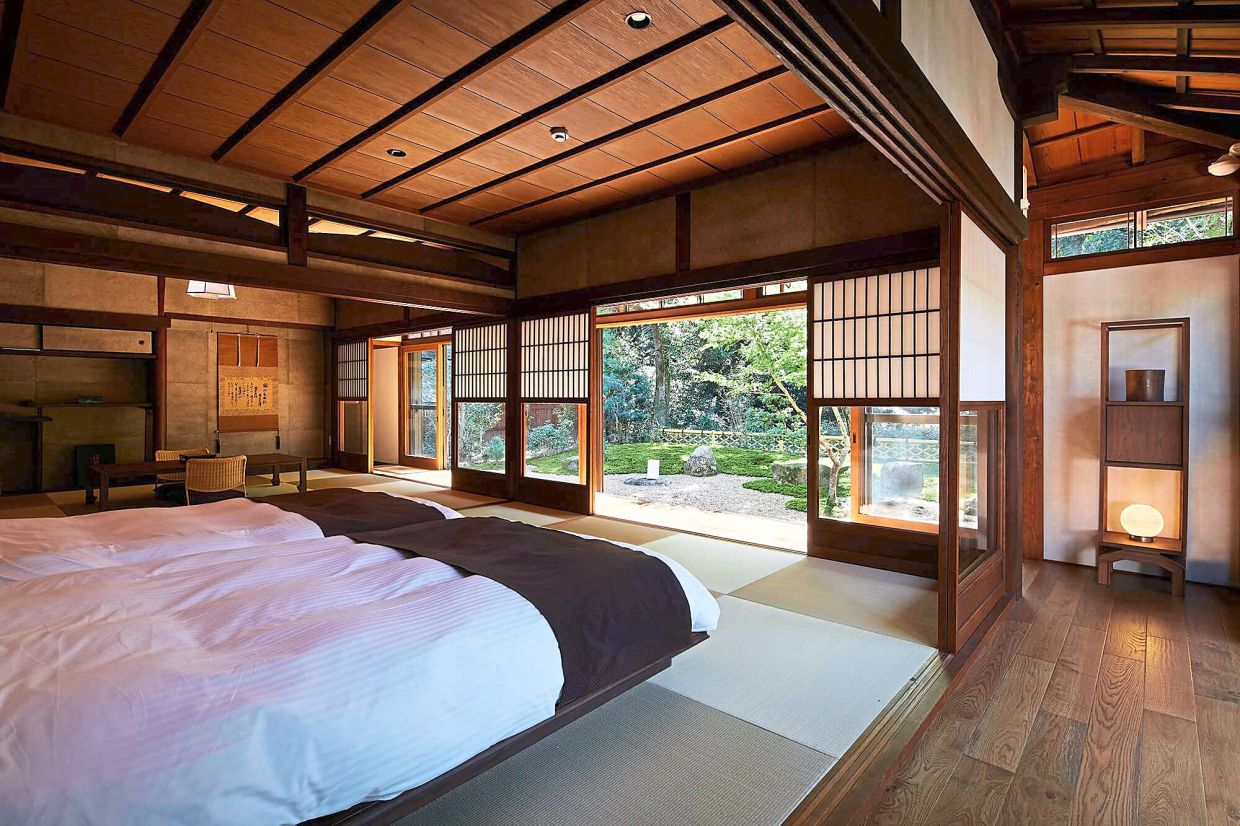 Miidera Temple is located in Shiga Prefecture.
Miidera Temple
Located in Shiga Prefecture at the foot of Mount Hiei, this grand temple was constructed in 672 in honour of Japan's Emperor Kobun (648-672). It is a popular place of worship for devotees from all over Japan.
The temple comprises over 40 buildings and throughout its existence it has been burnt and rebuilt many times. Its 400-year-old monks' quarters called Myogonin was renovated in 2018 and turned into a private shukubo or temple lodging for visitors.
The temple stay programme, run by Waqoo Miidera, offers immersive experiences that connect visitors with local cultures and cuisines. The facility offers guests ultimate privacy, accepting only one booking of up to four people at a time.
Miidera is just 30 minutes away from Kyoto.
Subscribe now to our Premium Plan for an ad-free and unlimited reading experience!