Check out some of Australia's best experiential accommodations, ranging from a luxury bubble tent, a 1940s aircraft, to underwater rooms in the Great Barrier Reef.
ONE of the best things about going on holiday is getting to stay at hotels or resorts, where you don't have to worry about making the bed, cleaning up or doing any other daily chores around the house. Some accommodations also offer unique in-house experiences for their guests, from private butler services and personal yoga sessions to one-on-one cooking tutorials.
In Australia, you can find plenty of these experiential accommodations that offer more than just a place to stay. Come and say G'day to these special accommodations that will make your Aussie holiday even more memorable.
1. The Keep, Tasmania
At The Keep, life slows down significantly for guests, allowing them to truly immerse themselves in the beauty of Tasmania's wilderness. A double-storey building perched on top of a 650m rocky outcrop, The Keep borders the Blue Tier Forest Reserve and the North Eastern coastline.
The Keep offers the ideal luxury stay for those who either want to rekindle some romance, reconnect with one another, or simply spend some time away from their busy schedules. Soak in the outdoor stone bath fit for two with locally-sourced bath bombs for ultimate relaxation.
With three private trails that surround the property, guests can embark on leisurely walks in the mornings or evenings. They can also opt for add-on experiences like a private chef service or a tour of Tasmania by Air to suit their needs and preferences.
For more information, click here.
At The Keep, guests can soak in the outdoor stone bath which overlooks the beautiful forest. – Tourism Australia
2. Kimo Estate, New South Wales
Want to experience country life in New South Wales? Well, head to Kimo Estate in Gundagai, about three-and-a-half hours from Sydney or two hours from Canberra by car.
Opened in 2014, Kimo Estate is a 7,000-acre sheep and cattle farm with several lodging experiences suitable for couples, families and even large groups who wish to take in the sights and smells of the country.
You can find Eco Huts on the hill above the estate which provide a glamping-style accommodation for folks looking to spend a night or two off-the-grid.
Alternatively, guests can opt for the beautiful cottages that are great for families, where the kids can explore the farm, or check out the paddocks and garden.
If you're travelling with a big group, check out the shearers' quarters, which has been fitted with simple yet luxurious trimmings and furnishings.
To check out what else the property offers, click here.
The Eco Huts at the Kimo Estate in Gundagai allows guests to stay for a night or two off the grid. – Hilary Bradford/Destination NSW
3. Finniss River Lodge, Northern Territory
This newly-opened luxury lodge boasts gorgeous panoramic views of the Finniss River Station. There are six luxury suites on this property perched between Darwin and Litchfield National Park in the Northern Territory, fitting a maximum of 12 guests, who have the opportunity to discover some of the country's most unique ecosystems surrounding the estate.
There are plenty of bespoke activities that guests can choose from here, like air boating and 4WD, or open buggy tours with the property, all of which are guided by local experts. Guests can also sign up for cultural learning sessions with knowledgeable Indigenous guides.
Some of the amenities include a restaurant and bar that serves locally-inspired dishes prepared with local produce, a lounge area, as well as an expansive deck with a plunge pool that gives guests breathtaking views of the Top End.
For more information, click here.
At Finniss River Lodge, guests can choose from a variety of bespoke activities to experience during their stay. – Tourism NT
4. Sequoia Lodge, South Australia
Located on the side of Mount Lofty in the Adelaide Hills, Sequoia Lodge is a luxury stay that puts its focus on offering unparalleled experiences. Adelaide Hills is the leading region in South Australia for the production of high quality Pinot Noir, and boasts more than 60 wineries.
There are 14 contemporary suites at Sequoia Lodge, and each one comes with a private balcony that allows guests to enjoy tree-top views of the area, a lounge, a fireplace and a bathtub, as well as a king-sized bed.
There are also hot stone pools, an infinity pool, a day spa and a valley rim campfire amphitheatre.
Due to the nature of its exclusive experience offerings, Sequoia Lodge only accommodates guests over the age of 18 years.
To find out more, click here.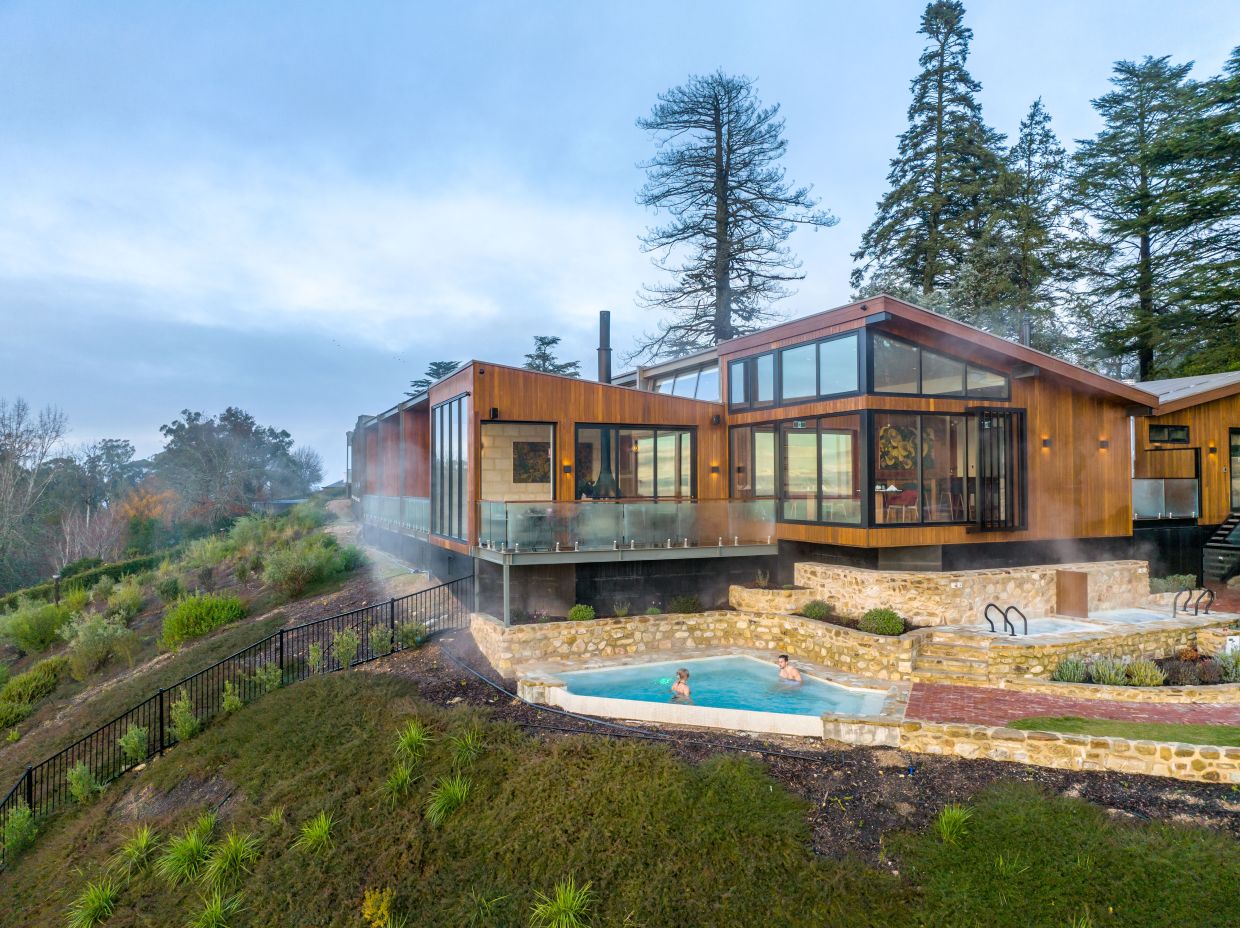 Sequoia Lodge is located at the wine region of Adelaide Hills in South Australia. – South Australia
5. The Lily, Western Australia
This luxury accommodation is located close to Western Australia's Stirling Range, a major mountain range and national park. The Lily is in fact the perfect base for intrepid travellers to explore the region, and to see Australia's famous wildflowers.
Guests can also check out the Lily Dutch Windmill nearby, a 16th-century design "ground sail" windmill that is five storeys high, with a sail length of 24.6cm. The Lily Dutch Windmill is one of the largest traditional windmills to ever be built in Australia and is still operational today!
As for the property itself, The Lily has several types of lodgings including traditional Dutch-style cottages, winery quarters and, the most unique one of all, an original 1944 Dakota aircraft. The plane was once in service in Indonesia, New Guinea and Australia in the 1940s, and was converted into a spacious "room" for guests looking for something truly special.
For more information, click here.
At The Lily, you can choose to stay in this 1944 Dakota Aircraft, which has been converted into a room. – The Lily
6. Skyview Bubble Tent, Victoria
Ever wanted to sleep in a see-through inflatable tent? Wombat State Forest in Daylesford, Victoria, offers just that for its guests. Skyview Bubble tent is one of the state's most unique adults-only getaway accommodations, where guests sleep in a glamping-style "bubble tent". The inflatable tent sports a clear bubble top that allows you to see the outside world, making it the perfect "bedroom" at night, where you fall asleep under the twinkling stars.
But this is no ordinary tent, as it comes with all the fittings of a suite; a queen-sized bed, sheepskin rugs, plush throw pillows, a wooden dining table and a rack to hang your clothes. Outside on the patio, there is a kitchen sink and space to prep your meals, a mini fridge, a gas BBQ and even a pizza oven!
The private outdoor shower will provide you with hot water if you need it, along with a portable toilet.
For more information, click here.
Guests who stay at the Lady Musgrave HQ in Bundaberg can enjoy plenty of activities including snorkelling, diving and swimming with the turtles. – Tourism and Events Queensland
7. Lady Musgrave HQ, Queensland
Lady Musgrave HQ is a pontoon that sits in the sheltered waters of Lady Musgrave Island in Bundaberg, Queensland.
Here, guests can experience the Southern Great Barrier Reef via the multiple range of activities offered. Lady Musgrave Island is brimming with corals and has an abundant marine life, including turtles, manta rays and migrating humpback whales.
Lady Musgrave HQ is a solar-powered pontoon with three levels, upon which guests can stay in either the underwater retractable bunk beds in the observatory, or the glamping-style bed on the deck.
The pontoon floats on the sheltered waters of Lady Musgrave Island Lagoon off the coast of Bundaberg. Guests can snorkel, swim with the turtles and manta rays or even go birdwatching.
For more information, click here.
The Grand Stair at Ovolo Nishi in Canberra is simply captivating. – VisitCanberra
8. Ovolo Nishi, Australian Capital Territory
Ovolo Nishi is a luxury boutique hotel in Canberra's newest and possibly chicest precinct, New Acton, that's housed inside a sustainably developed, Japanese-inspired architectural masterpiece called the Nishi building. The hotel is a beautifully crafted space in itself; made with natural building materials like clay, concrete and wood.
Two of the best design features of the hotel is its spectacular timbre staircase and the ceiling that's made from upcycled wooden beams.
Ovolo Nishi makes for the perfect base for travellers to begin their exploration of Canberra and its nearby areas. The hotel is just 30 minutes from Parliament House, the National Art Gallery and the Portrait Gallery and a 15-minute walk to the city centre. Guests can also dine at Ovolo Nishi's Monster Kitchen and Bar, which offers delectable Franco-Japanese-style dishes.
For more information, click here.
Visit Australia.com for more travel inspiration.
Subscribe now to our Premium Plan for an ad-free and unlimited reading experience!