First time I ... travelled with a large group of friends
You will never truly know someone until you travel with them.
Back in 2010, my friends and I travelled to Amritsar, India, to attend a wedding. We were all childhood friends and a few of us had known each other since kindergarten; two were even cousins.
There were 10 of us, including the bride. Some brought their husbands and partners along, while the bride came with an entourage of 11 family members (and friends). On top of that, there were a few more friends who were keen on visiting India for the first time – and joining in the wedding celebrations, of course – and decided to tag along.
All together there were 28 of us in the group, all eager to see what awaited us in Amritsar. It was the first time I had ever travelled in such a large group, especially one where everyone knew each other.
I had a feeling things were going to be difficult to coordinate at first, and I was right. The family – based in Kota Kinabalu, Sabah – was flying out a few days earlier. There were no direct flights to Amritsar from KK or Kuala Lumpur back then; the "easiest" route was to fly from KL to New Delhi, then from there to Amritsar.
A smaller group was also flying from KK, to join the rest of us in KL. Three were coming from London; two were flying out much later.
Making the arrangements
Except for the family, everyone else had to sort out their own flight booking. Mind you, this was in 2010, when WhatsApp was not yet the popular and convenient global messaging app it is now. I had a BlackBerry and although its BBM feature was useful to me and about five other people in the group, the others were harder to communicate with.
We had to e-mail each other back and forth, figuring out the flight dates and times, hotel bookings and post-wedding travel plans. It was not fun, especially for me. As someone who prefers making quick decisions when it comes to travel matters, I had a hard time waiting for everyone else to respond.
I'm pretty sure my incredibly annoying passive-aggressive nature and impatience was not a big hit with friends back then.
Luckily, I was "transferred" to join the family group before things got out of hand. My friends were probably relieved – I certainly was. I did not like behaving like a monster yet I could not help it somehow.
In my new group, things ran smoothly as the bride and groom took care of everything. The groom had family in Amritsar so they helped out with a lot of the arrangements like hotel bookings and ground transportation.
Couldn't wait to party
Once everyone was in Amritsar, we couldn't wait to party! It was the first "destination wedding" I had ever attended and I was glad to have celebrated it with friends I had known for ages (and who would not hold a grudge against me!).
In between the wedding ceremonies we got the chance to visit some of the must-see places in Amritsar like the Golden Temple and Wagah Border. The temple was built within an open complex and sits almost in the middle of a pool. It is beautiful during the day but try to go at night when it is even more amazing as the gold shines brightly and the temple looks regal.
Or you could also do what we did: Go there at pre-dawn to catch the prayer session. There were thousands of people around, some of whom were tourists like us. We joined in a procession, marvelling at the architecture and design as we walked briskly through the temple with worshippers.
Once the prayer session was over, we took a stroll outside the complex. We saw a few folks handing out hot tea to worshippers, and a man cooking something in a huge pan. Curious, I walked over to take a picture but instead was served a plate of rice with peas and spices. Yummy!
A daily ritual
A few days later, we drove out about 30km to the Wagah Border, the border post between India and Pakistan.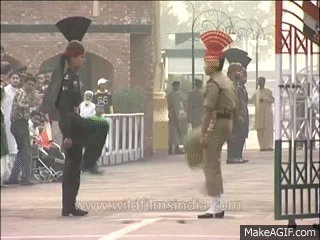 Hundreds of people – local and foreign – head there each day to see a daily ritual between the Border Security Force of India and the Pakistani Rangers. This ritual is always held before sunset and features a showy, grand march by the soldiers, the lowering of both nations' flags and the closing of the gates.
It's quite an enjoyable performance especially if you care to look at the details. For example, the guards from both countries are very tall. In fact, they are all almost the same height. They wear similar headgear, but in different colours – red and gold for India and black and red for Pakistan. The soldiers also all sport thick moustaches, while some wear beards.
The spectators on both sides are segregated into male and female seating sections. India has a "mixed" section for foreign tourists and VIP areas too. The locals who go there wave their nation's flag proudly and chant "India" and "Pakistan" loudly when prompted.
It is definitely worth a visit, even if it is a little disorganised (and also, overcrowded on weekends).
Icons of India
After all the wedding events were done, the family group took a trip to New Delhi and Agra, where the Taj Mahal is. We took the train and a private bus, and saw many things that were, to put it nicely, culturally different from what we were accustomed to.
The other group also went to the same cities but added Jaipur to their itinerary. From what they tell me afterwards, Jaipur is a really pretty place.
Another trio headed out to Pokhara in Nepal for their own fun adventure.
The trip to India with my friends was actually amazing, even if we did have to split into several groups to make things more bearable. The few days that all 28 of us got to spend together were unforgettable and I would not exchange that experience for anything.
I do prefer to travel solo these days, though.