With less than 300 pis embroidery (kain tinohian) crafters in Kudat, Sabahan master crafter Crisna Mojupi, 54, is on a mission to pass on this cultural heritage to women in her community.
Determined to keep the traditional craft alive, Crisna decided to teach Rungus women in her village the skill of stitching pis embroidery in the hope that they can earn some extra money for their handcrafted work.
"Most of these women are homemakers, rubber tappers and farmers. The working women earn about RM400 a month, and it is a challenge for them to make ends meet. So I aim to teach them the skill so they can earn extra income. At the same time, I can keep this skill alive for future generations," she said.
Crisna was one of the demonstrators at National Craft Day 2023, a two-week-long craft exhibition organised by Kraftangan Malaysia in Kuala Lumpur. The event, which ended March 13, featured over 300 homegrown craftspersons specialising in wood, ceramic, weaving and textile.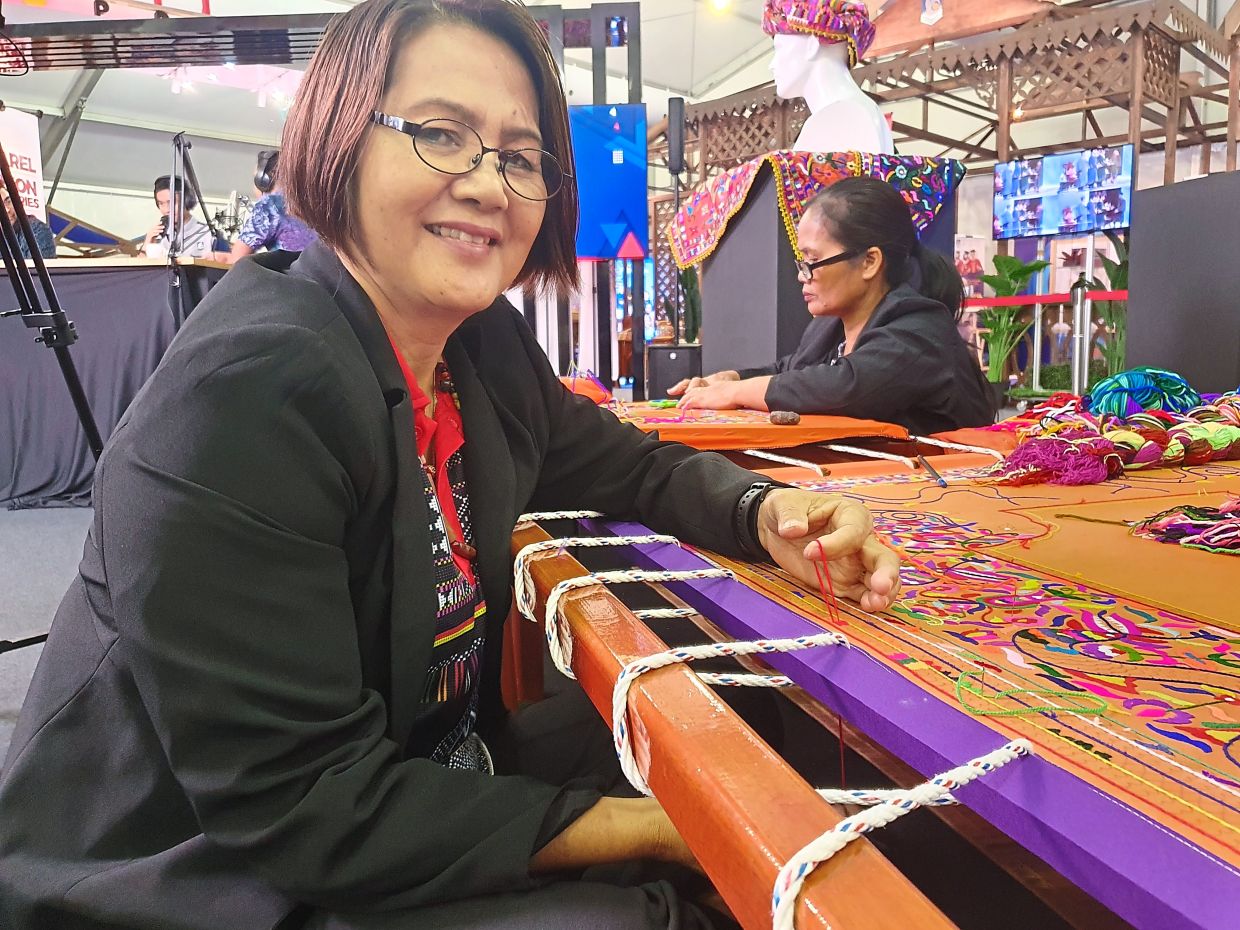 'As long as there are people like me who are willing to dedicate themselves to the craft, the tradition will continue to live on,' says Crisna.
Crisna teaches the traditional craft to Rungus women in nine villages in Kudat and Beluran, Sandakan. She has nearly 200 students between the ages of 20 and 60 under her wing.
She travels to these villages at least twice or three times a month. Her efforts are supported by her church (Protestant Church Sabah, Kudat) and Swiss-based Christian organisation Mission 21.
"Some students have gone on to participate in handicraft exhibitions in Borneo. I'm so proud that many of them are selling their products online and earning extra income," she said.
Thanks to her efforts, more Rungus crafters have learned the dying skill.
"Many of the youth in my village are more interested in modern pursuits. In fact, my two daughters, who are in their 30s, aren't too keen to learn embroidery. Like others, they aren't willing to dedicate themselves to the time-consuming and labour-intensive work of pis embroidery. As a result, there are only a few skilled weavers in my village," the mother of four said.
Crisna's talent lies in her intricate and delicate embroidery work.Last year, Crisna received the 2022 Adiguru Kraf Sulaman Pis (Master Pis Embroidery Craftswoman) from Kraftangan Malaysia.
The prestigious award is given to people with expert craftsmanship who are essential for restoring and preserving heritage crafts.
The award validates her hard work and means a lot to the her.
"I feel honoured and happy with the title. There's nothing more fulfilling than being recognised as a craftsperson. I feel it is my responsibility to pass on my knowledge and skill to women from my community," said Crisna, who is from Kampung Lompozou in Kudat.
Crisna's works have been exhibited in galleries and craft shows in Malaysia and Jakarta. Her video tutorial on pis embroidery is uploaded on MyCraftShoppe on YouTube.
In 2018, she also showcased her embroidery skills at Mission 21's head office in Basel, Switzerland.
Delicate stitches
Pis embroidery is also known as kain tinohian among the Rungus community. Richly embroidered with floral, fauna and animal motifs, the one-square-metre cotton cloth is folded and worn as headgear among Rungus men.
Over the years, pis embroidered materials have evolved and are now transformed into shawls, handbags and decorative wall items.
The most difficult part about pis embroidery is ensuring the neatness of each stitch, says Crisna.The embroidery is known for its vibrant colours, intricate designs and attention to detail.
Crisna's love for embroidery began when she was just a young girl, watching her mother and grandmother stitch the complex designs on cloth. Often, she marvelled at how she could create such designs with just a needle and thread.
"As I grew older, I began to practise the craft under my grandmother's watchful eye. I would spend hours each day perfecting my technique. As I became more skilled, I began to experiment with different colours and designs, creating pieces that were beautiful and unique.
"It takes about four months to complete a piece of embroidery, which measures one square metre," explained Crisna, who is also adept in textile weaving.
Pis embroidery uses the satin stitch technique. Crisna's talent lies in her delicate embroidery work.
Traditional Rungus motifs such as tinonggiling (anteater scales), kinorinipon (teeth) and tinabid sulug (fish) are drawn on the cotton fabric. Crisna then uses the satin stitch technique to embroider the patterns on the material.
Crisna is empowering women to inch towards financial independence. Photo: Crisna MojupiShe often chooses red, yellow, blue, orange and green colours in her work for their bright and attractive qualities.
"The most difficult part is ensuring the neatness of each stitch. If the stitches are too tight, the design will appear staggered. Satin stitch is a classic stitch that seems relatively easy. But it can be a challenge to obtain a smooth finish if the stitches are uneven."
But for Crisna, the greatest reward is seeing the tradition of pis embroidery thriving in her village. She continues to teach and mentor young weavers, passing down the skills and knowledge that had been handed down to her by her grandmother.
"As long as there are crafters like me who are willing to dedicate themselves to it, the tradition will continue to live on."
As Crisna sat at the exhibition hall, surrounded by her embroidery pieces, she smiled, knowing that she has done her part to preserve the rich cultural heritage of her community and at the same time, empower women to inch towards financial independence.
With that in mind, she picked up her needle and thread and returned to work, continuing the tradition of pis embroidery, one stitch at a time.
It's a 'pis' of art
---
Subscribe now to our Premium Plan for an ad-free and unlimited reading experience!