When the phone rings for Father Edward Frohling at the Frankfurt Airport chaplaincy, he sometimes has to hurry.
It might be the police needing the chaplain or an airline seeking help for a stranded passenger or traveller in distress.
"Once, someone was standing at the Lufthansa counter without papers and money, who desperately wanted to fly to the US and was completely distraught," says the Catholic priest.
He wears a bright yellow waistcoat and walks some 6km a day along the long corridors of the airport terminals.
Frohling works with Protestant pastor Bettina Klunemann as the faces of the chaplaincy, in a broad Christian cooperation.
The chaplaincy was set up 50 years ago, providing a haven and an open ear to staff and airport travellers. There are church services available, along with blessings for safe travels and funeral services too, occasionally.
The chaplains also help with practical issues, such as people struggling with entry or exit difficulties.
While Frohling came to his airport post by chance last year, Klunemann applied for the job and started work in October 2018. She was always drawn to the idea of providing pastoral care at the airport, she says.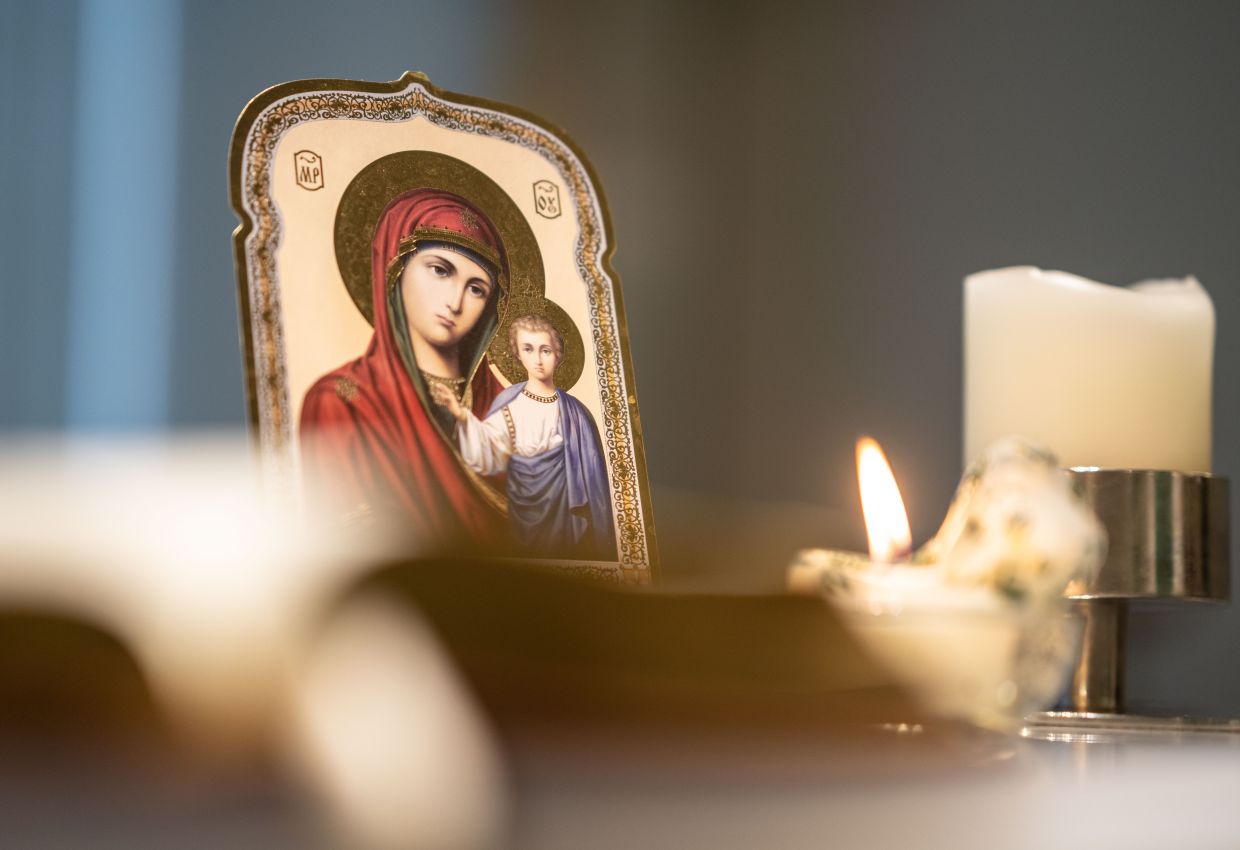 A candle at the altar in the chapel at Frankfurt Airport, where help is on hand.
"It is exactly how I imagine church to be, right in the middle of things, where people are living and working."There are fixed service times at the airport, just like at a regular church. But every day is different, says Klunemann.
Looking back, she has seen three distinct phases of work since she started four years ago.
There was 2019, when things were "still really booming" at Frankfurt Airport. But then came the pandemic, followed by Russia's war on Ukraine, which is also being felt at the chaplaincy.
When Germany first imposed a coronavirus lockdown, the main focus for the airport chaplains was people in transit.
"The borders were closed, even within Europe, and people were all stuck in transit," Klunemann says.
She recalls a woman from Madagascar who was stranded at the airport for three weeks and lived in the chaplaincy rooms for a while because no other accommodation could be found due to the Covid-19 restrictions.
"The woman used to work at Disneyland in Paris and was sending her earnings back to support her family in Madagascar.
"When the theme park was shut because of Covid-19, she was desperate to join her children back in Madagascar. But the borders were closed and there were no flights," says Klunemann.
Then came the war on Ukraine, which is bringing its own share of pain and tragedy. There was a 72-year-old woman from Ukraine "who arrived from Hanover with her walker and her suitcase that was heavy as lead", the pastor says.
Klunemann (left) and Frohling offer aid and support at Frankfurt Airport.
The woman came to a Lufthansa counter in March and thought she could fly directly to Canada to her family, with her Ukrainian passport.
"It was a real shock at first when that didn't work," Klunemann says. "We decided to help her in her attempts. On April 22, Orthodox Good Friday, we applied for the visa."
The woman was only able to set off on Aug 10, however.The pastoral care Klunemann and Frohling provide is just one part of a larger network of services at the airport.
There is also a church refugee service, which is located directly at the initial reception centre at the airport. There, a Protestant pastor, a Catholic priest and asylum counsellors from two German charities, offer counselling and pastoral care for people seeking asylum who are not initially allowed to enter Germany.
The chaplaincy team also supports social work for homeless people at the airport and those monitoring deportations.
Frohling is happy that the different religious groups work closely together at the airport, even if it might not be a multi-faith chaplaincy as at London's Heathrow Airport.
There are also prayer rooms for Jews and Muslims at Germany's largest airport, according to a spokesperson for Fraport, the operating company.
And there is a Room of Silence in Terminal 1, which can be used for inner reflection.
Volunteers help the chaplains in their work.
"We would be a pretty pathetic bunch if it weren't for the 20-30 volunteers. They are also a huge benefit as far as languages are concerned, because we have many native speakers," says Klunemann.
Volunteers speak Spanish, French, Italian, Arabic, Russian, Georgian, Indian languages and Polish, among others.
"Right away, people are relieved when they can talk to someone in their own language," says the pastor. – dpa
Subscribe now to our Premium Plan for an ad-free and unlimited reading experience!