In 1987, a stamp collector based in Penang spent RM30 on a Chinese zodiac stamp. Today, that stamp is worth over RM4,000.
"I bought it when I was 13 years old because I liked the design. I put the money inside an envelope and sent it to Singapore to buy it. I didn't know it was so popular," says Mac Lee Kah Lock.
Lee, 49, has been collecting stamps since he was 12 years old. As a kid, he began his philatelic journey by peeling off stamps from used envelopes. Then he ventured into other kinds of stamps.
"I noticed a small stamp catalogue which was part of an advertisement inside a newspaper when
I was a kid and I immediately became interested in owning them," he says.
Lee with two of his full cycle zodiac stamp collections.Nowadays, a stamp catalogue is a book that shows the list of stamp names, date of issue, the designer and the printing location. It covers all details regarding each stamp. Each country publishes its own stamp catalogues.
Intrigued by bird stamps at first, Lee then proceeded to collect first day covers, followed by maximum cards, which remain his favourite collection up to this day.
"A maximum card is like a postcard. I would print a certain graphic and put the stamps on it. If the card, stamp and seal (from the post office) are related, you can say it's complete," he explains.
Lee also made friends with people from different countries – mainly Singapore, Taiwan, Hong Kong and Japan – to exchange stamps with.
"You can buy stamps on the Web, from your friend, or you can exchange stamps with them.
"Usually, I would exchange stamps with my friends abroad. I would give them a Malaysian stamp and they would give me their corresponding country stamp," he adds.
Lee says once he waited six months to have a complete maximum card.
"I designed the postcard and sent it to my pen pal in Taiwan as he knew someone who lived in the United States at that time. It took around six months for the maximum card to travel from Malaysia to Taiwan and to the US and back," he explains.
The 3rd cycle of zodiac stamps issued by the People's Republic of China.
Historical value
Among his collections, Lee is most passionate about zodiac stamps. Currently he owns three complete zodiac cycle sets, which he started collecting since the first zodiac stamp was issued by the People's Republic of China in 1980.
The stamp, dubbed "The Golden Monkey", was co-designed by stamp designer Shao Bolin and Chinese master artist Huang Yongyu.
Huang, 99, also designed China's 2023 Year of the Rabbit stamps released recently.
Lee aims to complete the fourth cycle's collection following the recent release of China's rabbit stamps. He had already begun collecting them beginning with Japan, which issued the 2023 rabbit stamp last November, followed by Taiwan in December. Malaysia will issue its version on Feb 14.
Lee currently has over 500 different types of zodiac stamps, including first day covers and maximum cards. In total, he estimates that his entire collection consists of over 2,000 pieces.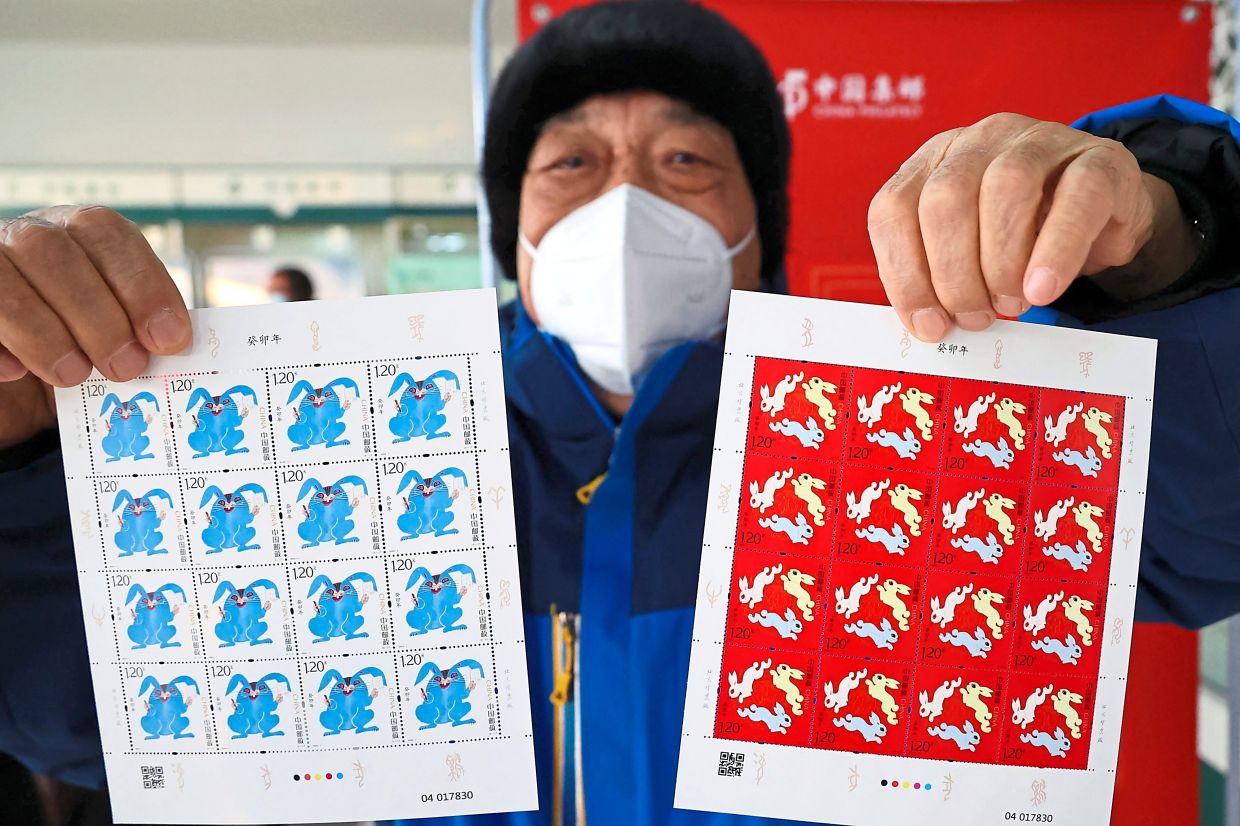 A man showing the Year of the Rabbit stamps at a post office in Lianyungang in China's eastern Jiangsu province on Jan 5 ahead of the Lunar New Year. Photo: AFP
Lee also won the 3rd prize in the 2020 World Best Maximum Card Competition organised by the Federation Internationale de Philatelie (FIP) in Indonesia.
Currently, he is considered the zodiac specialist in the Penang Philatelic Society, which he joined after knowing about it from a fellow philatelist and friend.
"I didn't know there was a society here (in Penang). My friend told me to join and from there I was able to make friends and further my knowledge in stamps," he says.
Established in 1982, the Penang Philatelic Society aims to cultivate the joy of collecting stamps in people and at the same time, help preserve the country's history and culture.
"Sharing is our main objective. We try to share our knowledge as much as we can with each other, across all ages," said Ng Wee Theng, president of the society.
At present, the society has over 130 members from all over the globe. Most of the members are from Penang and Singapore but there are some from Britain, the US, Australia and New Zealand as well.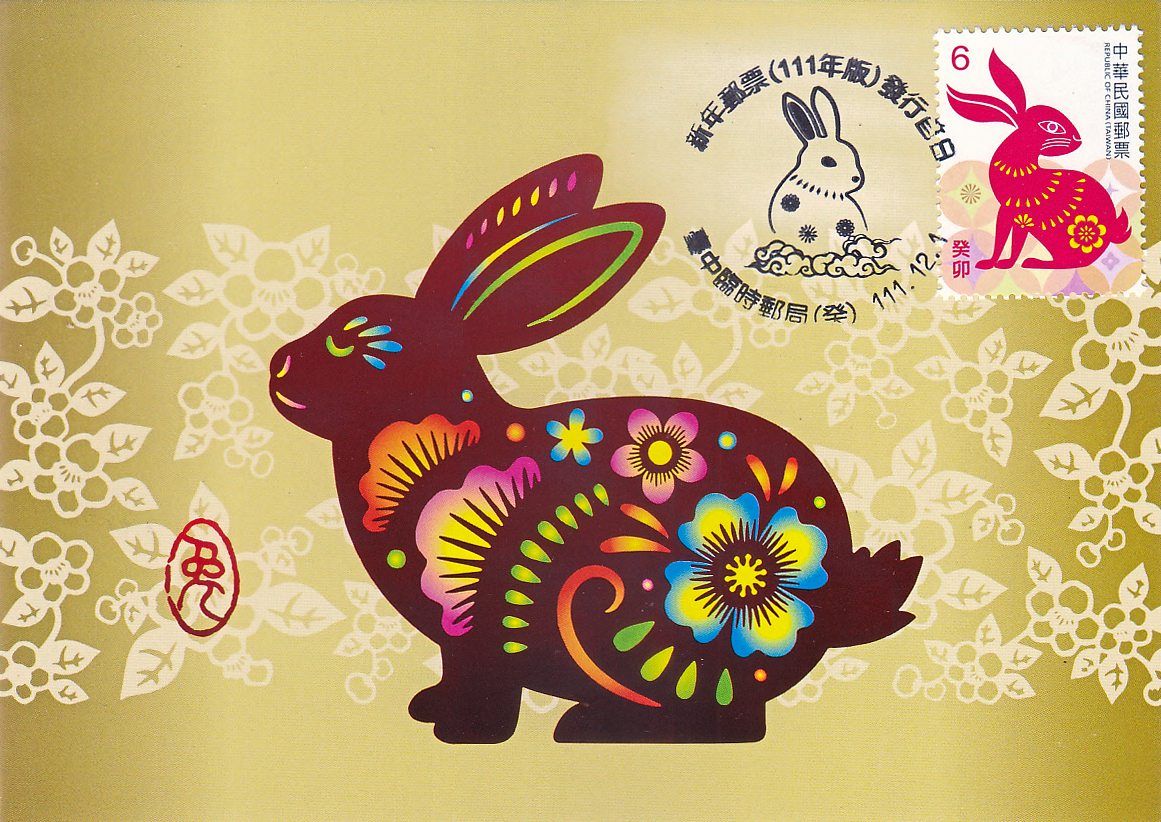 Taiwan's 2023 Year of the Rabbit maximum card.
"We have one member from India and our current advisor is from Japan. It's nice to have fellow philatelists outside Malaysia," says Ng Jun Xian, the youngest member at 26 years old, who is also the secretary.
Despite stamp collecting being seen as a "sunset hobby", the society managed to get a silver medal at the 2022 World Stamp Championship Exhibition held at the Jakarta International Expo in Kemayoran, Indonesia.
They submitted a journal – which contained various photos of stamp collections, their background history, and also articles and research contributed by 16 members of the society – for the Philatelic Literature Exhibit at the event. The journal also coincided with the society's 40th anniversary that year.
"We triumphed because of the efforts of all members," says Ng.
In 2008, Ng also won a silver medal for his music stamp collection at the 22nd Asian International Stamp Exhibition held in Jakarta, Indonesia.
"We encourage people, especially our members, to take part in any stamp competition. Joining international or local competitions can expand our knowledge," he adds.
Ng (left) exchanging some stamps with Lee at a recent activity organised by the Penang Philatelic Society. Photo: Penang Philatelic Society
The organisation often hosts meetings, monthly activities, stamp exhibitions and auctions. They also provide a forum for collectors to share their knowledge and collections with others.
"We host online meetings since some of our members are not locally based. We also hold monthly activities for members where they can share, learn and socialise among each other," Jun Xian says.
Although stamp collecting is well recognised as a hobby, there are also those who know the value of stamps, especially the rare ones.
"Some of them are not hobbyists but investors and opportunists where they invest in the stamp in the hope that they can sell it later at a much better price," Ng says.
In spite of this, many philatelists do not put value on their collections.
"We appreciate the value of the stamps, but it is not limited to the monetary side of things. We only consider their worth at the very last point when we decide to sell them," Ng expresses.
He also believes that the knowledge and process of stamp collecting should be passed on to the younger generation.
"We play a very important role in preserving the country's history for the younger generation. Otherwise it will disappear and they no longer can appreciate our history.
"By joining a philatelic society, this knowledge can be broadened and stamp collections can be preserved," he says.
Subscribe now to our Premium Plan for an ad-free and unlimited reading experience!