Avoid the specials, be suspicious of outlandish boasts and prepare to haggle for your wine: Three golden rules for a heightened dining experience, as newly revealed by celebrity chef Gordon Ramsay.
The Michelin-starred cook offered AFP his tricks for getting the most out of a restaurant visit as he inspected the Los Angeles set of his latest show, a US version of his hit British series The F Word.
"Specials are there to disappear throughout the evening. When they list 10 'specials', that's not special," Ramsay told AFP at a soundstage in Hollywood that is being transformed into a functional restaurant capable of serving 100 diners.
The 50-year-old British presenter recommends booking a table for at least three if you are planning a romantic meal for two, as your small lie will improve your chances of being able to spread out and avoid "getting stuck in the corner like a doorstop".
Always get the most out of the expert selling you the wine, the chef says, recommending that diners ask for the "bin end" list – the bottles with scratched labels, vintages that are about to be rotated out or poor sellers that restaurants want to get rid of.
"We have a fear about talking to sommeliers because you think you're going to be ripped off. So get the sommelier to come up with a great glass or great bottle and give him a price. And make sure it's under US$30," Ramsay advises.
One of only four chefs in Britain to maintain three Michelin stars and the owner of a string of restaurants around the world, Ramsay knows better than most how to read between the lines on a menu, and says there are some dishes he wouldn't order anywhere.
"When they turn around and tell me it is the 'famous red lasagne', who made it famous?" he demands.
"They start coming up with these terminologies, saying 'and the wicked, famous, best in the country profiteroles'. Who said that? Who named that?"
Ramsay, who trained under Albert Roux, Marco Pierre White and Guy Savoy, is famous for his foul-mouthed rants on numerous hit TV shows including Hell's Kitchen, and his acerbic comments have landed him in hot water on several occasions.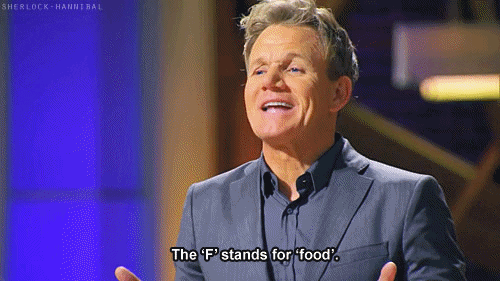 The Scot's notoriously filthy language embarrassed British network Channel 4 after an unedited episode of his Hotel Hell aired by mistake on a midday in April. Ramsay used the F-word six times in 15 minutes before the episode was pulled.
His word-for-word reaction to the controversy – at least to AFP – is unprintable, but the gist is that he thinks the channel should be taking the heat for what was, in the end, a scheduling error.
Ramsay's broader thoughts on his reputation for profanity are also unsuitable for daytime consumption but, in summary, he senses a hypocrisy in the way the press singles him out for his "industrial language".
He is no different, he believes, from other professionals – "from journalists to basketball players to footballers to school teachers" – who use the lingua franca of the shop floor.
Ramsay's profanity never comes across as anything less than authentic, yet one can't help but suspect that he enjoys his brand.
A filthy-mouthed chef fronting a show called The F Word – notwithstanding Fox's insistence that the initial stands for "food", "family" and "fun" – knows exactly what it is that makes him a bankable asset for billionaire Rupert Murdoch's lucrative cable TV division.
The series is going out live in primetime and Ramsay's only protection from censure will be a five-second delay and a producer hovering over the "bleep" button. But the defiant chef says he won't pull punches or "wrap anything in cotton wool".
"The one big thing I hope doesn't happen is we don't crash and come off air, if the naughty F-bomb drops out and Rupert Murdoch is (watching) in Australia and he pulls the plug out," he jokes. – AFP Relaxnews