Mothers Day is a special day that honours motherhood and celebrates mothers in our lives. This year, Mothers Day was on May 14 and children, young and older, will take the time to express their gratitude and appreciation for the incredible women who have raised and nurtured them.
The importance of Mothers Day lies in the fact that mothers play an essential role in the development of their children. They provide love, guidance, and support throughout their children's lives, and their influence can impact their children's well-being.
Mothers Day is also a time to reflect on mothers' sacrifices for their families. Whether waking up early to make breakfast or staying up late to finish a project, mothers always put their families first.
Here's what Starchild readers had to say on the topic, Mothers Day.
Chuah Seng Koon, 7
Seven-year-old Chuah Seng Koon thinks Mothers Day is a special occasion for all mothers. He says it is an excellent time to show filial piety to our mothers. "It will be an exciting day as I get to make a simple breakfast for my mum – toast a slice of bread, and spread it with Nutella, butter and cheese. Then, I will make a simple card for her to express my deep love for her care, dedication, and devotion. Best of all is to be an obedient and hardworking boy, as I know this is what she wishes for. Lastly, Happy Mothers Day to all mothers of the world."
Victoria Liew Yen Yi, 11
"I love my mother very much because she looks after me. Thank you, Mummy," says Victoria Liew Yen Yi, 11.
Jayden Tan Li Sheng, 11
Jayden Tan Li Sheng, 11, writes, "I love my mother so much. She is not only my mother but my sweet dear friend. She is caring, selfless, independent and strong. She inspires me to be a better person. My mother is a pillar in my life and she will do absolutely anything for my siblings and the family too. Mum, Happy Mothers Day to you and I wish you happiness and good health always".
Wong Cheng Yang, 9
"Mothers Day falls on May 14. I love my mother because she does house chores everyday. She mops the floor, wash the dishes, wash our clothes, and blow our hair. Her hands are rough, but it is the pair of hands belonging to the person I love the most. Happy Mothers Day and I love you, Mom," writes Wong Cheng Yang, nine.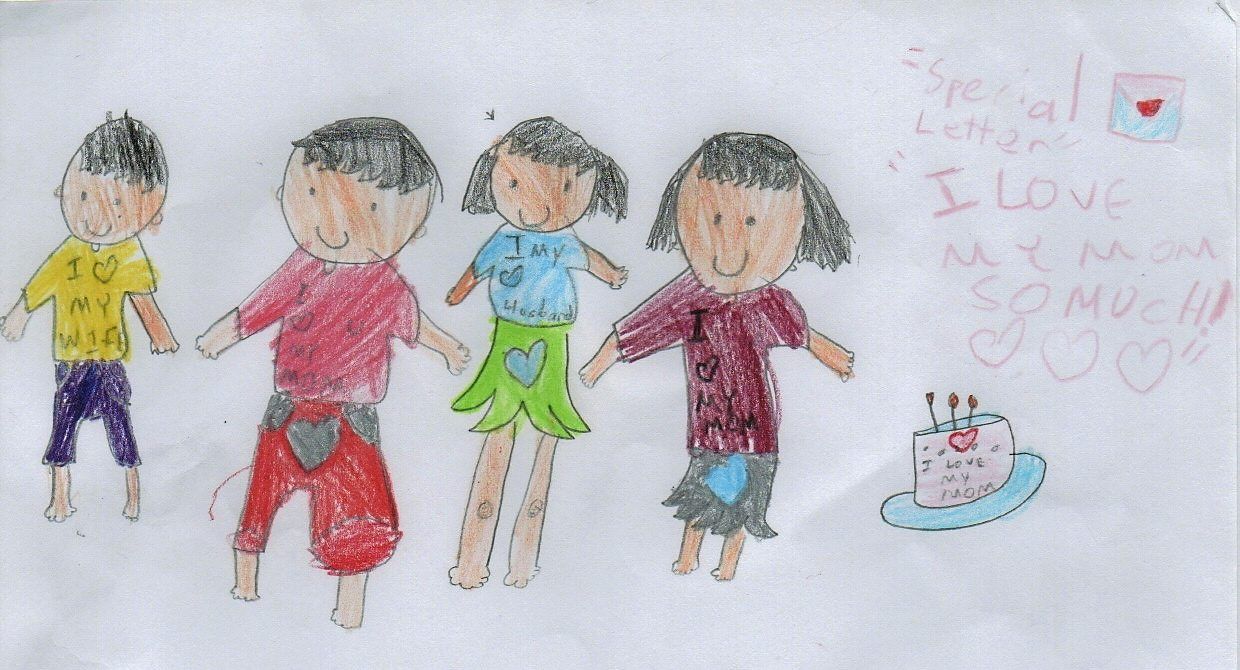 Wong Jie Ern, 7
Younger sibling Wong Jie Ern, seven, loves her mother because she is kind and caring. "Mummy always plays with me. She gives us presents too. I love my mother so much. I hope we will have a memorable day this Sunday, which is Mothers Day."
Hayley Liew Xin Yi, 9
"I love my mother very much because she takes care of me and give me my favourite Milo. Happy Mothers Day," says nine-year-old Hayley Liew Xin Yi.
Bethany Wang Qi Syuen, 8
Bethany Wang Qi Syuen, eight, thinks her mother is the best person in the world. She appreciates that her mother cares for her younger brother Asher and her and is patient with them. "Mummy loves me a lot, and she makes me laugh. She is a homemaker and cooks delicious meals. She is a very hardworking too. She cleans the house and helps us with our homework."
Asher Wang Qi Chuen, 5
Younger sibling Asher Wang Qi Chuen, five, writes: "I love Mummy because she brings me Vitagen on a hot day. She picks me from kindergarten and helps me with my recycling effort. Sometime she lets me paint even though it can get very messy. She also plays football with me and is teaching me how to read too."
Norlick Titi, 8
"I love my mother very much because she loves me and takes good care of me. I love her hugs and kisses," says Norlick Titi, eight.
Lim Sheng Hao, 10
Lim Sheng Hao, 10, wishes all the mothers Happy Mothers Day. He plans to celebrate Mothers Day with her in a hotpot restaurant in Penang. "Everyday, my mother brings me to school and pick me up from daycare. At night, she cooks delicious food for the family. She also does most of the housework and sometimes accompanies me for my tennis lessons. Since I am 10 now, I want to be independent. I am planning to lighten my mother's burden with some of the housework and also to try to do the homework by myself."
Find the hidden words!
ITEM: Milk is a wonderful source of nutrients like calcium, vitamin A, and healthy fats. It provides instant energy to the body and helps to keep our us bones strong and healthy. World Milk Day is celebrated on June 1. Starchild wants readers to share the benefits of milk. How about sharing some of your favourite drinks made using milk. Don't forget to send us your drawing.
Email your contributions to lifestyle@thestar.com.my by May 26. Please put "STARCHILD: Milk Day" in the subject line of your email.
Scanned drawings should be in jpeg format, with a resolution of 200dpi. Your contributions must carry your full name, age (open to children aged 12 and below only), gender, phone contact and address.
Starchild readers' Mothers Day drawings
---
Subscribe now to our Premium Plan for an ad-free and unlimited reading experience!