One of the highly anticipated TV shows in 2023, for us Malaysians at least, is American Born Chinese which features not one but two Malaysian stars.
Tan Sri Michelle Yeoh and Yeo Yann Yann star in the American comedy series based on the 2006 graphic novel by Gene Luen Yang.
The show revolves around a teenager whose life takes a turn after meeting an international student and getting entangled in a battle of Chinese mythological gods.
At the Television Critics Association winter press tour in Los Angeles on Jan 13, Disney+ unveiled the first look of the TV series which features Yeoh as the Goddess Of Mercy/Guanyin.
Showrunner Kelvin Yu said there's no one better to play Guanyin than the 60-year-old Malaysian star.
"When you're casting that role, American audiences may not know that, but it's sort of casting the Queen of England... You need somebody that has that kind of weight.
"I don't know if there's anybody more than Michelle Yeoh that can enter a room and you're like, 'Yeah, that's a goddess'," Yu said.
Michelle Yeoh and Daniel Wu as Guanyin and Monkey God, respectively.
Yeoh relished the opportunity to play the role of Guanyin.
"We were always, always very respectful of the Goddess Of Mercy because she's very iconic in our world, so we had to be careful of how we did that without taking too much liberty and sort of damaging her persona," Yeoh said.
The actress also added that they were careful when choreographing fight scenes involving her character.
"(My character is) not supposed to be, like, throwing punches and kicking, and boom! We did it in a such a way that it was always deflected. It's almost like a dance," she explained.
The series, premiering second quarter of the year, also stars Ke Huy Quan and Daniel Wu.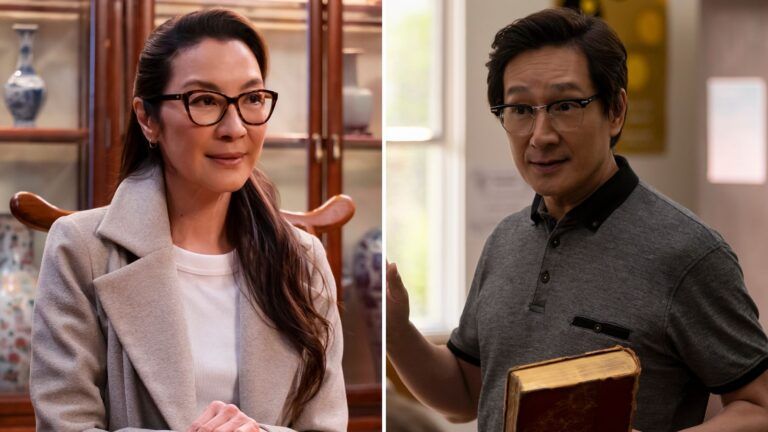 'American Born Chinese' reunites Michelle Yeoh and Ke Huy Quan.
Subscribe now to our Premium Plan for an ad-free and unlimited reading experience!