By MARTIN VENGADESAN
In what mainstay Dave Mustaine cited as a vindication of his band's values and travails, heavy metal pioneers Megadeth pulled off a storming debut performance in Malaysia, 16 years after its original show here was banned.
Calling it "a huge victory for the people of Malaysia and all who love heavy metal," Mustaine and cohorts long time bassist David Ellefson and new members Brazilian guitarist Kiko Loureiro and Belgian drummer Dirk Verbeuren set Stadium Negara alight with their rapidfire riffing and powerpacked attacks.
This reviewer arrived, all ready to headbang, despite his own advancing years, and the fact that his last concert experience had been a Taylor Swift extravaganza in 2014.
The stadium may not been packed but the atmosphere was top notch as a relatively gig-starved audience egged Megadeth on to fiery performance.
The concert which was organised by IME Malaysia proceeded smoothly despite a threatened protest by Selangor PAS Youth which never really materialised.
Local band Massacre Conspiracy warmed up the crowd with a belligerent if occasionally atonal set of three songs which was of precisely the correct duration.
Megadeth's set list was a real crowd pleaser with a superb blend of the old and the new.
We were treated to a healthy dose of classic era Megadeth with 12 established staples like Hangar 18, In My Darkest Hour and Trust from the 1986-1997 period.
There was also contemporary material with no less than six tunes off the latest album, last year's Dystopia. To be fair Dystopia really stands out as among the most consistent albums Megadeth ever made and even attained its second highest chart placing (behind 1992's Countdown To Extinction).
These included the title track which snagged Megadeth its first Grammy for Best Metal Performance. Other attention-grabbing tunes from that album were Poisonous Shadows, Post-American World and The Threat Is Real.
I guess there is something to gripe about in that so many albums were missed out, There is nothing from Endgame, The System Has Failed or Killing Is My Business. But when a band has a prolific career spanning more than three decades, it is inevitable.
With signature twin guitars, offkilter riffing and precision rhythms, the performance was topped off by Mustaine's strangely engaging throttled vocals spouting familiar themes of war and alienation.
For my money, the concert reached another level with its first singalong, when Mustaine's schizo delivery of Sweating Bullets, chromatic motifs and all, was echoed by most audience members.
The abiding memory of the night is that of Verburen frantically trying to keep the frenzied rhythms in line, while the frequently beautiful guitarist Louriero layers molten lava over an already boiling pot.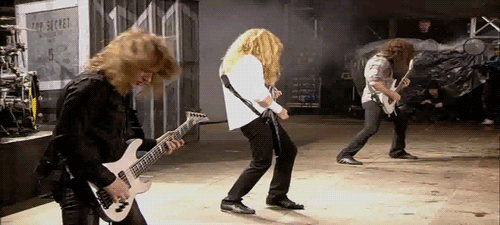 A ferocious onslaught
A Megadeth concert is a ferocious onslaught with scarcely a ballad in sight. One is treated to careening riffs and the almost fascistic chanting of the crowd as they lap up the gilt-edged anthems. The interplay of Mustaine and Louriero left me wanting more.
The night reached a crescendo as Megadeth swung into overdrive when the 'final" epic Symphony Of Destruction was followed by the bone-crushing encores Holy Wars and Peace Sells, a virtuoso pairing that brought the show full circle.
As the night ended, I looked up to the rafters, remembering the multitude of friends I had attended previous Stadium Negara concerts with, Those who were now lost to traffic accidents, heart attacks, migration and that thing that happens when the line between friendship and love gets crossed. Grateful that I was there with three primary school era friends, I rubbed my aching neck and stumbled out into the night, dazed but sated.