Recently, we ran a story on the 7 DC movies worse than Batman V Superman, so this time around, we thought it's only fair that we do one for Marvel as well.
These days, movies based on Marvel superheroes seem to be a a sure thing at the box-office. (Well, except for Fantastic Four, but more on that later). Before the days of the box-office-smashing, franchise-establishing Marvel Cinematic Universe, however, Marvel movies were pretty much hit-or-miss affairs.
On one hand, you had Blade, and Bryan Singer's X-Men and X-Men 2 (the less said about Brett Ratner's X-Men: The Last Stand, the better). On the other hand, you also had duds like the Punisher, Ghost Rider, and Fantastic Four movies.
Since we based the DC list on BVS, we initially wanted to base this list on the last Marvel movie. But since Deadpool has actually been pretty successful so far, we decided to just use BVS's 29% Rotten Tomatoes rating as the benchmark, and rate the Marvel ones the same way. And what do you know, we found 10 Marvel movies that were actually worse than Batman V Superman (though none of them were made by Marvel Studios).
The Punisher (2004)
Rotten Tomatoes rating: 29%
This was probably the best Punisher movie ever made, but that really isn't saying much. Thomas Jane was decent as Frank Castle, but let down by an overwrought origin story and a terrible villain played by John Travolta.
Plus for a movie about the ultraviolent gun-toting vigilante with no qualms about killing, it somehow didn't quite have enough violence, guns and killing.
The Punisher (1989)
(28%)
Yes, there have been three Punisher movies in total, and all three have scored less than 30% on Rotten Tomatoes. Well, at least you can say they've been consistent.
This one was the first one ever, and had Dolph Lundgren as the Punisher.
While Lundgren as Frank Castle wasn't THAT bad a choice, watching the film could be construed as a form of punishment. The acting was bad, the script was cheesy, and, worst of all, the Punisher doesn't even wear his trademark skull T-shirt!
Punisher: War Zone (2008)
(27%)
The violence is there, the guns are there, and there's lots of killing. Unfortunately, there's not much else. The action is decent, but the story, dialogue and acting are cringeworthy, reminding you of a 1980s' B-grade action movie.
Ray Stevenson took over the lead role from Jane, but couldn't quite save the film.
Ghost Rider (2007)
(26%)
This could have been a good movie. It's about a guy who becomes a spirit of vengeance, has a flaming skull for a head, and rides a flaming motorcycle, for mercy's sake.
Unfortunately, everything about this movie went wrong: from the lousy script to the awful design for Ghost Rider's, er, ride, and the casting of Nicolas Cage as Johnny Blaze. The only thing we remember about this movie is that Cage stood around pointing at things a lot.
Blade: Trinity (2004)
(25%)
The first Blade was a resounding success, and was probably the one that helped kick-start the whole comic-book superhero film trend. Blade II wasn't as good, but it was directed by Guillermo del Toro and had some really great moments.
Blade: Trinity? Well, let's just say that it crashed and burned faster than a vampire in direct sunlight. They should have just let the franchise stay at two, but NO, some filmmakers are always trying to ice skate uphill.
Ghost Rider: Spirit Of Vengeance (2012)
(17%)
You'd think it would be impossible for the Ghost Rider sequel to be worse than the original. You thought wrong. Nicolas Cage isn't as annoying, but the whole movie is unoriginal, clichéd, and a sad waste of one of Marvel's most interesting characters.
The Ghost Rider should really just go back and seek vengence on everyone who was involved in making these two movies.
Man-Thing (2005)
(17%)
Man-Thing only had a theatrical release in a handful of international markets. With only six reviews counted (and one fresh), so it might not be fair to put it on this list just based on its Rotten Tomatoes rating.
But those who HAVE seen this movie will agree that it's not a very good one anyway. And that's just the thing, man.
Howard The Duck (1986)
(14%)
This was supposed to be an animated film. But contractual obligations got it turned into a live-action movie that is voted one of the worst movies ever made.
It's not even the fact that it stars a TALKING DUCK.
It's just the fact that said talking duck looks like the love child of a duck-billed platypus and a garden gnome that came to life and decided it would disguise itself as a talking duck.
Fun fact: George Lucas was the executive producer for the film. Maybe that's where he got the idea for Jar Jar Binks.
Elektra (2005)
(10%)
"Hey, people liked the girl from Daredevil, right, the one with all the red leather?"
"Yeah, Electric Nachos was her name, wasn't it? She was quite bad-ass."
"Let's make a movie about her, without that lame dude with the horns."
"Yeah, whose idea was it to cast Ben Affleck anyway? He'll probably never play another superhero ever again."
"Sure, who's writing the script?"
"Who needs a script? We have Jennifer Garner in tight leather, fighting lots of ninjas!"
"You're right! Let's make this movie!"
Fantastic Four (2015)
(9%)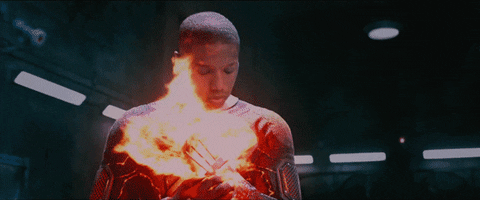 The fact that it scores even lower than freaking ELEKTRA on this list says a lot about how bad this is. "Fantastically forlorn" was our reaction to this movie when we watched it last year, and that's probably being too easy on this film.
It makes the previous two Fantastic Four movies look good.
It makes getting an F rating look good. Giving it 4 out 10 isn't bad enough – it deserves a 4 out of 100. This film really puts the "F" in "WTF".
For more on why this movie is so bad, read our review.
Join our Telegram channel to get our Evening Alerts and breaking news highlights