I (Kenneth) was in secondary school when American Idol became a phenomenon. We would watch the show and come to class the next day, engaging in deep discussion on how the contestants fared. In fact, we'd even sing and recreate the performances of our favourite contestants in between lessons.
Such was our love for the show that after it finished its season around May each year, we felt a sense of emptiness over the next couple of weeks.
American Idol has given us all the gift of music (when the contestants were really good) and the gift of laughter (when the contestants were really bad). To mark the end of the show, we look back at 15 of the most unforgettable people who have entertained us throughout the 15 seasons (in no particular order).
William Hung
Ask us what we remember from all 15 seasons of American Idol and one of the first things that pops into our mind is William Hung and his audition. Singing Ricky Martin's She Bangs, Hung was the original bad audition. After that, the show capitalised on other disastrous auditions but none have come close to Hung, a civil engineering student at the University of Berkeley in San Francisco who really wanted a career in music and so earnestly auditioned for a place. He wasn't trying to be funny or ridiculous.
As he told judge Simon Cowell: "I already gave it my best and I have no regrets at all."
David Cook
Cook was an underdog but when he started reworking pop songs like Lionel Richie's Hello and Mariah Carey's Always Be My Baby, he showed his originality and versatility. Idol became more than just a karaoke show. And he was pretty cool too, in a scruffy, rocker kinda way but with a soft centre – he dedicated his performances to his brother who was diagnosed with brain cancer. His brother passed on a year after.
David Archuleta
OK, although David Cook won, young Archuleta was hard to ignore. With his puppy dog eyes and innocence, Archuleta was adorable and at the time, at 16, he was the youngest contestant on the Idol stage. And talented. His best moment was singing John Lennon's Imagine.
Kelly Clarkson
This S1 winner is inspiring. We didn't witness her win – the first season of Idol wasn't aired in Malaysia – but ever since then, everytime she returned to the show to mentor or perform, Clarkson has been an absolute pro. And when she made an appearance in the final season as a guest judge and performed the heart-breaking song Piece by Piece – where she broke down a little – she won us over one more time. She's a class act and in our opinion, the most "successful" Idol. Maybe hand in hand with S4 winner Carrie Underwood.
Taylor Hicks
Hicks was a nice guy with a nice voice but he surely didn't fit the mould of an Idol. We couldn't believe he beat Katherine McPhee who seemed to have the "whole package". But, well, good for Hicks – we did like his rendition of Ray LaMontagne's Trouble.
James Durbin
Durbin had a genuinely touching back story: his dad died of a heroin overdose when he was nine and a year later, the young lad was diagnosed with Tourette's syndrome and Aspergers shortly after that. He seemed to have the odds stacked against him. But Durbin amazingly didn't let all that stop him. He was phenomenal and made the Top Four in the show's 10th season.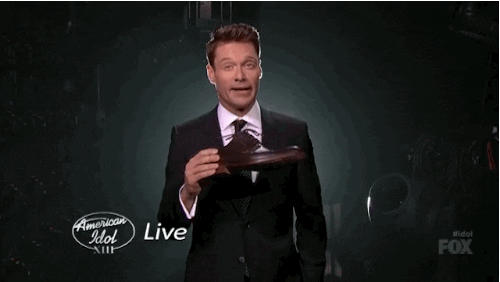 Ryan Seacrest
Throughout all 15 seasons, contestants came and went, judges came and went, but host Seacrest has remained. Seacrest – whose career skyrocketed along with series' success, venturing into radio hosting and television producing – proved he is the perfect host for the show. He is fun and witty without seeming like he's trying too hard during the show's lighter moments (how we miss the banter between him and Simon).
And when it called for seriousness ("dim the lights" as he always says come elimination time), he was understanding, caring and comforting.
Adam Lambert
S8 runner-up Lambert remains one of the most talented singers the series has ever seen. He wowed us week after week with his vocal acrobatics on (I Can't Get No) Satisfaction, Ring Of Fire and Cryin' to name a few. And of course, we have mad love for his hauntingly beautiful rendition of Mad World. He didn't win but Lambert is enjoying a lot of success. Last year, with his gig as the frontman on Queen's tour, Lambert was No. 1 on the list of Forbes' top-earning Idol alumni.
Mariah Carey & Niki Minaj
What was that? We didn't watch S12 of the show where the two divas were judges but we sure heard and read all about it. That year, the competition wasn't on stage, it was on the judges table. The show was so obviously not big enough for the two ample-bodied women.
Carrie Underwood
Underwood was an early favourite in S4 but she truly blew us away with her pipes the moment she hit the chorus of Heart's Alone. Underwood, who was establishing herself in the competition as a country singer, took a risk with 1980s rock song, complete with some very big hair, and it more than paid off. "Not only will you win this show, you will sell more records than any previous Idol winner," Simon predicted after the performance. And he was right.
La'Porsha
Let's be frank, this season was La Porsha's from the get go. Judge Jennifer Lopez practically predicted that she'd be in the finals, if not win the season and it's not a surprise. She's a soulful singer, has great stage presence and appears a class above the rest in more ways than one. Her vocals are almost flawless, her confidence through the roof, her song choices are on point and she hardly makes any mistakes for the judges to pick on. Plus a heart-tugging back story always gets the audience.
Sanjaya Malakar
Two words: That hair.
Simon Cowell
"You have the personality of a handle." "You sounded like Cher after she's been to the dentist." "I thought it had all the joy of someone singing in a funeral parlor." Yes, judge Cowell's comments can be really mean but a lot of times, he was right. As the original judge for nine seasons on the reality series, he said what was often on our minds but no one would dare say it.
Did he have to be so nasty? No, but then the show would have been a lot more dull without those zingers.
Fantasia Barrino
Fantasia is fantastic! Who can forget S3 winner's breathtaking rendition of Summertime? Seated on the floor clad in a tangerine dress, she gave us goosebumps, delivering both vocally and emotionally. Another magical moment was her finale performance of I Believe. She sang like she meant every word of the inspirational anthem, which, we think is still the best original coronation song to date.
A retrospective episode of American Idol airs on Star World (Astro Ch 711) on April 6 at 6pm. The final three contestants of S15 will battle it out on April 7 at 6pm (repeats at 10pm). The grand finale airs live on April 8 at 8am (repeats at 6pm and 10pm).