At 15, during the summer between school years at New Trier High School in Winnetka, Illinois, Joe Trohman hit the road as the bassist for a rock 'n' roll band called Arma Angelus. His mother was cool with it. His dad, a cardiologist, was not.
"But my dad trusted my mum a lot," Trohman says. "She was very into her kids being independent and going off and doing their own thing. She wanted me to be my own person. That was her mantra."
But looking back, Trohman, who today is lead guitarist for the hit band Fall Out Boy, can see the insanity of that parental decision. "I only have a daughter, and she's almost two. The idea of letting her go on tour at 15, as someone that's done it ..." he says, in a phone interview.
"I mean, it worked out for me – obviously worked out fine. I don't know. I love my mum."
Trohman, 31, talks just a bit about his mother, who died of a brain tumour last year. ("For some reason, she trusted me early on – and she was right to.") Then he shifts to the reason he was on that tour with Arma Angelus in the first place. He'd become friendly with Pete Wentz, an older New Trier graduate, after meeting at Fireside Bowl and other Chicago-area rock clubs, and Wentz invited him to fill in for a missing bassist.
The duo became the core of Fall Out Boy. They picked up a singer when Trohman visited Borders Books in a Wilmette shopping centre to buy CDs; Trohman's friend asked him about a particular band; Patrick Stump overheard and answered the question himself.
"I liked that he had all this knowledge about music, and I felt the same way, and we just started talking," Trohman says. "My friends got pushed aside for the better part of an hour."
By 2001, the band had added Andrew Hurley, who'd drummed in a well-known metal-and-punk band called Racetraitor, and began to play shows throughout Chicago. They were of a piece with other catchy pop-punk bands forming the foundation of the emo scene, including Promise Ring and Dashboard Confessional, and Wentz turned out to have a nice touch with bittersweet lyrics.
Soon they were the subject of a record-business bidding war, signing a deal with an independent label, Fueled By Ramen, that eventually led to a lucrative advance from much-bigger Island Records for a proper debut.
By the next album, 2005's From Under The Cork Tree, Fall Out Boy had become known for its upbeat, self-righteous and slightly depressed style. The song titles are small classics: Our Lawyer Made Us Change The Name Of This Song So We Wouldn't Get Sued, Champagne For My Real Friends, Real Pain For My Sham Friends, Nobody Puts Baby In A Corner.
Thanks to smash hits such as Sugar We're Going Down and Dance, Dance, the band sold millions of albums. Although Stump was the front man, Wentz emerged as the celebrity, with his multicoloured floppy haircuts and high-profile dating habits –­ he married pop star Ashlee Simpson, but they divorced in 2011.
But after recording 2008's Folie a Deux, the band took an extended break, retreating into other projects like Stump's solo album, Trohman's hard-rock band Damned Things and Wentz's electronic band Black Cards. The hiatus lasted until Stump and Trohman had a long phone conversation, which begat an eight-hour band meeting in 2012.
"We did air a lot of dirty laundry. I remember there was a lot of conversation about how not to talk over each other," Trohman recalls of the meeting, moderated by the band's longtime managers.
"There were a lot of issues. The good thing was everyone was really into working those issues out. It only worked because we did not get together for four years. People got it out of their system – projects and bands, things we needed to do to grow. Then we were able to get together and have a conversation where there was some fighting and apologizing and agreeing and disagreeing, but we were on the same page."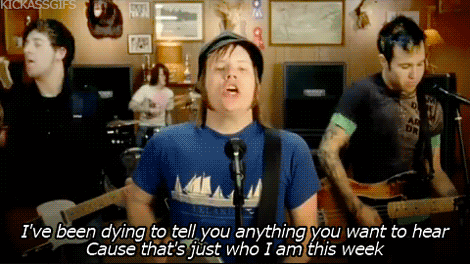 The meeting worked. In a time when rock bands rarely sell records, let alone make comebacks, Fall Out Boy returned in 2013 with the No. 1 single My Songs Know What You Did In The Dark (Light 'Em Up) and, last year, an even bigger hit, Uma Thurman. (Their latest video, for Irresistible, is an 'NSync spoof starring members of the defunct hit boy band as well as pop star Demi Lovato, who adds backing vocals.)
"I thought we might get together and have a fan base we'd perform in front of," Trohman says. "There was a bit of rolling the dice ... 'What are we going to do? Is it going to work?' Just kind of hope for the best. It actually turned out 1,000 times better." – Chicago Tribune/Tribune News Service/Steve Knopper