EXHIBITION: 'THE TRUTH UNTOLD': A FUSION OF TAMIL TYPOGRAPHY AND CALLIGRAPHY
Venue: ArtVoice Gallery, Sentul, KL
Date: Nov 11-30
To coincide with the Deepavali festive season, The Truth Untold exhibition, which opens tomorrow at ArtVoice Gallery in KL, offers a unique journey into the world of Tamil typography and calligraphy.
The show, curated by artist-printmaker Stephen Menon, features 20 artists presenting a fresh perspective on these ancient art forms that are deeply rooted in history, language and culture.
Apart from Menon, the show's line-up includes familiar names such as Syed Thajudeen, KF Choy, Mat Ali Mat Som, and Lim Siang Jin. Newer names such as Poojitha Menon, Sanker Ganesh, Moly and Tamaka have also come into their own in this exhibition, featuring paintings, mixed media and installations.
Each artist has reimagined the Tamil characters and scripts in their works, some even unveiling the untold stories they carry within. The exhibition is also providing a space for young artists to explore the versatility of Tamil script.
"The Truth Untold promises to be a cultural milestone, inviting visitors to engage with the beauty and depth of Tamil typography and calligraphy, while simultaneously exploring the creative expressions of the artists. It offers an opportunity to immerse oneself in the stories concealed within the graceful curves and lines of this ancient script, as interpreted by these Malaysian artists," reads the exhibition's notes.
More info here.
Simon (second left) and Maddocks (fourth left) together with the community members they worked with in Kampung Kilimu for the planting and harvesting of the paddy in Sabah. Photo: Jun Kan
EXHIBITION: PAGAR & PADI
Venue: The Back Room, Zhongshan Building, KL
Date: Nov 11-26
Next up at The Back Room gallery is a collaborative project titled Pagar & Padi by Sabah-based artists Catriona Maddocks and Gindung McFeddy Simon.
Pagar & Padi will be arriving from Kota Kinabalu, where it was first exhibited throughout August–September 2023 at Kota-K Art Gallery.
The Sabah-inspired Pagar & Padi is an exhibition that presents the documentation of a piece of land art created by Maddocks and Simon in collaboration with community members of Kampung Kilimu, a rural village at the foothills of Mount Kinabalu.
In 2022, the artist collaborator duo participated in the annual "Mongomot" rice-planting event, using heritage rice grains to spell out the word "JAMIN" ("guarantee" in Malay) into the earth at Kampung Kilimu.
In March 2023, the artists harvested the padi and documented the process through drone photography and videography. The documentation was presented first at Kota-K art gallery. In early November the artists will once again return to the Padi fields in Ranau to re-plant the land art, and the documentation will be exhibited, in a slightly adapted form, at The Back Room gallery in Kuala Lumpur.
More info here.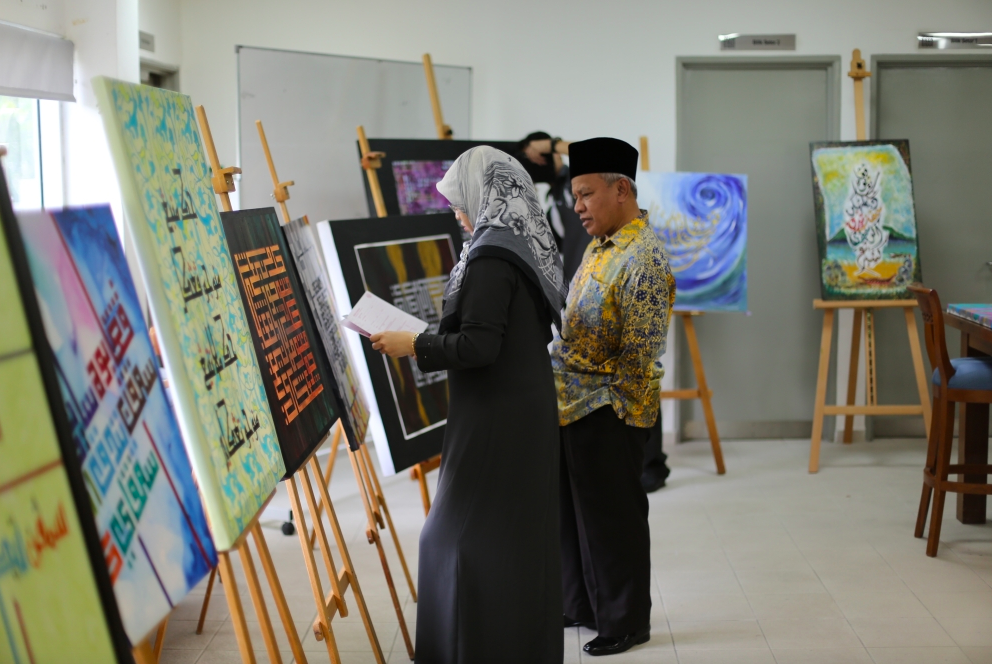 The National Calligraphy Competition will be judged by a panel of writers, professional calligraphers, and professional artists. Photo: Islamic Arts Museum Malaysia
NATIONAL CALLIGRAPHY COMPETITION
Venue: Islamic Arts Museum Malaysia, KL
Date: Nov 11 and 12
Islamic Arts Museum Malaysia (IAMM) is presenting the "Manifestasi Perdana Seni Khat" (MPSK), or the National Calligraphy Competition this weekend. The event is open to the public.
This is the 7th competition organised by IAMM in collaboration with the National Calligraphy Art Association, and it will be held on Nov 11 at IAMM's Open Space Gallery (10am to 5.30 pm), while the awards ceremony will take place on Nov 12.
This is a national level competition where participation is open to all; students and the public. The winners will receive a total prize of RM21,500 along with a certificate of participation.
Past winners from MPSK have gone on to open their own galleries, become instructors in their own right, and have even gone abroad to compete internationally.
This year's competing categories include Category A: Spontaneous on Paper and Category B: Contemporary Calligraphy Painting on Canvas.
Unlike other calligraphy art competitions, MPSK this year includes a calligraphy art workshop prior to the competition. Live calligraphy demonstrations will also be held. In addition, visitors who come with their families can spend time at the IAMM Children's Library participating in activities specially prepared in conjunction with this MPSK.
The winners will be notified on the night of the competition.
More info here.
PERFORMING ARTS: CARPE DIEM 2 - UNRESTRAINED DETERMINATION
Venue: NERO EVENT SPACE, PJPAC
Date: Nov 10-12
The award-winning percussion collective Souls Impact returns to the concert stage with Carpe Diem 2 - Unrestrained Determination, a live performance featuring seven new original – and challenging – compositions.
In addition to the typical Chinese drums, the group is incorporating various instruments to this show, including the Cak Lempong, handpan, San Xian, electric guitar, bass guitar, jazz drums, and traditional Chinese opera instruments.
Be it the big stage or black box venue, Souls Impact sees music as a bridge that transcends cultures and languages.
"It has the power to touch hearts, ignite emotions, and convey strength. In "Spirit Unleashed," we not only strive for musical innovation and breakthroughs but also aim to use the magic of sound to immerse your ears in melodies from different genres and styles," reads the show's notes.
Formed by Cross Chin and Zac Tan, Souls Impact combines movement with drumming. The team uses Western and Chinese percussion as well as movement from yoga, martial arts and contemporary dance. Its 2016 production, Carpe Diem, won the Best Production Value at the BOH Cameronian Arts Award in 2017.
More info here.
A general view of the Apa Khabar Art Bazaar at Bank Negara Malaysia Museum and Art Gallery. Photo: BNM MAG
APA KHABAR? ART BAZAAR 2023
Venue: Bank Negara Malaysia Museum and Art Gallery, KL
Date: ends Nov 12
Whether you are an art enthusiast or seeking to add creativity to your life, the Bank Negara Malaysia Museum and Art Gallery (BNM MAG) Art Bazaar 2023 is set to captivate your imagination. Themed "Apa Khabar?", this 10-day event which is winding down this weekend is showcasing artists, arts entrepreneurs, craft-makers and more.
The Apa Khabar? Art Bazaar, set to run until Nov 12 at Sasana Kijang, also coincides with BNM MAG's exhibition Gerak Bayang: The Art Of Storytelling, which celebrates the wayang kulit world of stories and shadows.
You can spend time browsing the pop-up stalls at Apa Khabar?, take part in the workshops and also check out the Gerak Bayang exhibition, too. It's definitely a family-day out to enjoy the arts.
More than 17 artists are taking part in the art bazaar, including Hazimah Harith, Farid Sarudin, Tong Xin Lim, Zulaika Simon, Zera Hamzah, Khairanee, Arman Rizaudin, Badrilzzaman Abu, Nasrul Rokes, Amirul Zulkifli, Dhakshini Jeganathan, Sok Yeng Leong, Zulhimi Fauzi, Nurfazleen Kasim, and Herman Rawi.
From paintings and drawings to printmaking and mixed media artworks, visitors can explore the intersection of art and holistic health. Throughout the art bazaar, there will be activities and programmes designed for all age groups.
Admission to the Apa Khabar? Art Bazaar is free.
More info here.
Amar's 'Study For Flying Familiar' (watercolour, acrylic, pencils on 400gsm Fabriano paper, 2023). Photo: Amar Shahid
EXHIBITION: AMAR SHAHID'S 'IGNIS FAMILIARIS'
Venue: Rimbun Dahan, Km.27, Jalan Kuang, Selangor
Date: ends Nov 12
Amar Shahid, who is wrapping up his Rimbun Dahan art residency, is welcoming visitors to his solo exhibition Ignis Familiaris at Rimbun Dahan (an independent arts centre on the outskirts of Selangor).
This weekend is the last chance to see Ignis Familiaris in the Underground Gallery at Rimbun Dahan. Visitors can drop in between 10am and 5pm, on Saturday and Sunday.
Amar's latest exhibition presents a series of photorealist paintings and it is the central event in a proposed trilogy of exhibitions by the artist. What started as an exploration in photographic materiality is now evolving into the dismantling of the picture plane, towards photo-abstraction.
The selection of images in Ignis Familiaris are bordering on disfiguration and the eventual abandonment of pure representation. The abstractions are intentional and highly calculated, however, rather than conforming to the free-form expression of the postmodernist – though the image may be vague, in definition it is still very much a photorealist approach. This coincides with the artist's personal negotiation on the permissibility of image reproduction according to his faith.
Ignis Familiaris was conceived entirely during Amar's six-month residency at Rimbun Dahan from May to October 2023, which has proved to be fruitful and creatively fertile period for the artist.
More info here.

Subscribe now to our Premium Plan for an ad-free and unlimited reading experience!