Visitors can almost hear the laughter of children and smell the fish being hung out to air-dry in this quaint alleyway-inspired installation at the National Art Gallery (NAG) in Kuala Lumpur. There would be freshly-washed laundry fluttering in the breeze and once upon a time, such a place would be bustling with life.
Artist Red Hong Yi's My Alleyway Memories: Once Upon A Longtang installation is quite the head-turner, with a 6m tall bamboo structure and eight hanging canvas artworks "painted" with burnt red calligraphy paper.
This work, which is part of the National Art Gallery's "Single" series of exhibitions, features scenes from old alleyway houses – or longtang residences – in Shanghai, where Red lived for two years (2011 to 2013) with her granduncle and grandaunts. It offers visitors a glimpse into the relationships that are important to her, as well as an invitation to revisit the fast-disappearing tradition of longtang houses as the old makes way for the new.
"A few months ago, my brother, who just moved back from Shanghai, told me that he visited the old alleyway that I lived in and saw that it was barricaded. That was when I first found out that that whole area was going to be demolished. I had three grand-relatives (my grandparents' siblings) who lived there, and I got to live with them and got very close to them," says Red, who hails from Kota Kinabalu, Sabah.
'The first time I saw this (cured ducks, sausages and fish being hung with laundry), I was astounded and amused. Why would someone hang meat with their laundry?' recalls Red about 'longtang' street life in Shanghai. Photo: The Star/Azman Ghani
"Sadly, two of them passed away last year and the only remaining grandaunt has moved out, so the house has been empty but only in the past year. It is all a lot for me to take in because they have lived there since I was born. This place means so much to me," she adds.
Alleyway houses combine Chinese and Western architectural styles, and are built side-by-side along narrow interconnected passageways. Red looks back fondly on her time living there, describing life in a longtang compound as noisy, messy and intimate.
A sense of nostalgia
On a typical morning, she relates, you would see locals gathered in these cramped alleys, chattering and gossiping about their children or grandchildren. Vendors would sell vegetables or second-hand items on mats.
In the afternoons, residents roll up their sleeves and cook, hand-wash laundry or play mahjong with their neighbours.
Red Hong Yi (middle) gives visitors a tour of her installation at the National Art Gallery last Saturday. Photo: The Star/Azman Ghani
"Lots of laundry would be hung off bamboo poles overhead. I think it was just hilarious seeing all sorts of things hung up on these poles when I was living there. The local residents didn't even seem to care or even think it was strange. I saw granny panties, preserved sausages and fish being hung out to dry! Life there felt like an almost village-like neighbourhood and I loved it," says the artist.
Besides serving as a clothesline, she also saw bamboo scaffolding used for renovation works in Shanghai.
The bamboo structure in My Alleyway Memories: Once Upon A Longtang replicates these purposes, with clothing draped over the structure which is held together with nylon string.
"It is surprisingly sturdy, despite using no nails in this structure," she notes.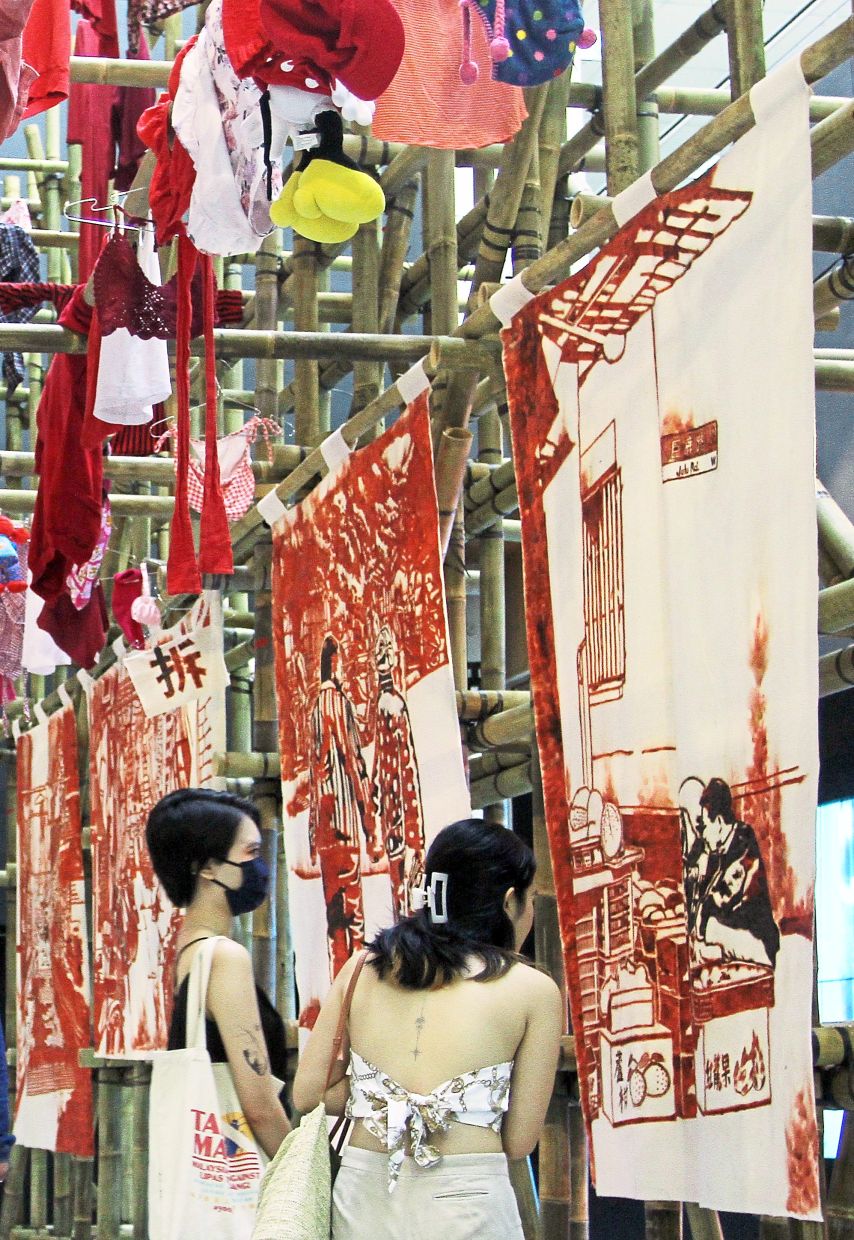 The installation 'My Alleyway Memories (Once Upon A Longtang)' has given the National Art Gallery a festive buzz. Photo: The Star/Chan Tak Kong
With longtangs quickly disappearing in the face of modernity, the installation attempts to address impermanence, tradition and urbanisation.
It is also the artist's way of preserving her personal memories of these alleyways and local residents by making art inspired by photographs that she took while living there.
"I wanted to use my art to tell more personal stories, and stories of places and people who are important to me. I wanted people to see and feel the relationships I had, and maybe even experience the people and places that I love in a way that I love them.
"Before moving to Shanghai, I had this perception that people there would be aggressive and hostile, but they have turned out to be such warm and loving people to me. Everyone at some point feels a sense of nostalgia, be it a place or a memory of a person. I think those are powerful emotions, and I wanted to tap into those emotions to create my art," says Red, who left her career as an architect to be a full-time artist in 2014.
'Da Popo' (burnt red calligraphy paper and pigment on canvas, 2023). Photo: The Star/Azman Ghani
Through the years, she has explored a variety of issues in her artworks, including a portrait series I Am Not A Virus (2020) to speak out against anti-Asian racism amid the Covid-19 backdrop and also answering the urgent call for climate action with a Time magazine cover (Climate Is Everything) in April 2021.
My Alleyway Memories: Once Upon A Longtang is her first artwork to be given such a prominent platform at a major Malaysian art institution.
Family, roots and love
There are three main characters in Red's installation: her oldest grandaunt (the "da popo" in the artworks, literally translated as big grandma), granduncle ("xiao gong gong", little grandpa) and other grandaunt ("xiao po po", little grandma).
"My grandaunt and granduncle were one of the most loving couples I have met. There is an artwork of them holding hands, carrying groceries. That was them. That was their routine – groceries, laundry, preparing meals, watching TV, church on the weekends, and then all this would be repeated the following week. I want to remember them that way," she shares.
'I hope my story will encourage you to dig into your own heritage and roots – you never know where it may lead you,' says Red Hong Yi. Photo: The Star/Azman Ghani
Red notes that the tearing down of their 100-year-old residence and the passing of her elderly relatives feels like the end of an era to her.
"But as with each new generation, just like cities, change is inevitable. I know that the old must make way for the new," she says.
No doubt, My Alleyway Memories: Once Upon A Longtang is nostalgic and bittersweet, filled with longing and memories of people we love.
But Red says she wants some humour to shine through too, as her relatives were humourous people and alleyway life was chaotic and funny.
"You would see aunties gossiping in a corner, kids laughing and running around, and neighbours dressing up their dogs in outrageous costumes," she says.
'Red Hanging Laundry' (burnt red calligraphy paper and pigment on canvas, 2023). Photo: The Star/Azman Ghani
Besides capturing the liveliness in these alleyways, she hopes that the artworks will help more people to reflect on the impermanence of such traditional residential areas in cities and how shared housing spaces offer a strong sense of community and belonging to their residents.
"I hope my story will encourage you to dig into your own heritage and roots – you never know where it may lead you. I also hope it will get people to think about what we have today, and to cherish places and relationships we have today because everything will change eventually.
"For me, it took 10 years for all this – the place and the people – to disappear. It has also been astounding to see a place like Shanghai develop so rapidly.
"People who visit Shanghai see the city as one that is filled with skyscrapers and incredible infrastructure, but this alleyway will always be a central feature to me," she concludes.
My Alleyway Memories: Once Upon A Longtang is showing at the National Art Gallery in Kuala Lumpur till March 22. Opening hours: 9am to 5pm daily. Free admission.
Subscribe now to our Premium Plan for an ad-free and unlimited reading experience!