NORMA ABBAS: CODED DIARIES
Venue: Wei-Ling Gallery, Brickfields, KL
Date: ends Oct 22
Norma Abbas is one of Malaysia's most esteemed women artists, and her latest art exhibition Coded Diaries is also her first collaboration with Wei-Ling Gallery in KL.
Coded Diaries offers a long-awaited series of new works for art lovers who last enjoyed an extensive Norma show at Bank Negara Malaysia Museum and Art Gallery in 2016.This new exhibition reveals magical spaces and a "hidden" genesis, with Norma offering deeply-reflective paintings "marrying" semi-abstraction and figurative images. Some of them are also a homage to her feline companions, and a spiritual awakening in its most profound sense.
In the exhibition notes, Norma observed, "When it comes to my works, you have to read between the lines. The messages are there, albeit hidden. Those who can see would immediately understand."Her artworks, simply put, follows her life.
More info here.
The winners of Short+Sweet Malaysia 2022: Stand-up Comedy and Song category seen at KLPac recently. The festival continues with more categories, including Musical (Oct 8 and 9), Theatre (Oct 12 and 13) and Dance (Oct 15 and 16). Photo: KLPac
SHORT+SWEET MALAYSIA 2022
Venue: Pentas 2, KLPac
Date: Oct 8 and 9, Oct 12 and 13, Oct 15 and 16
The Short+Sweet Malaysia series is a rite of passage for so many newcomers – performers and fresh audiences alike – to the local theatre scene. It's a cool way to get hooked on the performing arts.
Celebrating its 15th year anniversary, this biggest little festival has premiered more than 1,000 new works and showcased an astonishing 5,351 talents.
This year, the festival – directed by KLPac's co-founder Datuk Dr Faridah Merican – is set to feature over 60 works in these respective categories – Film, Stand-Up Comedy & Song, Musical, Theatre and Dance.
If you've missed the festival's early rounds, don't worry. There is a lot more on the cards. You can still catch the rest of the stage action, including Musical (Oct 8 and 9), Theatre (Oct 12 and 13) and Dance (Oct 15 and 16) categories at Pentas 2 in KLPac.
As a bonus, you can also catch this year's "Short+Sweet Malaysia Festival 2022: Film" online on the CloudTheatre Revive platform from now till Oct 14.
More info here.
A launch event for the long-awaited reissue of the late Salleh Ben Joned's poetry book 'Sajak Sajak Salleh: Poems Sacred And Profane' will be held at indie bookshop Tokosure in Kuala Lumpur on Oct 8. Photo: Fixi
SAJAK-SAJAK SALLEH: POEMS SACRED AND PROFANE
Venue: Tokosue, Wisma Central, KLDate: Oct 8, 3pm
The late poet-writer Salleh Ben Joned's Sajak Sajak Salleh: Poems Sacred And Profane is ready to meet a new generation of poets and rebel writers. The long out-of-print 1987 poetry book (last reissued in 2009) is now back in print, reissued by indie publishers FIXI. A new foreword has also been written by poet Jack Malik and the reissue features new artwork from contemporary artist Shika Corona.
But it's all about celebrating Sajak Sajak Salleh: Poems Sacred And Profane's return, with an affordable and sensible price for the masses. Earlier versions of this classic Salleh book have been selling for more than RM100 in the secondary market.
At the upcoming Tokosue (an indie bookshop) and FIXI event tomorrow afternoon, you can grab the new FIXI copy and also enjoy a live reading in-store session, featuring poets and performers such as Jack Malik, Cha Kopioais, Cahaya Jais, Sijasad Bersiong and Zhafirin Zulkifli. Free admission.
More info here.
Dipali Gupta's 'Under The Kotatsu' (collage on Bockingford paper, 2022), which is part of her exhibition 'Desire Lines' at The Back Room in KL. Photo: The Back Room
DESIRE LINES – A SOLO EXHIBITION BY DIPALI GUPTA
Venue: The Back Room, Zhongshan building, KL
Date: Oct 8-30
In a two-part exploration of passion and liberation, the latest exhibition at The Back Room focuses on themes from the feminine perspective and with a greater emphasis on desirability. Desire Lines is the debut solo exhibition of Dipali Gupta, an artist born in Mumbai, India, educated in Singapore, and currently based in Kuala Lumpur.
A selection of paintings, video works, and lightbox installations made between 2019 and 2022 are on show. The works are investigations into the changing nature of female liberation in the age of rapid technological advances and post-feminist attitudes towards desirability.
The gallery is also showing selected works from Dipali's Pages From The Book Of Spring series, in which she recreates 17th- and 18th-century Japanese ukiyo-e prints in the shunga genre, while visitors can watch a loop of videos from Dipali's O HER! series, which pays homage to the vanitas tradition of still life paintings.
More info here.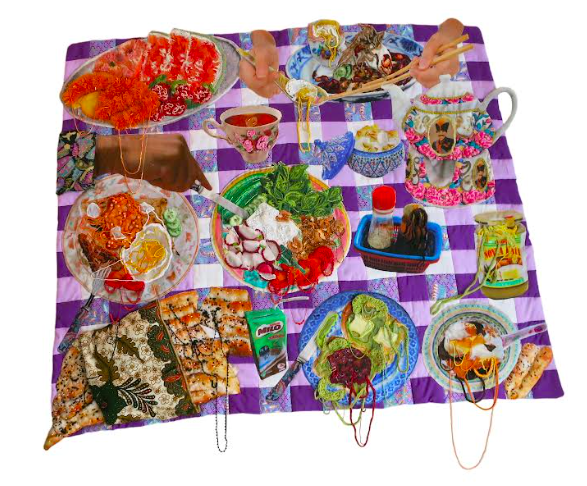 Leily Moghtader Mojdehi's artwork 'Intercontinental Breakfast', which is part of the 'Sweet And Sour' exhibition at Zhan Art Space in Petaling Jaya. Photo: Zhan Art Space
SWEET AND SOUR – ALYA HATTA AND LEILY MOGHTADER MOJDEHI
Venue: Zhan Art Space, Jaya One, Petaling Jaya
Date: ends Nov 7
Need a tasty viewing suggestion? Zhan Art Space offers Sweet And Sour, a duo exhibition by London-based artists Alya Hatta and Leily Moghtader Mojdehi.
The exhibition inspired by the sweet and sour chicken dish serves as a backbone for the show and reflects a paradoxical reality. The dish, widely popular across Asian restaurants in the West, is however a common dish in the East.
By reinterpreting the authenticity of Asian culture, young artists Alya and Leily invite the audience to explore their works through the lenses of a world of implied meanings and suggestions.
The collection of 15 vivid pieces ranges from figurative paintings to abstract renderings acting as an exercise by the artists to establish new spaces for "unplaceable experiences".
Despite referencing different Asian origins, each work is an exploration of becoming and being Asian.
More info: zhanartspace.my.
Subscribe now to our Premium Plan for an ad-free and unlimited reading experience!