Recognising women in science.
MANY people often complain that their work is never done; for researcher Dr Sharmili Vidyadaran, this is a good thing.
"I like the fact that our work is never done. The pursuit of knowledge is endless, and every little discovery serves as a reminder of the huge amount of information we have yet to realise," she said.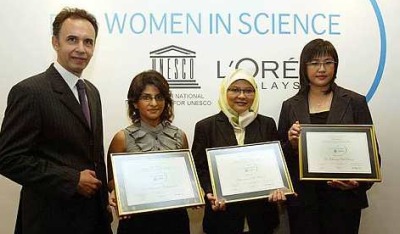 Sharmili is one of three women researchers who were awarded the L'Oreal Malaysia For Women In Science Fellowships Award recently.
The award is given in recognition of women who contribute to scientific progress and to help them pursue research work in Malaysia.
"Research brings moments of great joy and sometimes deep frustration. This award will serve to buffer the difficult times nicely," she said.
Sharmili, 29, has always been interested in how the brain works, so it's no surprise that she chose neuroscience.
From Kajang, Selangor, Sharmili was inspired to pursue a science career by her father, a professor of anatomy at a private college.
After completing Form Five, Sharmili went to Universiti Putra Malaysia (UPM) to obtain an Animal Science Diploma. A year later, she went on to do a Biomedical Science degree programme. After graduation, she became a tutor at UPM's Medicine and Health Sciences Faculty and was later awarded a government scholarship to pursue her PhD at Imperial College London, Britain. When she returned, she joined the Immunology Unit, Department of Pathology at UPM, as a lecturer.
Her research revolves around microglia – immune cells in the brain that cause inflammation.
"Inflammation is a necessary response to injury but uncontrolled inflammation can sometimes cause more harm than good. Diseases like Parkinson's and Alzheimer's, and stroke, occur due to different reasons but, in all of them, inflammation occurs in the brain," explained Sharmili, the younger of two daughters in her family.
In the long run, she hopes her research will be able to delay the onset and progression of such neuro-degenerative diseases.
Currently, Sharmili enjoys her dual role as lecturer and researcher.
"If I have an experiment that does not work and I get depressed, I concentrate on teaching. That's the beauty of my job. I like the balance," said Sharmili, who is also a classical Indian dancer.
Raising awareness on oral cancer
Dr Cheong Sok Ching's love for science began in upper secondary, with biology being her favourite subject.
While studying for her science degree from Universiti Kebangsaan Malaysia (UKM), Cheong was inspired by her mentors and lecturers. That helped chart her career path.
The second of four siblings, Cheong continued her PhD at UKM, studying the p53 gene in patients with skin disorders. After completing her PhD, she joined the Cancer Research Initiatives Foundation where she currently heads its oral cancer research team.
Her research involves establishing laboratory models to understand key genetic events in oral cancer development and, subsequently, to target these cancer genes for cancer treatment.
"More than 80% of oral cancers occur in the South-East Asian region. Oral cancer cases are also on the rise in the younger generation in Asia, affecting those who don't smoke, drink or chew betel leaves (sirih), and we do not know why," said Cheong, 34, who grew up in Ipoh.
Cheong, whose father is a doctor and her mother, a teacher, is married with two children aged two and five. As a researcher, her challenges include getting financial support or recognition for her work.
"Sometimes we feel an issue is very important in our region but other people may not understand that," she said. "Recognition in the contribution towards science is one of the most uplifting experiences in a scientist's career. In addition to monetary contribution from this award that will go towards developing laboratory models for cancer, it will also help raise awareness of oral cancer."
Inspired by MacGyver
The second child in her family, Sharaniza Abdul Rahim has always been intrigued by how people solve things scientifically. In fact, the soft-spoken 33-year-old admitted that she was very much influenced by the TV show MacGyver when she was young.
Today, Sharaniza is a PhD student at Universiti Malaya's Tissue Engineering Group in the Orthopaedic Surgery Department, Medicine Faculty.
Her research includes cartilage injuries, specifically protein expression in cartilage.
"Our body is a complex system, and protein plays a major role in maintaining our body functions. Once our cartilage gets injured, it is very hard to heal and there is no definite treatment for this kind of injury," said Sharaniza.
"My research is about trying to map all proteins available in the injured tissue to try and find a cure for the injury."
Currently on a scholarship from Universiti Teknologi Mara, Sharaniza will join the university once she completes her PhD later this year.
Being a scientist takes a lot of patience, which is something Sharaniza can attest to.
"This field is very challenging, stressful and sometimes very disappointing, especially when we do not succeed in our projects," she said. However, the KL-born researcher deals with it through simple measures.
"I talk it out with my mum and best friend, and they always encourage me not to give up. I also jalan-jalan cari makan (shop around for food)!" said Sharaniza with a smile.
Extraordinary womenand contributions
THE 2008 L'Oreal Malaysia For Women In Science (FWIS) Fellowships Award granted three young female researchers RM20,000 each to pursue their research project in Malaysia last month.
The award recognises the efforts of women and their contribution to the scientific world.
"Women all over the world are revolutionising science. Sometimes ignored and even discriminated against, these women are participating in advances in genetics, physics, biology and new technologies.
"This programme changes the face of science by building a community that helps future generations of women scientists. It proves that science is exciting, inspiring and can be a driver of human development, peace and progress," said Jean-Francois Couvé, managing director, L'Oreal Malaysia.
The L'Oreal Malaysia FWIS Fellowships, first launched in 2006, is supported by the Malaysian National Commission for Unesco and held in partnership with the Academy of Sciences Malaysia, Science, Technology and Innovation Ministry and Higher Education Ministry.
Sitting on the jury panel this year was jury president Prof Dr Jalani Sukaimi, dean of the Science and Technology Faculty at Kolej Universiti Islam Malaysia; Prof Asma Ismail, deputy vice-chancellor, Research and Development at Universiti Sains Malaysia; Dr Norimah Yusof, director, Agrotechnology and Biosciences Division, Malaysian Nuclear Agency; Prof Datuk Dr Ibrahim Komoo, deputy vice-chancellor, Research and Innovation, Universiti Kebangsaan Malaysia; Prof Dr Khatijah Yusoff, deputy vice-chancellor (Academic International), Universiti Putra Malaysia; and Lilywati Arshad, scientific manager with L'Oréal Malaysia.
The award is part of the international FWIS programme which consists of the prestigious annual L'Oreal-Unesco Laureates Award and the International Fellowships Award.
The laureates are given out to five exceptional women scientists, one from each continent, in recognition of their achievement and contribution to science and society. Each laureate receives US$100,000 (RM350,000).
The annual International Fellowships awards US$40,000 (RM140,000) to 15 promising scientists, doctorates or post-doctorates, over two years to do research abroad.
The FWIS award programme celebrates its 10th year anniversary this year.
To date, the award has been given out to 52 laureates from 26 countries, 120 international fellows from 68 countries and 500 national fellows in 43 countries.
In 2001, Dr Suraini Abdul Aziz became the first Malaysian to receive an international fellowship award. The biochemical engineer is currently Associate Professor at Universiti Putra Malaysia.
In 2006, structural biologist from Universiti Kebangsaan Malaysia Nyon Mun Peak also received an international fellowship.
Subscribe now to our Premium Plan for an ad-free and unlimited reading experience!