In her beautiful, sparkling kitchen, Sumathi Sangaran, 39, bustles about with purpose, adding the finishing touches to dishes that form the foundation of her halcyon childhood days.
In the background, her mother Sampurnam Govindan, 65, watches in satisfaction, murmuring assent. Sampurnam is a quiet, contemplative lady whose face lights up when she sees the pleasure on people's faces as they eat the food she and Sumathi have formed such a strong bond over.
In many ways, Sumathi's love of food and cooking is something she owes to Sampurnam, who has been cooking since she was a child and is generally acknowledged to be a highly accomplished home cook.
"I grew up in Perak and I was the eldest in my family, so I learnt how to cook from my mother. By the time I was 12, I was making traditional Indian food like spinach curry, salted fish curry and sardine curry because I was responsible for cooking for the whole family," says Sampurnam.
When she grew up and got married, Sampurnam went to great lengths to ensure that Sumathi and her sister always had proper home-cooked meals on a daily basis.
Although Sumathi has always loved her mother's food, she confesses that she only started making these dishes herself once she got hitched.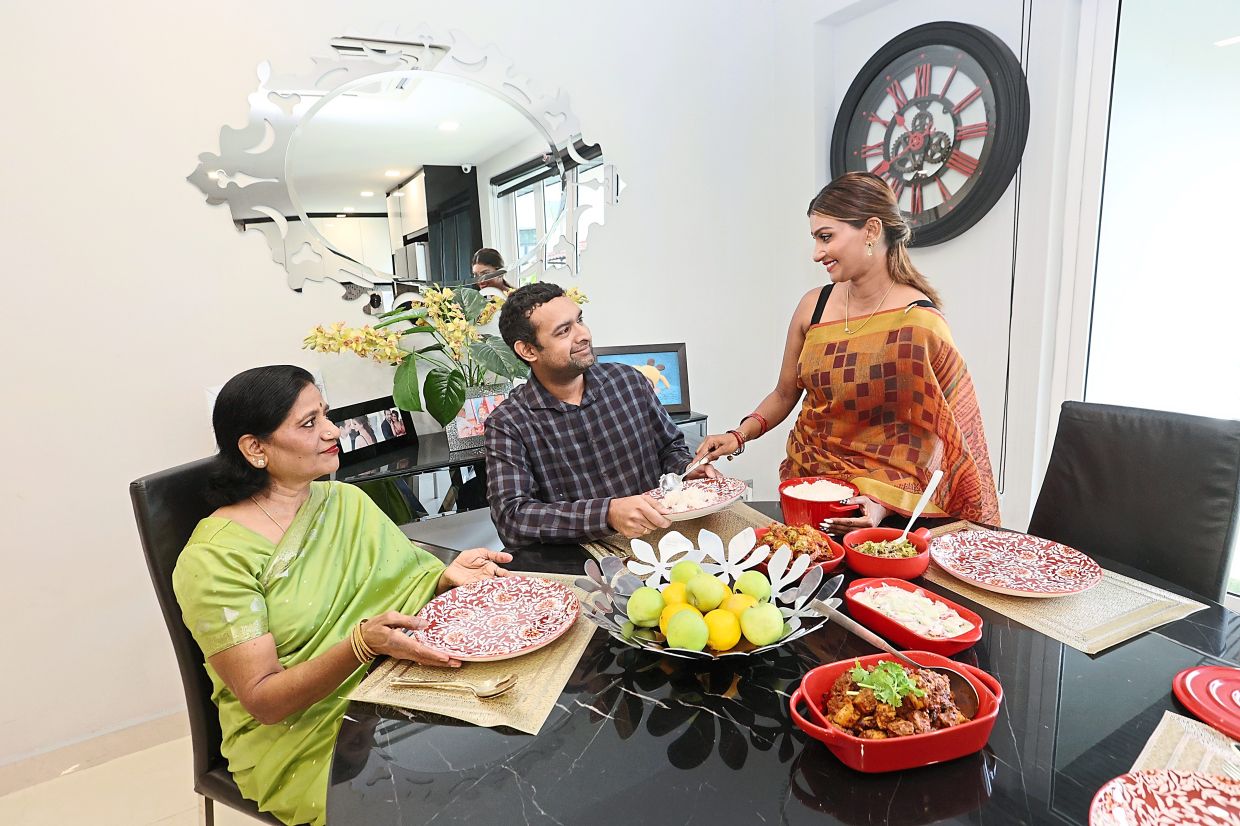 Sumathi's husband Roshan Puvanendran says he is very lucky that his wife (standing) is passionate about cooking traditional dishes that she learnt from her mother Sampurnam.
"When I got married, I was staying in my mother-in-law's house and my in-laws' had their own cook, so I didn't really get to eat my mother's food for the first five years and I craved it so much.
"So once my husband and I moved into our own house, I started experimenting and cooking. I would call up my mother and my aunt and ask them for their recipes. My motivation was that I really wanted to make the home-cooked food that my mother and grandmother used to make – basically I wanted the food of my childhood," says Sumathi, laughing.
Over the years, Sumathi has continued to fuel her passion for cooking and now cooks every day for her husband and three children. She even has a popular Instagram account @Sumie610 where she expresses her love of cooking by sharing the family heirloom recipes she has picked up over the years with a growing number of followers.
It is evident that her mother's food continues to hold her in its thrall and Sumathi says she has worked hard to perfect heritage maternal recipes like rasam, a soothing, sating south Indian sour broth with curative properties that is a staple in many Indian homes.
"My mother's rasam is made from scratch, we pound all the spices ourselves so it tastes very authentic. For a short period, I was even selling rasam and it was so popular – people were asking for more, because it has such a distinct flavour that cannot be matched in restaurants," she says.
Sumathi says no rasam can compare to her mother's version.
Sumathi and Sampurnam's version is particularly beguiling and has lovely tangy notes underscored by peppery undercurrents and spice-riddled nuances. It's the perfect tonic for a cold day or even just a particularly bad one.
Sampurnam's chicken varuval, meanwhile, is a dish that Sumathi says she is particularly proud to have perfected as it took her a long time to get it just right.
"For years, whenever my mother came to visit and stay with us, she would make her chicken varuval. But it took me years to get that same taste and consistency, so it is very special to me because I learnt it the hard way. It was not easy to master," she says.
The family chicken varuval is a thing of beauty – chicken pieces are coated in a rich masala that is lightly fiery and incredibly packed with flavour. It's the sort of meal that is so indulgently good, you'll ditch all notions of a diet and ask for seconds (and quite possibly, thirds too!).
Sumathi is also a die-hard fan of sambal, so much so that Sampurnam says she used to make a sambal dish nearly every day when her daughters were growing up because Sumathi was always asking for it!
Sumathi's three young sons enjoy her home-cooked meals and she intends to share her recipes with them when they are a bit older. — SUMATHI SANGARAN
Which is why Sumathi's prawn and petai sambal is particularly important to her as it is reflective of a dish that is based on her mother's sambal recipe but then deviates with the addition of prawns and petai. The dish is telling of the love and care that she has injected into the meal – each prawn is drenched from head to tail in a rich sambal with a generous smattering of petai adding a potent pungency to the dish.
"It's really my own take on my mother's recipe," agrees Sumathi.
Sumathi says she is determined to continue cooking the matriarchal meals she has picked up so that her three young sons too can enjoy a version of what she had as a child.
"When I have free time, I always think about my good childhood moments and those involve food, love and family. And I want to give that to my kids, so when they grow up, I want them to remember their mother's home-cooked food and how we always had a family meal together.
"I want to do that because those memories come back to me all the time now and they make me very happy," she says.
As for Sampurnam, she says she couldn't be prouder of Sumathi for taking such an active interest in the family recipes and keeping the tradition going for her grandchildren.
"I am proud of her, but there's just one thing... her kirai (spinach) curry is still not there yet.
"She can do it, but it is not up to my standards," she says, smiling cheekily at Sumathi.
PRAWN AND PETAI SAMBAL
2 tbsp butter
500g medium-sized prawns, shelled
1/3 cup vegetable oil
2 big red onions, sliced
3 tbsp shallot-ginger-garlic paste
1 tbsp shrimp paste (belacan)
chili paste (15-20 dried chillies soaked first in hot water to soften and then drained; use water and 1 tbsp of oil to grind to a smooth paste)
2 lemongrass stalks, bruised
1 tomato, sliced
warm water
20 stink beans (petai), peeled, halved
1 Holland onion, sliced into rings
1 tbsp palm sugar
salt to taste
a handful of fried anchovies, pounded
To make
Lightly fry prawns with butter and set aside.
Heat up cooking oil, add in onions and stir-fry till translucent.
Add shallot-ginger-garlic paste and shrimp paste. Fry until the raw smell disappears.
Add the chilli paste, mix well together and then add the lightly pounded lemongrass.
Add tomatoes and let simmer. Leave the sambal to cook slowly for 30 minutes until it changes to a darker shade of red and add water little by little so the mixture doesn't burn.
Then add prawns, petai and yellow onions over medium heat until cooked. Add sugar and salt to taste.
Turn off the heat and add fried anchovies. Mix together well before serving.
CHICKEN VARUVAL
500g chicken
oil, for cooking
1 stick cinnamon
2 star anise
4 cloves
4 pods cardamom
1 green chilli, minced
7 to 8 dried chilli, cut into small pieces
A handful of curry leaves
2 onions, sliced
2 tbsp shallot-ginger-garlic paste
3 tbsp chilli powder
1 tbsp Kashmiri chilli powder
1 tbsp coriander powder
1 tsp garam masala
1 tsp fennel powder
1 tsp cumin powder
1 tomato, chopped
1 cup water
coriander leaves to garnish
To make
Cut chicken into small pieces, wash chicken keep aside.
Heat a wok with oil. Add and stir fry cinnamon, star anise, clove, cardamom, green chilli, dried chillies and curry leaves.
Add onion, shallot-ginger-garlic paste and fry till golden. Add the chicken pieces and salt to taste. Add chilli powder, coriander powder, garam masala powder, fennel powder and cumin powder. Leave to cook till the masala powders are fully absorbed in the mixture.
Add tomato and water and cook on low heat until the chicken is cooked.
Once the chicken is cooked, switch to high heat and stir to combine everything to get a dry chicken varuval (about 5 minutes).
Remove from the heat and garnish with coriander leaves.
Subscribe now to our Premium Plan for an ad-free and unlimited reading experience!