THE Sunway Theme Parks Mega Roadshow 2023 is back with more exciting discounts and exclusive offers, so start planning for your next fantastic and fun-filled getaway.
Mark your calendar as the roadshow will be visiting Selangor, Penang and Johor on these dates:
> Feb 9-12: Sunway Pyramid, Selangor
> Feb 14-19: AEON Tebrau Mall, Johor
> Feb 23-26: Sunway Big Box, Johor
> March 2-5: Sunway Carnival Mall, Penang
Get ready for a splashing time and super deals at the Sunway Theme Parks Mega Roadshow 2023.
Don't forget to download the upgraded Sunway super app, as there are exclusive deals available only on the app. Get ready for incredible bargains such as limited tickets and memberships starting at RM1.
During the events, super deals will be available exclusively on the super app, broadcast live by STP studios. Be sure to check the super app or theme parks' social media platforms for the timeslots when the super deals will be announced.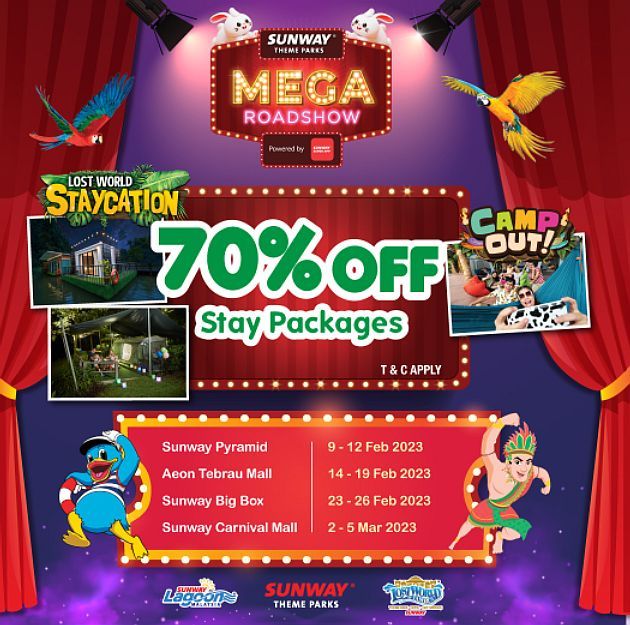 The Sunway super app, formerly Sunway Pals, has enhanced user-centric features. The upgrade has added new features, offering a seamless and efficient experience for all its users and stakeholders.
There is also a fantastic rewards point system connecting users to the vast Sunway group ecosystem and communities.
One of the app's special features is that users can purchase both Sunway Lagoon and Sunway Lost World of Tambun tickets and packages directly from the app. On top of that, users will be rewarded with loyalty points that can redeemed as cash.
The Sunway super app will showcase and connect the whole Sunway group's ecosystem, partners and community. Download the super app to enjoy amazing deals and start earning points.
For more information about the upcoming Sunway Theme Parks Mega Roadshow, head to http://sunwaylagoon.com/stpmegaroadshow2023
Subscribe now to our Premium Plan for an ad-free and unlimited reading experience!