PETALING JAYA: The seasonally adjusted S&P Global Malaysia Manufacturing Purchasing Managers' Index (PMI) dipped from 47.8 in December to 46.5 in January, indicating a stronger moderation in the health of the sector.
The latest reading suggests that the gradual slowdown in manufacturing production and gross domestic product growth at the end of 2022 was sustained into the new year.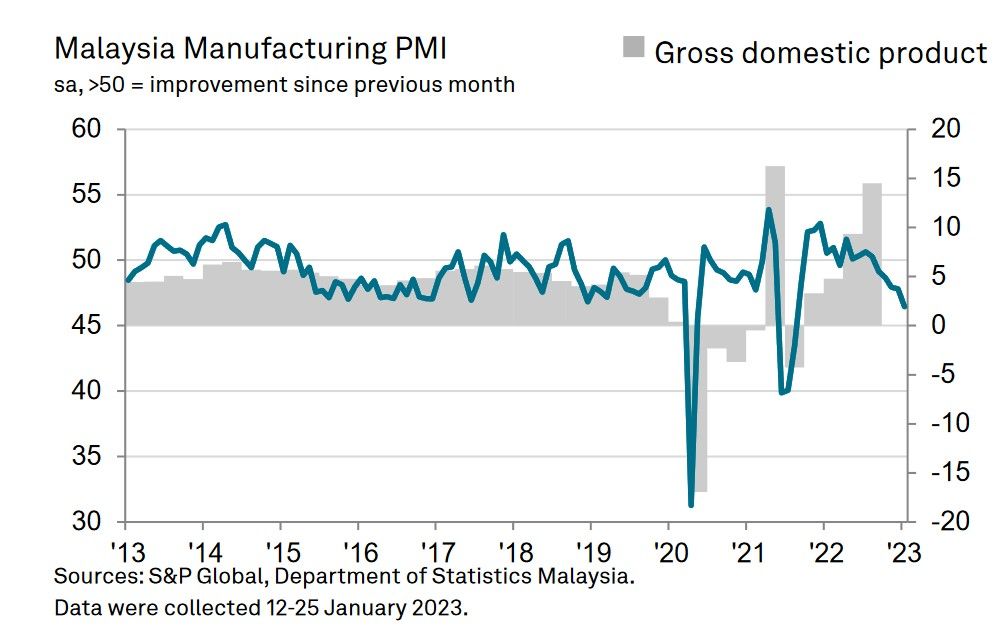 "There were further signs in January that economic conditions in Malaysia remained muted, as challenging conditions across the manufacturing sector limited demand and production at Malaysian manufacturing firms. The latest PMI data are still indicative of growth in official data heading into the new year, though at a softer rate," S&P Global Market Intelligence economist Usamah Bhatti said in a statement.
"That said, two positives came from the latest survey result, the first being a renewed expansion in employment, helping firms to keep on top of workloads and setting a base to expand output in the future should demand start to regain momentum.
"The second was the first reduction in delivery times for just over three years as material shortages, port congestion and delivery issues continued to normalise. Better availability of materials also contributed to the softest rise in input prices in the current sequence of inflation that began in June 2020," Usamah added.
S&P Global said the weaker headline figure was in part due to a stronger moderation in output volumes that was the steepest reported for 16 months. Firms commonly attributed muted production to subdued incoming orders.
At the same time, new order inflows reduced for the fifth month running in the latest survey period. The moderation was sharp and the strongest seen since August 2021 as firms noted muted demand and client confidence in both domestic and international markets.
As such, export demand for Malaysian manufactured goods fell further, and at the sharpest pace since June 2021.
While demand conditions moderated, S&P said supply chains were able to improve at Malaysian goods producers as delivery times shortened for the first time since November 2019, albeit only marginally.
On the price front, input costs increased for the thirty-second month running in January although the rate of inflation continued to ease and was the softest recorded in this sequence, as firms reported lower prices for a variety of inputs including oil.
S&P Global said firms highlighted a rise in employment levels for the first time in four months during January as goods producers cited advance hiring ahead of an expected recovery in demand as well as increasing capacity to fulfil current orders.
Meanwhile, firms utilised capacity to clear outstanding business for the eighth month in a row amid a lull in new order inflows.
"Looking ahead, Malaysian manufacturers were increasingly optimistic regarding the year-ahead outlook for output amid hopes that both domestic and external demand conditions would improve as the global economy recovers. The overall level of confidence rose to the strongest since August 2019 as a result," S&P Global said.
Subscribe now to our Premium Plan for an ad-free and unlimited reading experience!