NO matter the industry, we see many businesses accelerating the implementation of business messaging in their communication strategy, including property developer Eco World Development Group Bhd (EcoWorld).
After many successful collaborations with Meta through their wide range of digital ad solutions since 2018, EcoWorld looked to new diversified ways for acquiring high-quality leads and communicating with prospective homeowners.
This led to the duo working on a three-month long campaign using business messaging on WhatsApp as a customer outreach channel. The campaign, which ran across Meta technologies, directed customers to EcoWorld's WhatsApp Business account and encouraged them to begin conversation about EcoWorld's properties with a sales representative.
The click-to-WhatsApp messaging campaign, focusing on one of EcoWorld's projects called Eco Grandeur in Puncak Alam, found that ads that click to WhatsApp messaging reached more prospective homebuyers and garnered even more high-quality leads compared to its business-as usual strategy, generating a 6.5 times return on ad spend.
With a total of 15,000 link clicks to EcoWorld's WhatsApp Business App, 69% expressed interest in the product and 21% were categorised as high-quality for follow-up.
"As time goes by, people's expectations around service and convenience have changed from leaving details for businesses to call back to wanting immediate attention with instant and personalised response.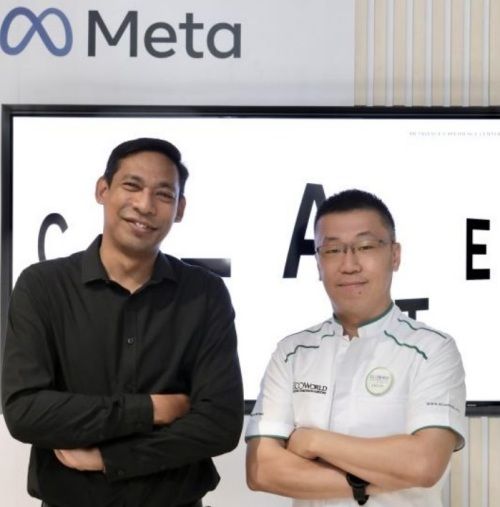 Justin (left) and Tang working together for more successful marketing campaigns.
"With our nature of business, customers need a lot of assurance in getting the right product and that initial relationship building is crucial.
"WhatsApp Business messaging allows our sales representatives to weave these touchpoints into a seamless and connected experience for our customers," said EcoWorld Malaysia group branding general manager Steven Tang.
Sharing on WhatsApp data security, Tang noted that the messaging format is straightforward; customers engage with a designated sales representative on WhatsApp and only basic information such as your name, contact number and email address will be required for further appointments.
"The campaign generated a good mix of customers between 25 to 60 years old, as we have products catered to different life stages," added Tang.
As consumer behaviour is constantly evolving, Tang pointed out that businesses must be alert on what the current trend is as well as the incoming trend to discover the type of engagement suitable for their customers.
"We didn't jump on it and achieve success just like that. We have been experimenting with many solutions by Meta since 2018. For us, we have found the way that works for us for now, which is business messaging.
"It all goes back to meeting customers' expectations and with their short attention span, you need to grab it fast," said Tang.
For property developers, trust and speed are two critical success factors for sales and support functions.
"The whole essence of this campaign was about driving more prospective home buyers and high-quality leads compared to business-as-usual marketing.
"As EcoWorld embrace digitalisation, we wanted to help EcoWorld realise its full potential through Meta's business messaging solutions.
"The results are evident that Meta's business messaging solutions is applicable to premium items," said Justin Murugaya, Head of Industry, e-Commerce, Malaysia at Meta.
Justin pointed out that most have this perception that business messaging is meant for SMBs and microentrepreneurs, but this campaign is evident that mid-large size businesses with high-ticket items can harness its benefits.
"Conversations create relationships and people want to connect with a business in the same way they chat with their friends and family.
"The fact that 91% of Malaysians are on WhatsApp as a channel and 63% of consumers use WhatsApp to connect with mid to large sized businesses, based on data from the Meta-commissioned Kantar study, are valid reasons for businesses to start building relationships and presence on the platform," shared Justin.
Meta has over 200 million businesses globally relying on its technology platforms to grow. Most of them use a number of free tools and 10 million advertisers leverage a range of its ad solutions to connect with customers, such as click-to-message.
"The way that we have developed our business tools and ads have to do with how people were organically using our tools to connect with customers – like chatting to a business on Messenger or WhatsApp. Now business messaging is a common behaviour all over the world and the preferred way people communicate with a business," said Justin.
Today, many businesses are already running ads on Facebook and Instagram that click to WhatsApp and Messenger. These click-to-message ads are one of the fastest growing ad formats for Meta.
To help facilitate the dialogue between customers and businesses, Meta is constantly developing and rolling out new features, and business messaging is one of the big focus areas in Meta's business tools investment.
Depending on the size of the business, one can deploy their own team or work closely with Meta-certified partner who can share suggestions to move forward.
Subscribe now to our Premium Plan for an ad-free and unlimited reading experience!