PETALING JAYA: The hung Parliament scenario produced by Malaysia's 15th General Election (GE15) unnerved investors as it failed to give rise to a strong winner and reignited fears of a weak government at the federal level which could raise political and policy risks.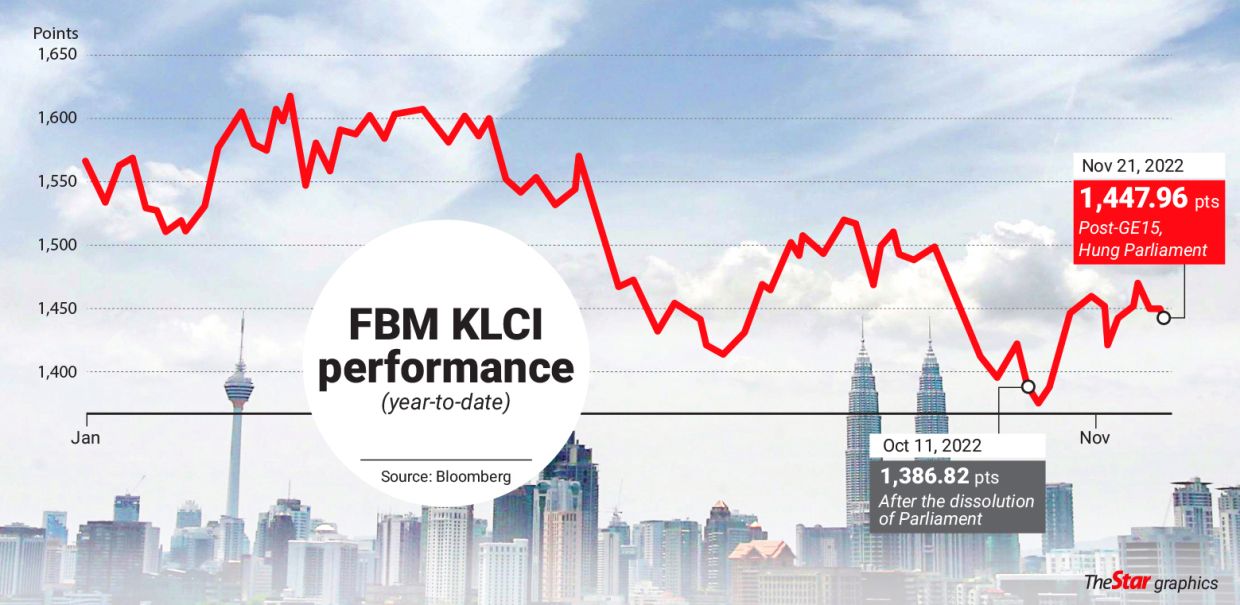 CLICK TO ENLARGE
Equity analysts said the market benchmark, however, showed resilience to recover early losses on "knee-jerk" selling and closed the trading day 1.36 points lower at 1,447.96 points yesterday, after hitting an intra-day low of 1,427.75 points in the morning trading session.
The market recovered after investors bought into defensive shares like Nestle (M) Bhd

, CIMB Group Holdings Bhd

and Hap Seng Consolidated Bhd

and cut the amount of losses suffered by Genting Bhd

and Genting Malaysia Bhd

(GenM), with many now adopting a sell-and-wait strategy to see if the political muddle can be removed following the formation of a new government by the respective main coalitions.
Nervous investors were partly calmed by the meeting between Pakatan Harapan (PH) and Barisan Nasional leaders yesterday, who signalled a willingness to work together to form a government in Putrajaya.
Tradeview Capital Sdn Bhd executive director and chief investment officer Nixon Wong believes the FBM KLCI would remain volatile and range-bound regardless of who would be forming the government, as a confirmed and stable government as well as more policy certainty was required to restore investor confidence.
"While differing in political ideologies between parties, we believe both domestic economic stability and better social welfare are the common focus of all parties regardless of who forms the government.
"The first order of the day is to get Budget 2023 approved and if that is done quickly and focus is rechannelled on the economy, then it will be a good sign for market recovery.
"With this as a base case, we believe market recovery is likely following the initial knee-jerk reaction," Wong told StarBiz.
He opined that policy certainty will remain a key consideration, no matter which parties end up constituting the eventual Cabinet, and with Parliament having to reconvene latest by Feb 7, 2023 – at most 120 days after dissolution on Oct 10 – the next government's medium-term fiscal policy would be essential.
Wong added, "Immediate focus for the new government will still be the forthcoming economic challenges brought about by elevated inflationary pressures and global monetary tightening.
"Besides, major decisions on issues such as taxes, government expenditures and debt management are essential pointers to drive better economic growth going forward."
In a research note released yesterday, CGS-CIMB Securities Sdn Bhd said GE15 may have led to more political uncertainty instead of resolving the situation, and investors may have concerns over the strong showing by Parti Islam Se-Malaysia (PAS).
Counters like Genting, GenM, Carlsberg Brewery Malaysia Bhd

, Heineken Malaysia Bhd

, Magnum Bhd

and Sports Toto Bhd faced selling pressure but recovered as the day drew to a close, with Genting closing 22 sen lower at RM4.26 after touching an intra-day low of RM4.06 and Carlsberg settling 5.2% lower at RM22, while Sports Toto closed 11 sen lower at RM1.64 but off a low of RM1.55 earlier in intra-day trade.
CGS-CIMB analysts Ivy Ng and Nagulan Ravi said, "There could also be concerns, similar to those in the past, of the fragility of potential alliances due to their differing ideologies.
"Taking a leaf from history, when the opposition parties did well against Barisan in 2008 and 2018, the FBM KLCI fell 3% and 6% one month after GE12 and GE14, respectively."
As such, the research outfit continues to foresee significant market volatility and acknowledged quantifying the effects of the GE15 results of a hung Parliament on the market would be complicated, given the potential repercussions not only for individual companies and sectors, but also sentiment.
On a more positive note, CGS-CIMB picked MR DIY Group Bhd, QL Resources Bhd

and Dupharma Biotech Bhd, companies in the consumer and pharmaceutical sectors that are deemed well-managed and defensive, as they are potential beneficiaries from manifestos of both the PH and Perikatan Nasional (PN) coalitions.
It believes that while the election results are a negative surprise for the market due to short-term uncertainties, any major sell-off in the market is a good opportunity to accumulate in defensive counters that are run well.
MIDF Research cautioned the process of assembling a coalition to form a majority government could take days or even weeks to conclude – a statement that appeared to be materalising as updates flowed in yesterday regarding the decision to extend the deadline to 2PM today for the respective affiliations to form a government.
MIDF Research expects the equity markets to react adversely to the situation, possibly breaking the psychological 1,400-point barrier. In a research report released early yesterday, the research outfit stated PN stands a higher chance of leading the next government. Notably, that projection was made before the meeting between PH and BN leaders took place yesterday.
Hong Leong Investment Bank (HLIB) Research, concurring with MIDF in its own early projection that a PN-BN alliance looks the most plausible, has also reduced its year-end target for the FBMKLCI from 1,540 to 1,470 points due to "near term political fluidity".
Nevertheless, that judging from the past two political crises in 2020 and 2021 - that led to the resignations of Tun Dr Mahathir and current PN leader Tan Sri Muhyiddin Yassin respectively - the research outfit believes the current impasse would not be a long drawn affair.
"In fact, we would nibble on any potential market weakness in November to bet on the probability of a positive December from the window dressing effect, as the KLCI has registered positive December returns in 11 out of the past 12 years," said the research house.
Echoing the sentiments of Tradeview's Wong, TA Securities Holdings Bhd also feels the first agenda of the new government would be to table a Budget 2023, as well as approve the legislations on the Fiscal Responsibility Act to maintain healthy statutory debt limits.
It noted it is crucial for the new government to adopt a "centrist" approach, as opposed to a fundamentalist stance, to continue to attract investors into the country.
TA Securities said, "Even if the new government pledges to continue with most of the prevailing policies and undertake progressive reforms to sustain Malaysia's competitiveness and fiscal standing, it could take a while for confidence to return, especially among foreign investors, who have just turned net buyers this year after being a net seller between 2018 and 2021."
It noted that gaming and brewery stocks can face heavy selling pressure, while foreign selling of blue chips exerts more downside pressure on the FBMKLCI this week if investors perceive a "non-centrist" government has taken charge.
"We are inclined to cut our end-2022 FBMKLCI target to 1,490 from 1,590, but expect it to recover within three months," said TA Securities, before pointing out that with the anti-hopping law in place for politicians, there should be better political stability after GE15.
ends
Subscribe now to our Premium Plan for an ad-free and unlimited reading experience!