THE timely expansion of Sunway City Bhd's (SunCity) stable of commercial assets in Sunway Integrated Resort City is bearing fruit for the property group as evidenced by the high occupancy and income fetched by the properties now.
The assets include Sunway Pyramid Shopping Mall, the 4.8ha Monash University campus, Sunway University College, Sunway Carnival Mall in Penang, Sunway Resort Hotel & Spa, Sunway Pyramid Hotel and Menara Sunway.
The crown jewel of the property investment division, Sunway Pyramid Shopping Mall, underwent a major expansion and redesigning exercise two years ago that cost RM550mil and added 900,000 sq ft in net lettable space to total 1.7 million sq ft.
SunCity managing director for property investment Ngeow Voon Yean said the redesigning and expansion of Sunway Pyramid which was completed last September was a major boost to the group's rental income stream.
"The 360-degree makeover has turned Sunway Pyramid into a palatial and unique shopping kingdom with Egyptian and Morrocan themes. The opening of four new retail theme zones €" Fashion Central, Asian Avenue, Marrakesh and Oasis Boulevard - offers the ultimate shopping experience for shoppers," he said.
The enlarged mall is attracting more than 2.5 million visitors a month, compared with 1.5 million previously.
Pre-tax profit from Sunway Pyramid Shopping Mall and Sunway Carnival Mall is expected to rise to more than RM100mil in financial year ending June 30, 2009 (FY09) from RM80mil in FY08.
Ngeow said there was room to explore new shopping malls in the Klang Valley, including Kuala Lumpur.
"We may also consider opportunities in India and China when SunCity's property development projects take off in those countries," he added.
Meanwhile, SunCity's hotel portfolio has also been expanded to five hotels with a total of 1,234 rooms from just a single property comprising the 431-room Sunway Resort Hotel previously.
Ngeow said SunCity had been in the forefront to promote the integrated resort development concept as proven by the immense success of Sunway Integrated Resort City which has become one of the key tourist destinations in the country.
"The decade old-initiative that was started by Sunway Group founding chairman Tan Sri Jeffrey Cheah in the 1990s has converted an ex-mining land into a thriving community for residential, leisure, education and commercial hub. These efforts have proven to be very strategic as they ensured SunCity remained strong and relevant to face the current challenging times," Ngeow said.
The township's commercial hub will be further spruced up with another two office developments in the pipeline. Currently, the only office building there is Menara Sunway with net lettable space of 300,000 sq ft.
A 28-storey block of small-office-home-office (SOHO) and commercial tower with net lettable area (NLA) of 300,000 sq ft will be built adjacent to Sunway Pyramid.
Construction work will commence next year.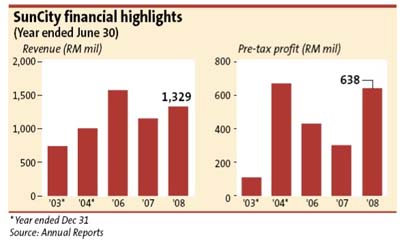 The second office block with NLA of 500,000 sq ft will be build next to Menara Sunway at a later date.
"There is still strong interest for office space in Klang Valley's suburban area because of the growing appeal of suburban commercial hubs. We are looking at rental rates of between RM5 and RM6 per sq ft," Ngeow said.
 SUNCITY :  [Stock Watch]  [News]
For latest MSEB indices, charts and other information click here
Join our Telegram channel to get our Evening Alerts and breaking news highlights