StarBiz-ICRM forum: Getting Corporate Responsibility on the CEO AgendaPart 1Part 2Part 3
Star Publications (M) Bhd and the Institute of Corporate Responsibility Malaysia (ICR Malaysia) jointly organised the StarBiz-ICR Malaysia forum on Getting Corporate Responsibility on the CEO Agenda at Menara Star in Petaling Jaya yesterday.
The panellists at the forum were Astro

TV chief executive officer Rohana Rozhan, IJM Corp Bhd

managing director Datuk Krishnan Tan, HSBC Bank Malaysia Bhd deputy chairman and chief executive officer Irene Dorner, and Khazanah Nasional Bhd managing director Tan Sri Azman Mokhtar.
Some 89 guests from 30 to 40 companies, including corporate leaders and members of the media, attended the half-day event.
From left: Utusan Melayu (M) Bhd

group executive director Mohd Nasir Ali, KhazanahNasional Bhd MD Tan Sri Azman Mokhtar,Telekom Malaysia Bhd

group CEO DatukZamzamraini Mohd Isa and Khazanah Nasional Bhd executive director of transformationmanagement office Abdullah Abdul Hamid.
From left: Suria FM - Rimakmur Sdn Bhd chief operating officer Engku Emran EngkuZainal Abidin, Tenaga Nasional Bhd

external communications head Mohd SidekKamiso, Telekom Malaysia Bhd group corporate communications general managerMariam Bevi Batcha and Tenaga Nasional Bhd media relations manager of corporateaffairs division Khoo Choo Ki.
ACCA director (Asean and Australasia)Tay Kay Luan (left) and Tradewinds Corp Bhdgroup CEO Shaharul Farez Hassan.
From left: Association of Accredited Advertising Agents Malaysia (4As) presidentDatuk Vincent Lee, L'Oreal Malaysia corporate communication and media relationsdirector Tay Ai Leen and Star Publications (M) Bhd group MD and CEO Datin LindaNgiam.
Star group chief editor Datuk Wong Chun Wai (left) and IBM Malaysia Sdn Bhd marketingdirector Eric Wong.
HSBC Bank Malaysia deputy chairman and CEO Irene Dorner (left), HSBC Malaysiahead of group communications and corporate sustainability Elizabeth Wee andPricewaterhouseCoopers Malaysia senior executive director Chin Suit Fang (right)sharing a light moment.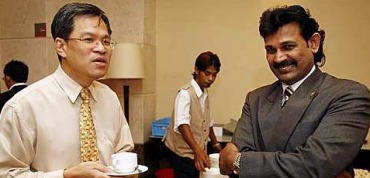 Some of the corprorate leaders attending the forum.
Alcom

MD Tan See Ping (left) and Northport (M) Bhd corporate communications headRavindran Raman Kutty.
Related Stories:Role of CEOs vital in driving CR initiatives CR must meet stakeholders' objectives and interest Study: CR will help differentiate companies
Did you find this article insightful?
% readers found this article insightful