Malaysia:
* No elements of nepotism, cronyism in the appointment of Nurul Izzah, says political aide
* Former cop gets jail, fine for negligently causing colleague's death
* Wife charged with hubby's murder in case that implicates Esscom officers
* ROS confirms Umno's no contest motion did not breach any rules, regulations, says Ahmad Maslan
* Taking a step back does not mean Sabah Umno has lost the plot, says Bung
* Anwar tells Goldman Sachs to pay up on 1MDB settlement
* Azizulhasni, Pandelela crowned sportsman and sportswoman for year 2021
* Social media users upset over derogatory term used by influencer during AR Rahman concert
* Youth and Sports Ministry wants probe into alleged racist remarks by national hockey player
* Umno purge: Hisham says he will not appeal his suspension
* Malaysia slips in corruption perception index score
* Sarawak wants to develop hydrogen as a renewable energy source, says Abang Jo
A view of the city skyline in Singapor. - Reuters
Singapore:
* Singapore youth admits to raping drunk teen despite two friends telling him not to touch her
* Singapore ranked least corrupt Asian country but overall score slides to lowest since 2012
* Jail for woman in S'pore who cheated intellectually disabled man out of over S$39,000 in love scam
* Passenger numbers at Changi Airport rebound to 50% of pre-pandemic levels
* Girl in SG was 16 when she helped foreign scam syndicates as ATM runner
* Sony slashes PlayStation VR2 headset output after pre-orders disappoint
* Woman in SG pretends to be a man and gets 'girlfriend' to send nude videos then tries to extort money from her
* Singapore: Towards the golden years
* Asian currencies subdued as investors focus on Fed meeting
* Oil slips on rate hike worries, Russian export flows
* LTA awards S$562mil contract for MRT station, tunnels; extension to benefit over 40,000 households
* Jail for man in S'pore who used Microsoft Word to forge S$25,000 bank transaction to sugar baby
A shopper purchases a hat at a central market in Medan, Indonesia. Indonesia is scheduled to release the consumer price index (CPI) on Tuesday (Jan 31, 2023). - Bloomberg
Indonesia:
* Indonesia government to issue rules on exporters earnings in February
* Indonesia Finance Minister Sri Mulyani among candidates for top central bank job - sources
* Chairing Asean, Indonesia pushes for more concrete cooperation, says its Foreign Minister
* Indonesia welcomes policy changes involving foreign workers, says Saifuddin
* As allies, Jokowi, Prabowo reap mutual benefits
* Hundreds protest Quran burning in Sweden in Indonesia
* Indonesia: 'Trader forged ingredient label'
Thailand:
* Seven Bangkok policemen moved to inactive posts, face charges over Taiwanese actress's bribery accusation
* Thai court cuts tax evasion fine for Philip Morris
* Thai economy recovering on tourism despite global slowdown, says its central bank
* Duopoly warning for Thai e-commerce market after JD Central pulls out
* Pirate-themed floating restaurant seating 100 sinks off Pattaya
* Thai Police admit to extorting Taiwanese actress
Paetongtarn Shinawatra, daughter of former premier Thaksin Shinawatra, center, during a Pheu Thai Party campaign rally in Nong Khai province, Thailand. Paetongtarn Shinawatra, bidding to follow in the footsteps of her father and aunt in becoming Thai prime minister, is confident her party can achieve a landslide victory at the next elections with better policies to ease the burden of voters. - Bloomberg
Philippines:
* School suicide rate in Philippines "alarming" in 2021, says official
* WWII sex slavery victims in Philippines urge Japan to recognize war crimes
* Eye-watering onion prices make Philippine staple a luxury
* Covid-19 forces over 1,600 private schools to shut down in Philippines
* Emerging markets - Philippine stocks face worst day in nearly two months as stocks in Bangkok shed 0.3%
* Roadmap aims to bring Philippines back to 'high-growth trajectory'
Vietnam:
* Chinese patrols in disputed sea hit new peak amid tensions; repeated standoffs with Vietnamese vessels
* One pilot dead after Vietnamese military fighter jet crash
* Vietnam's state-owned banks facing concerns over capital
* Vietnam attracts US$1.69bil in foreign investment in January
* Second-hand market grows in popularity in Vietnam
* China, Vietnam trade a boost amid gloomy outlook
Motorcyclists riding past condolence wreaths placed outside the residence of Jullebee Ranara, a domestic helper who was killed in Kuwait last week, in Las Pinas City, suburban Manila on Tuesday, January 31, 2023. Police recovered Ranara's burnt remains in the Kuwaiti desert and later arrested the 17-year-old son of her employers. - AFP
Myanmar:
* Myanmar invited to attend Asean defence-military meeting co-chaired by United States and Thailand
* UN chief backs democracy for Myanmar two years after takeover
* Two years on, Myanmar coup takes a 'catastrophic toll'
* Voices from Myanmar's coup, two years on
* Rights groups say Myanmar military is increasing air attacks
* UN says Myanmar junta elections will fuel violence
Cambodia:
* Two dead in nightclub blaze in Cambodia's Preah Sihanouk province, says police chief
* Cambodia plans over US$4bil high-speed rail linking its capital Phnom Penh with Thai border
* Two dead in nightclub blaze in south-west Cambodia
Laos:
* Laos approves regulated production of cannabis for medical use
* Laos again named one of the best places to visit in 2023
Brunei:
* Covid-19 cases continue downward trend in Brunei, says health minister
* 'Musang King' case awaiting trial date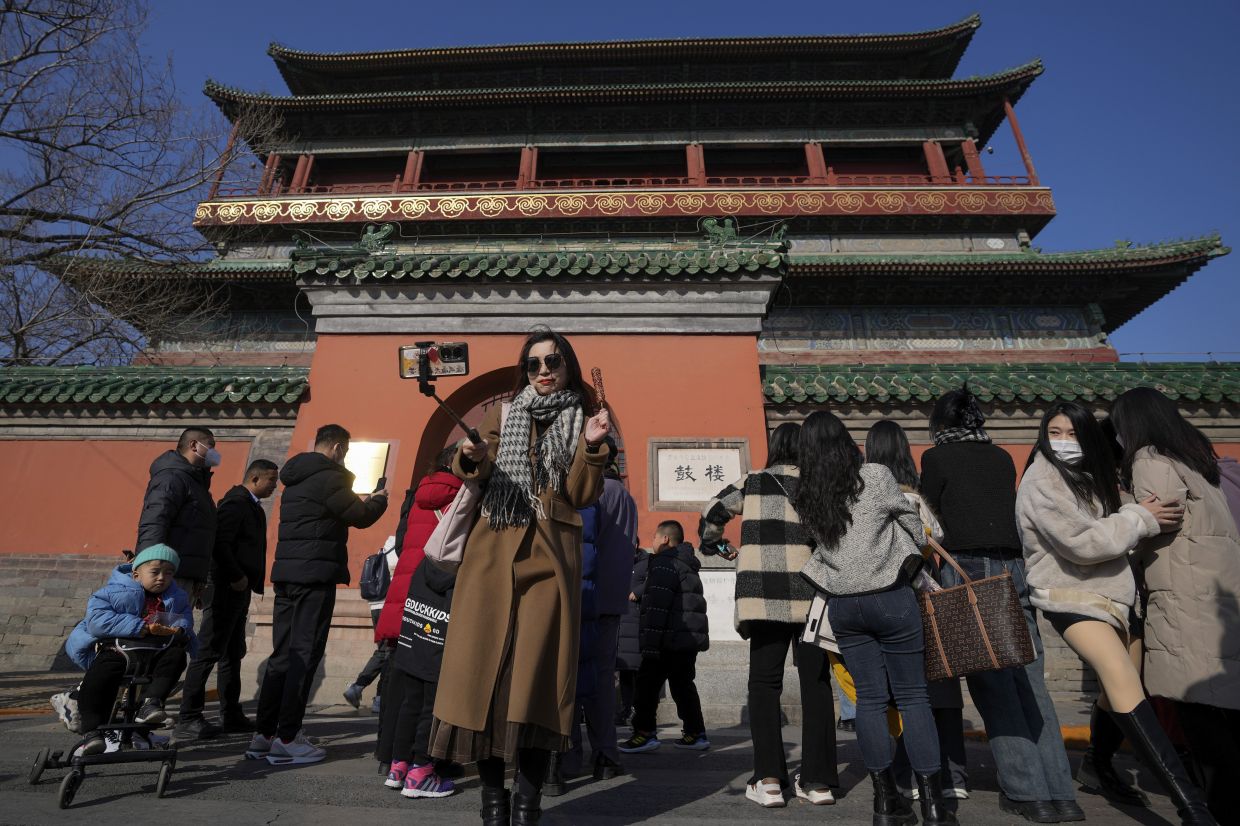 A woman takes a selfie with a sugar-coated Chinese haw as visitors gather outside the Drum Tower in Beijing. Chinese people are enjoying the Lunar New Year and visiting various tourist sites in cities around China following the lifting last month of draconian Covid-19 restrictions, allowing a return to many aspects of normal life. - AP
AseanPlus:
* Japan and NATO agree to deepen cooperation amid Russia, China threat
* Japan's PM under fire over son's "paid" sightseeing trips while on duty overseas
* Chinese patrols in disputed South China Sea hit new peak amid high tensions
* Hong Kong's John Lee rebuffs calls for inquiry into Covid-19 pandemic handling
* Chinese industrial profit contracts in 2022 on Covid woes
* China economic activity swings back to growth in January - official PMI
* Is there life on Mars? Maybe, and it could have dropped its teddy
* China tells Dutch it wants supply chains open amid US chip curbs
* Popular TV show sends hordes of tourists Dali's way
* IMF revises 2023 global growth forecast upward to 2.9%
* Asian stocks edge down as investors eye central bank hikes
* For Asean countries, IMF sees slower global growth outweighing China reopening
* Tennis-Australian Open sets Grand Slam attendance record
* Pakistan buries mosque blast victims as death toll passes 90
* Bullish sentiment on aviation as China continues reopening
* Beijing could one day become a more powerful city than Paris for tourism
* Samsung to keep up chip investment, undeterred by 8-year-low profit
* Twice is first K-pop artiste to win at 2023 Billboard Women In Music
* Yes, Rita Ora and director Taika Waititi are married. She's finally singing about it
* Tesla raises spending plan as it looks to ramp up production
Subscribe now to our Premium Plan for an ad-free and unlimited reading experience!