Malaysia:
* Malaysia strongly condemns desecration of Holy Quran in the Netherlands
* I won't interfere in police probe over Pakatan MPs' aides, says Home Minister
* RM1,500 recalibration fee for rehiring of foreign workers to stay, says Saifuddin
* AG: Withdrawal of application for revision of ICJ's decision on Batu Puteh improper, not in order
* MMEA nabs 33 foreigners off Tanjung Rhu waters for illegal entry
* Floods: Over 12,000 victims evacuated to relief centres in four states
* Malaysia airports records 52.7 million passenger traffic in 2022 - MAHB
* No decision yet on allies, but Barisan will not go solo in state polls, says Tok Mat
* KJ: Umno belongs to all of its members, not just the supreme council
* Rethink punishment for 'unintentional' child neglect cases, say experts
* Bank Negara turns 64, commits to nation building
* 1MDB trial: Ex-bank officer admits failure in consulting Jho Low over Najib's account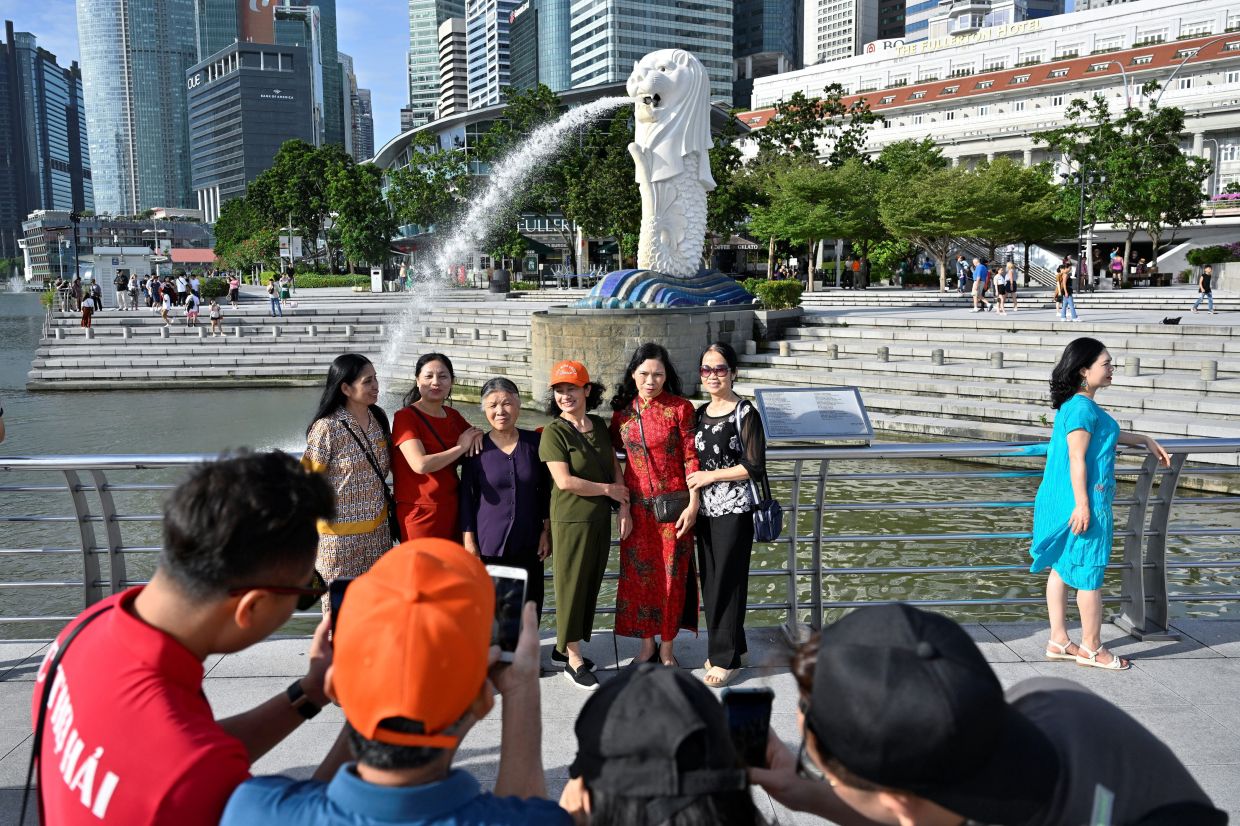 Tourists pose for photographs at Merlion Park in Singapore on Friday, January 27, 2023. - Reuters
Singapore:
* Pump prices in Singapore rise again after short-lived reduction before CNY; 95-octane petrol now as high as RM7.65 per litre
* Learning from Singapore's HDB efforts a right move for M'sia, says foundation
* No shame in getting tips on housing from Singapore, says Tebrau MP
* Singapore home prices grow least since 2020 as boom eases
* SG cops: 271 people under probe over scams that cost victims over S$5.3mil
* Pump prices in Singapore rise again after short-lived reduction before CNY
* Black boxes from fatal Nepal plane crash to be analysed in Singapore
* Bridge at Singapore wetland reserve reopens after man, daughter fell through hole into raging waters
* Black box from Nepal crash to be sent to S'pore
* Asian equities hit 9-month high as recession fears wane
* Oil prices advance on US growth, Chinese recovery hope
Indonesia:
* Indonesia's visa application for pre-investment and tourism available online now
* Indonesia formulates incentives to keep FX earnings onshore, says minister
* Indonesia's Lion Air aircraft rams boarding bridge before take-off
* Jokowi's sons shift into higher political gear
* Nasa agrees to share space expertise and data with Thailand
* Hijabi 'indie mothers' embraced by young Indonesian music fans
* Malaysia, Indonesia to discuss CPO benchmark price
Malaysia's Aaron Chia (right) hits a shot next to teammate Soh Wooi Yik against China's He Jiting and Zhou Haodong during their men's doubles quarter-final match at the 2023 Indonesia Masters badminton tournament in Jakarta on on Friday, January 27, 2023. - AFP
Thailand:
* Thai activist sentenced to 28 years for online posts on king
* Thai ruling party names deputy PM as main election candidate / Thailand's ruling party picks veteran kingmaker Prawit as PM candidate
* Air quality in Greater Bangkok drops to dangerous levels on Friday
* Soaring rice price shows food inflation still stalking the world
* Thai Finance Ministry sees sustained baht gains on tourism boom
* Nasa agrees to share space expertise and data with Thailand
* Thaksin query irks Prayut - Thai PM walks away after reporters ask him about ex-leader
Philippines:
* Philippines to extend e-visa for Asian tourism market
* Emerging markets: Philippine peso rallies for fourth week in row as Asian FX rally fizzles as dollar firms
* Inexplicable price hikes, supply confusion: After onion, garlic may be next
* Risks mount for Philippines after best growth in half a century
* ICC grants new inquiry into Manila's deadly 'war on drugs'
* General sacked over links to woman's murder
* ICC prosecutor gets approval to reopen Philippines drug war probe
A bank employee gathers Thai baht notes at a Kasikornbank in Bangkok, Thailand. - Reuters
Vietnam:
* EU-Vietnam trade partnerships presents tremendous trade and investment advantages for both parties
* Seafood exports' profit expected to fall in 2023 for Vietnam
* Viet railway network aims to turn tide against low-cost airlines, cars with improved service
* Traffic accidents kill 89 during Lunar New Year holiday in Vietnam
* More than nine million Vietnamese travel during Tet (Lunar New Year)
Myanmar:
* Myanmar army set to cement rule with tough new election rules
* Myanmar pilgrims return to Buddha's golden footprints
* Myanmar opium cultivation surged 33% amid violence, UN finds
* Myanmar junta plans elections with strict rules for political parties
* Opium farming booming after coup in Myanmar
A vendor waiting for customers during the Mann Shwe Sat Thaw Pagoda Festival at Min Bu township in Magway Region. Devotees are returning in greater numbers to a central Myanmar temple, built around the gold-lined footprints of Buddha, after the Covid pandemic and a military coup curbed the annual pilgrimage. - AFP
Cambodia:
* Cambodia welcomes back Chinese travellers on Friday (Jan 27); govt confident of tourism boom
* Five more job scam victims return from Cambodia
* Angkor Wat causeway restoration a year away: ANA
* Group completes 58 free surgeries in five days in Cambodia
Laos:
* Laos featured in Australian travel publication among best places to visit in 2023
* Laos looks to tourism to drive economic recovery in 2023
* Laos is first Asean country to achieve midwifery education accreditation
Brunei:
* QueUp app goes offline following data breach
* Hefty fine for contraband possession
A child looks at lanterns set up on a bridge for the lunar new year at a park in Beijing on Friday, January 27, 2023. - AFP
AseanPlus:
* India police charge 10 with homicide over bridge collapse that killed 135
* Hong Kong bans cannabidiol (CBD) from Feb 1, labels it a 'dangerous drug'
* South Korea's chaebol scions indicted for using, distributing marijuana
* China mulls protecting solar tech dominance with export ban
* Asian markets build on rally on hopes US will avoid recession
* Japan to drop mask guidance, relax Covid strategy
* While animal origin of Covid-19 remains a mystery, will revised law in China help prevent more diseases jumping from wildlife to people?
* World's biggest luxury spenders are S. Koreans
* Phew! Truck-sized asteroid misses Earth
* Asian FX, stocks rise as strong U.S. GDP data aids risk sentiment
* Blackpink's Lisa poses with footballer Neymar in Paris - The worlds of K-pop and football came together for a moment.
* India's Adani kicks off $2.45 bln share sale while under short-seller attack
* Intel 'stumbled,' CEO says; shares drop 9.5% as loss forecast
* Labour, management agree wage hikes necessary in Japant
* Australia investigates online influencers over false advertising
* Australia regulator to probe social media influencers for false endorsements
* Tennis-Tsitsipas beats gutsy Khachanov to reach first Australian Open final
* Tennis-Djokovic pounds Paul to reach 10th Australian Open final
* Tennis-Rybakina meets Sabalenka in clash of big hitters for Australian Open crown
* Golf - Immelman expects Woods to be ready for Masters return
Subscribe now to our Premium Plan for an ad-free and unlimited reading experience!