The US$17 billion worth of South Korean arms sales this year has already more than doubled the full-year record set last year, and insiders expect industry growth to continue against the backdrop of the Ukraine war and regional tensions.
But while Seoul's goal for the country to eventually become one of the world's top four arms exporters could see it surpass China – which currently holds the fourth position – analysts say that competition between them in the sector is unlikely, because their target markets fundamentally differ.
The main impetus behind the rapid growth in Korean arms sales, which totalled US$7.5 billion in 2021, was Poland – Ukraine's neighbour – which made more than US$10 billion worth of purchases in the first 10 months of this year.
Do you have questions about the biggest topics and trends from around the world? Get the answers with SCMP Knowledge, our new platform of curated content with explainers, FAQs, analyses and infographics brought to you by our award-winning team.
Those figures dwarf the annual average of US$2 billion to US$3 billion that South Korea made from arms sales from 2011-20.
"Korea was able to grab an opportunity when it arose, as Poland had an urgent need to procure armaments after the Ukrainian war. Not only are there only a few countries that can produce armaments on such short notice, but also – for those advanced countries in Europe that have such capabilities – their priorities lie in protecting their own countries," said Kim Mi-jung, a defence industry researcher at the Korea Institute for Industrial Economics and Trade.
"Korean arms are good value for the money, in terms of performance, and the country also has production bases that can make a wide range of items – from self-propelled artillery to aircraft, all of which make Korea very attractive."
Before signing a US$3.55 billion contract with Hanwha Aerospace last month to buy hundreds of its K239 Chunmoo rocket artillery systems, Polish Defence Minister Mariusz Blaszczak had praised the Chunmoo launchers, which are very similar to the US HIMARS systems that Poland had previously ordered.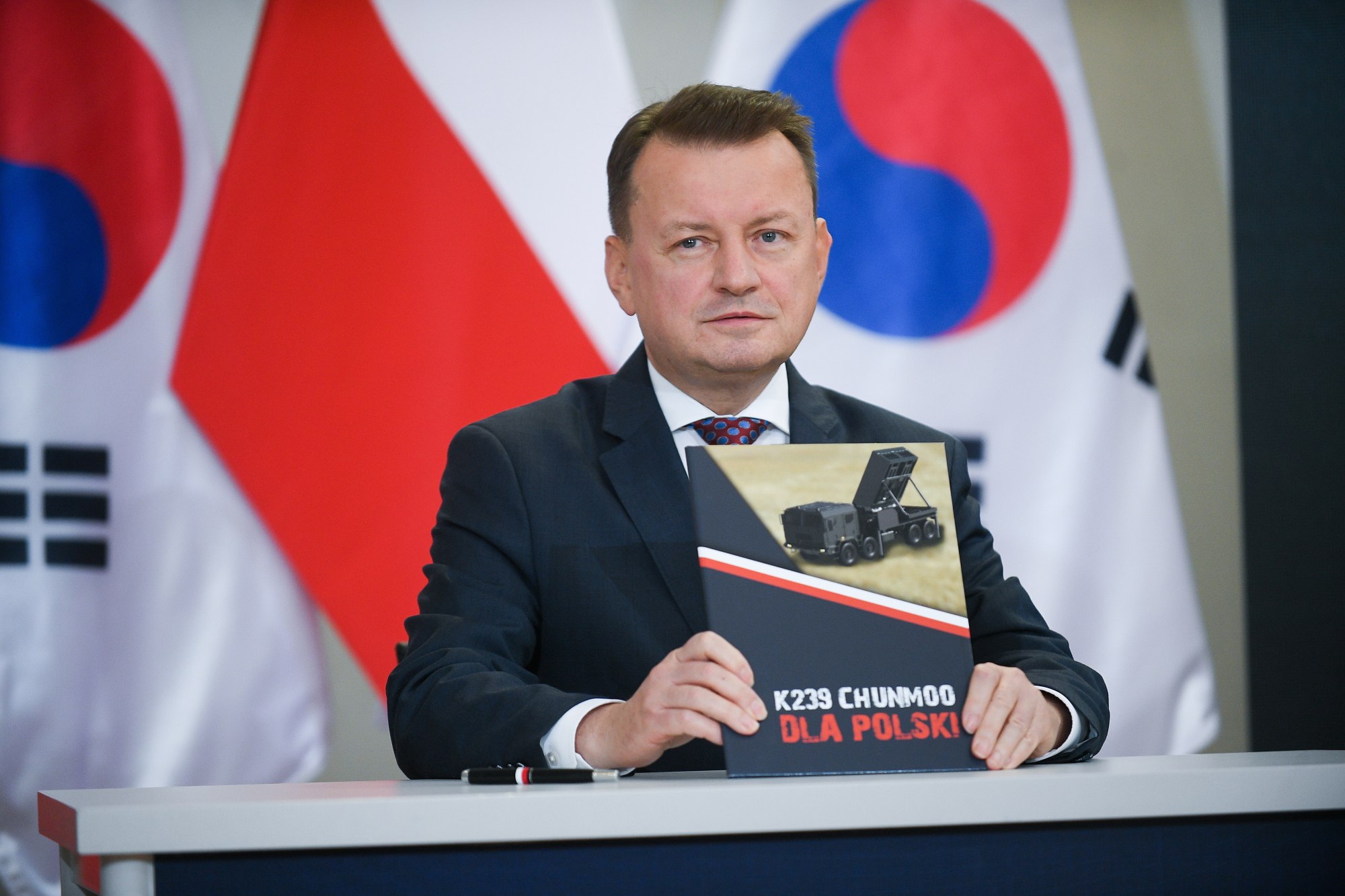 And even with Poland's defence expenditure in 2022 already reaching a record high of 58 billion zloty (US$12.7 billion), Warsaw plans to increase it further, having announced in August that it would allocate around 3 per cent of its gross domestic product, or about US$21 billion, for defence in 2023.
Poland's surge in military spending mirrors a global trend, according to the Stockholm International Peace Research Institute (SIPRI). Its figures show that global military spending in 2021 topped US$2 trillion for the first time ever. And it marked the seventh consecutive year that military spending had increased globally.
Kim said South Korea's final arms sales for 2022 could be even higher, as deals could potentially be signed with Malaysia and Saudi Arabia in the coming month.
"It looks like the growth trend in South Korean arms sales will continue for the next three to four years, with the Ukrainian war persisting and demand for arms holistically increasing from Europe," Kim said.
Expanding the country's arms exports is one of the 110 key policy tasks of President Yoon Suk-yeol's administration as it looks to secure a greater share of global sales.
According to SIPRI, the top four arms exporters between 2017 and 2021 were the US, Russia, France and China, with respective global shares of 39, 19, 11 and 4.6 per cent. South Korea ranked eighth with 2.8 per cent, but Yoon's administration wants it to be in the top four.
But while Seoul's undertaking could see South Korea surpass China on the list of top arms exporters, it is unlikely to come at China's expense, given who they each sell to.
In 2021, nearly 70 per cent of China's total arms exports went to Pakistan, while Nigeria ranked second, taking up 8 per cent, according to SIPRI data. No European countries purchased arms from China.
The Korean arms industry should further diversify the items that it offers [while] further entering the American supply chain
"The targets of Chinese arms exports are different from Korea's," Kim explained. "China sells arms to countries that wish to economically cooperate with China – those in the Belt and Road Initiative, such as Africa and Pakistan. Also, the selling point of Chinese arms is that they're cheap, which is different from Korea's."
While the South Korean arms industry is benefiting from increased defence spending across the world amid rising tensions, Kim noted that competition is expected to rise in the coming years as various supply chain issues are settled.
The Korean arms industry could then find itself competing against the US and other advanced economies in terms of exports.
"To continue on with the growth trend, the Korean arms industry should further diversify the items that it offers and establish export strategies, such as further entering the American supply chain," Kim said.
More from South China Morning Post:
For the latest news from the South China Morning Post download our mobile app. Copyright 2022.
Subscribe now to our Premium Plan for an ad-free and unlimited reading experience!