Malaysia:
* Covid-19 Watch: 2,007 new cases bring total to 4,840,879
* No conditions to saying yes for GE15 this year, says PM
* GE15: Umno to hold special meeting on Oct 4, all division chiefs invited
* Heaps of praise for riders who sprang into action to help abduction victim
* Proud moment for Msian aviation as CAAM gets reinstated to IASA Category 1, says Dr Wee
* HR Ministry approves 541,315 foreign workers quotas until Sept 26
* Over 200,000 foreign workers' visa approved this year so far, says Immigration Dept
* Asian stars name Penang Laksa, Klang Bak Kut Teh as favorite cultural diplomacy food
* Phase two of govt poverty eradication programme to start in mid-October, says Mustapa
* Schools should refer to police before issuing kidnap notices, says Radzi
* Warisan ups the ante against DAP, PKR, with Shafie revealing alleged unkept promises
* GE15: Gerakan Tanah Air plans to field at least 30% young candidates, says Dr M
Formula One F1 - Singapore Grand Prix - Marina Bay Street Circuit, Singapore - Saturday, October 1, 2022. Spectator shelters from the rain under an umbrella during practice. - Reuters
Singapore:
* Malaysian govt to consider lifting chicken export ban, says deputy minister
* Motor racing-Leclerc quickest in damp Singapore practice, Verstappen second
* Chicken farmers in Malaysia not raising output for Singapore until end of export ban is confirmed
* FIA warns on F1 cost cap amid speculation of team breaches as red hot actions begin at Singapore's night race extravaganza
* Crypto's hold on Formula 1 sponsoring gets tested in Singapore; govt warn firms to curb their enthusiasm
* Oil falls before the weekend but notches weekly gain as OPEC+ considers output cut
* Singapore aiming to be regional centre for philanthropy
* Singapore reports 3,715 new Covid-19 cases and one death on Friday evening (Sept 30)
* Shangri-La hotels customer database hacked in Singapore
Indonesia:
* Indonesia raises emission reduction goal in bet on EV and biofuel
* World leading food producer Nestle to stop sourcing from Indonesian palm oil producer AAL
* One dead after Indonesia earthquake of magnitude 5.8 in northern Sumatra (update)
* Moderate quake hits North Sumatra in Indonesia, tremors felt in parts of M'sia
* China's first mRNA Covid-19 vaccine approved for use in Indonesia
* Four 'spies' shot dead in restive Papua region
* Sources: Senior officials in Indonesia targeted by spyware
A worker dries finished batik cloth, a traditional textile made using wax-resist dyeing methods, in Sidoarjo on October 1, 2022, on the eve of Indonesia's National Batik Day celebrated on Saturday, October 2. - AFP
Thailand:
* Thailand's Prayut - An enigmatic leader and a survivor as the PM fights on in politics
* Thai economy still in recovery in August on tourism rebound, says central bank
* Motorcycling-Bezzecchi claims first pole in Ducati grid lockout at Thai GP
* Thai vegetarian festival returns after Covid hiatus
* Court clears way for Prayut's return
* Is this the end for Bangkok's infamous No.8 bus?
Philippines:
* Philippines logs 2,489 new Covid-19 cases and 31 deaths on Saturday (Oct 1)
* Sea Ltd's Shopee faces boycott calls in Philippines over brand ambassador
* Philippines warned anew of climate impact; more powerful typhoons looming due to climate change, says wind dynamics expert
* Weekender Asia stock market outlook - Asian FX climbs on subdued dollar but stocks slump on growth woes
* Philippine police rescue 29 victims of trafficking from gaming operator
* Rice and veggie prices set to rise in the Philippines
People take part in a procession during the annual vegetarian festival, observed by Taoist devotees from the Thai-Chinese community in the ninth lunar month of the Chinese calendar, in Takua Pa in the Phang Nga province, Thailand, Saturday, October 1, 2022. - Reuters
Vietnam:
* Vietnam reports 672 new Covid-19 cases on Saturday (Oct 1); lowest number of cases in three months
* Vietnam's economic expansion tops 13% in third quarter; posts double-digit growth on manufacturing
* Vietnamese surgeons perform incredible life-saving surgery on eight-month old Laotian baby
* Vietnam's GDP up 13.67 per cent in Q3, 2022
* 12 Chinese sailors die of suspected food poisoning near Vietnam
* Vietnam welcomes 1.87 million foreign visitors in first nine months of 2022
Myanmar:
* UN speeches end with silence from Myanmar and also Afghanistan
* Myanmar extends Covid-19 restrictions until end of October
* Myanmar's National Airlines passenger plane attacked during landing, one injured but others passengers safe and sound
* It's tough without the internet in Myanmar
Hong Kong and China flags fly on a pedestrian footbridge in Hong Kong to commemorate China's National Day on Saturday, October 1, 2022. - AFP
Cambodia:
* Cambodia records spike in drug arrests and seizures in first nine months of 2022
* 261 Malaysian job scam victims in Cambodia rescued, says Wisma Putra
* Cambodia: Seven bodies linked to sinking found in Vietnam
* Report: One in 10 kids subjected to online sexual abuse, exploitation in Cambodia
Laos:
* Local residents voice concern to govt over rising crime incidents in Laos
* Thousands of people in Laos affected by floods
Brunei:
* All charged up in Brunei as country's first retail rapid charging station is introduced for EV car users
* China-Brunei ties maintain steady momentum of development, says ambassador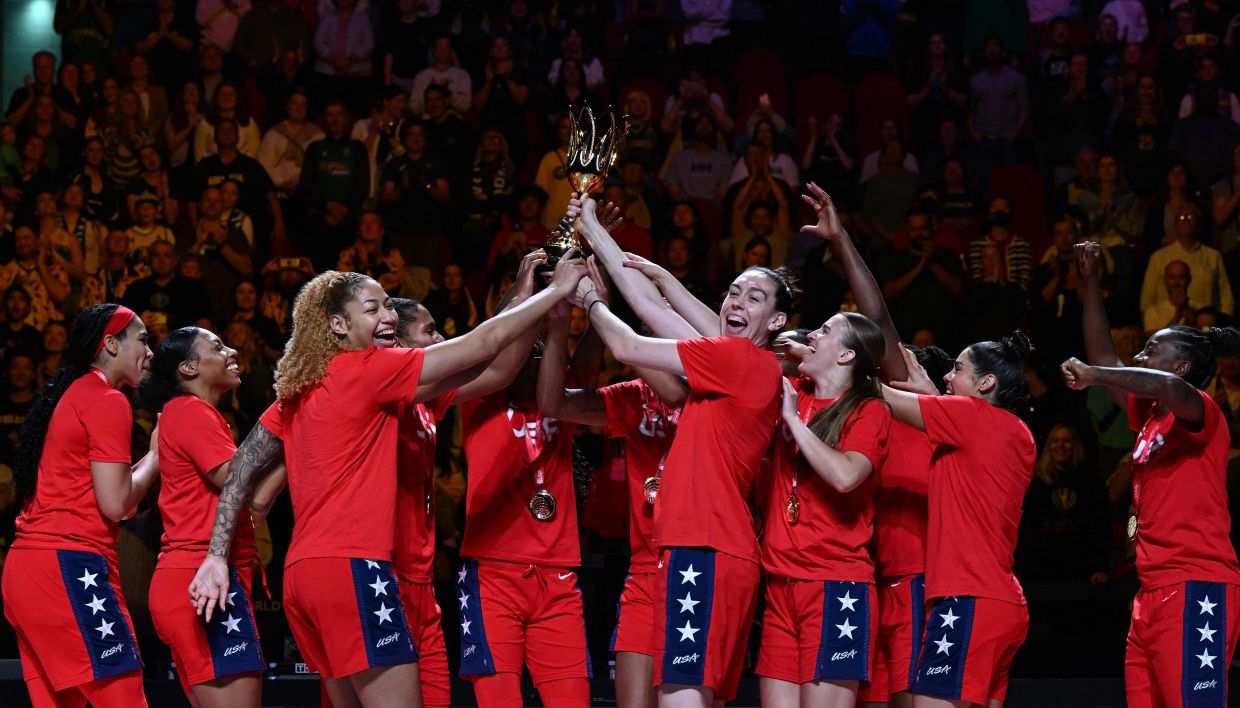 Team USA celebrate with the trophy after the 2022 FIBA Women's Basketball World Cup final match between China and the USA at the Superdome on Sunday (Oct 1, 2022), in Sydney. - AFP
AseanPlus:
* North Korea fires ballistic missiles, fourth time this week
* China's C919 home-grown narrow-body passenger jet seemingly certified to fly, set to challenge Boeing, Airbus
* Covid-19: Hong Kong lifting hotel quarantine won't make much difference for international travel, IATA chief warns
* China's rock samples brought back from the moon shed light on meteor strikes here on Earth, say scientists
* China economy: Financial distress of local governments raises debt-default risks, weighs on average Chinese
* Is the pandemic over? Experts say no, but China still needs zero-Covid exit plan
* Fugitive Hong Kong politician Ted Hui sentenced in absentia to 3½ years' jail for jumping bail
* Macau casinos see another dismal month as China lockdowns widens
* Come for the Instagram pix, stay for the art
* Covid-19 curb-filled Golden Week holiday awaits all in China
* Antonio Inoki, Japanese pro-wrestler politician with N.Korea ties, dies
* Asia finance - Stable currency is a must for the economy
* China economy: Financial distress of local governments raises debt-default risks, weighs on average Chinese
* Australia's Optus says 'deeply sorry' for cyberattack
* US crush China to win women's basketball World Cup for 11th time in Sydney, Australia
* World Sake Day: A simple guide to this traditional Japanese drink
* Soccer-Maradona's 'Hand of God' shirt headlines Qatar exhibit during World Cup
* Chinese artist records era of Covid, one test at a time
Subscribe now to our Premium Plan for an ad-free and unlimited reading experience!