Hong Kong stocks slumped to the lowest level in almost 11 years on concerns more interest-rate increases by global central banks will crush consumption, damage corporate earnings and push the global economy into a recession.
The Hang Seng Index sank 2 per cent to 18,089.77 at 3.18pm local time, a level not seen since December 2011, following a 0.6 to 1.6 per cent drop in equity markets across Asia-Pacific. The Tech Index lost 2.4 per cent while the Shanghai Composite Index declined 0.3 per cent.
Sixty two of the 73 Hang Seng index members fell, as did all members of the finance and utilities sub-indices. The Hong Kong stock market has lost US$1.2 trillion of market capitalisation this year before today, while the benchmark index lost more than 21 per cent.
Do you have questions about the biggest topics and trends from around the world? Get the answers with SCMP Knowledge, our new platform of curated content with explainers, FAQs, analyses and infographics brought to you by our award-winning team.
HSBC raises its prime rate for the first time in 4 years as cost of money soars to 14-year high
Alibaba Group tumbled 3.4 per cent to HK$80.20, lowest since mid-March, while Tencent Holdings retreated 1.5 per cent to HK$281.80, a four-year low. JD.com, Baidu and Lenovo Group lost 2.6 to 3.6 per cent, and Macau casino operators Sands China and Galaxy both declined by at least 2.5 per cent.
The Hong Kong Monetary Authority lifted its base rate by 75 basis points to 3.5 per cent with immediate effect on Thursday, in lockstep with the same increase by the Federal Reserve. That brought the cost of money in the local market to the highest level since the global financial crisis in 2008.
"We expect equity markets to continue to remain under pressure with tighter policy," said Ray Sharma-Ong, investment director for multi-asset solutions at abrdn, a UK-based money manager. "Higher restrictive rates, slows demand and results in demand destruction, causing corporate earnings growth to decline."
US Federal Reserve, with third straight rate rise, signals further aggressive moves
The Fed raised its target interest-rate range to between 3 and 3.25 per cent late Wednesday, warned of more pain ahead and pledged to "keep at it" on policy tightening to bring its target inflation to 2 per cent or slower. US prices rose at an annual rate of 8.3 per cent in August, near the highest in four decades.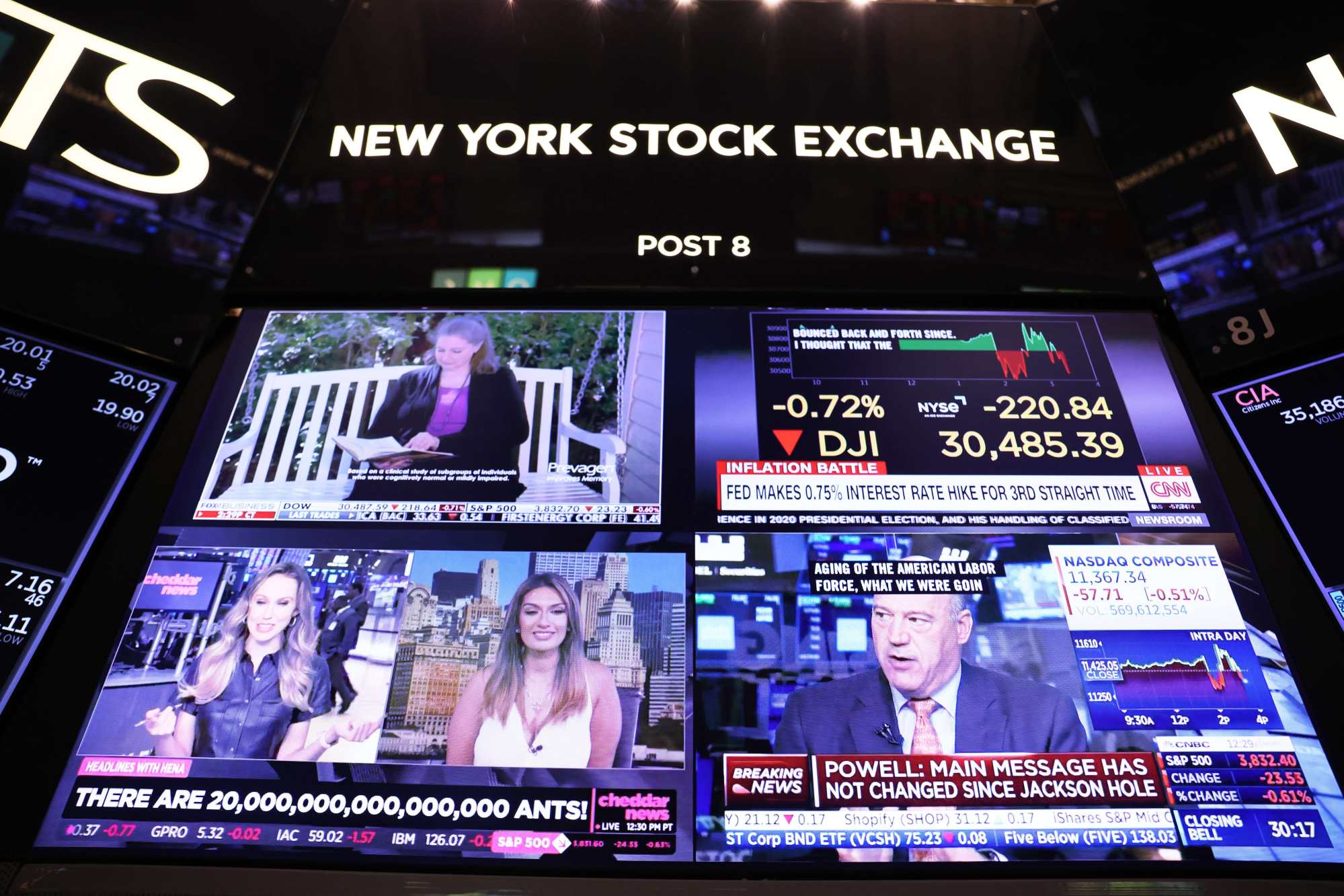 Rate-sensitive stocks in Hong Kong weakened, with HSBC sliding 3.3 per cent to HK$45.80. The bank raised its prime rate, the cost it charges its best customers, to a 4-year high. China's top three lenders lost ground by 0.6 to 1 per cent. Sun Hung Kai led developers lower, losing 1.2 per cent to HK$93.60.
The losses are in tandem with declines in markets around the region, after the S&P 500 Index retreated 1.7 per cent in overnight trading as the hawkish Fed surprised economists banking on guidance for an earlier easing path. That will not come before 2024, said Christian Scherrmann, an economist at DWS Group.
"Relaxation of the tighter stance, moreover, is going to take a long time," he added. "Only in 2024 does the Fed expect lower rates to be warranted."
The tone of the committee remains hawkish given policymakers are "highly attentive" to taming inflation that runs well above its 2 per cent target, said Tai Hui, chief market strategist for Asia-Pacific at JPMorgan Asset Management.
"Strong job growth and persistent excess demand for labour suggest a soft landing is still possible," he said. "However, aggressive Fed tightening keeps the probability of recession sometime next year elevated."
Today's setback did not diminish the appeal of PowerTECH Co, whose shares surged 41 per cent to 135.96 yuan on the first day of trading in Shenzhen.
More from South China Morning Post:
For the latest news from the South China Morning Post download our mobile app. Copyright 2022.
Subscribe now to our Premium Plan for an ad-free and unlimited reading experience!