The dire plight of a 65-year-old Hong Kong woman at the top of a waiting list for a heart transplant has turned the spotlight back on the public's reluctance to support organ donation.
Only eight heart transplants were conducted last year, down from a peak of 17 in 2018, according to Hospital Authority statistics. Seventy-six patients are in need of a new heart in Hong Kong, with an average waiting time of more than six months.
Do you have questions about the biggest topics and trends from around the world? Get the answers with SCMP Knowledge, our new platform of curated content with explainers, FAQs, analyses and infographics brought to you by our award-winning team.
Finding an organ donor for Kitty Hui Pui-lan, who was recently struck down by acute heart failure, is a challenge as the person must have a similar body size to the patient, according to one of her doctors, Michael Wong Ka-lam.
Hui is at the top of the waiting list for patients of her blood type and body size.
Wong said the "golden time" was now as she might succumb to complications at any time within the coming weeks or months.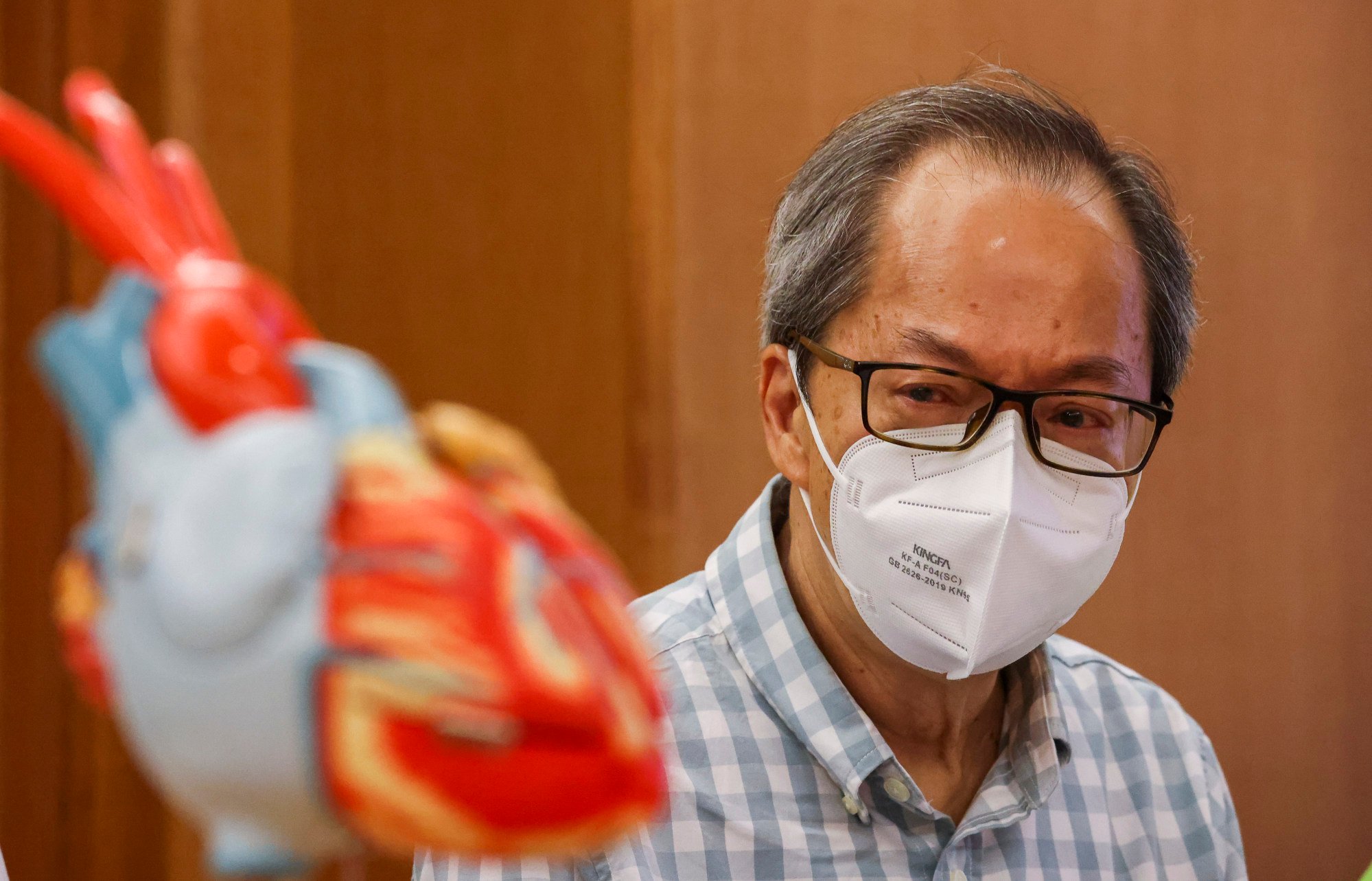 A retired secretary, Hui was in early April diagnosed with acute myocarditis, or inflammation of the heart muscle, with her heart functioning at just 11 per cent of normal levels.
"My wife and I lived a normal life ... We have no chronic illness, high blood pressure or diabetes, nor were we in any need of long-term medication," Hui's tearful husband, Simon Lo Chung-sun, 68, told a radio programme on Wednesday.
"But it was to our surprise that my wife suddenly felt stomach discomfort before the Ching Ming Festival," Lo, a retired structural engineer, said. "No one knows the cause leading to the illness. But now, she has stayed more than a month in the intensive care unit, with tubes all over her body."
Wong, one of Hui's two attending doctors, said multiple tests had been carried out to find out the cause of her condition, all to no avail.
"A heart transplant is the only and best treatment option," the associate consultant of the Cardiac Medicine Unit at Grantham Hospital told a radio programme. "She can eat and talk now ... If there is a suitable donation today or tonight, now is the ideal, golden time.
"As for how long this golden time can last, it depends on complications during the period. It can be said our support is in a race against complications."
Wong said complications could cause her condition to deteriorate at any time and might include blood clots, bleeding, especially cerebral haemorrhage, severe infections and organ failure due to a machine attached to Hui's body that helps keep her heart beating.
Potential donors should be blood type O positive and have a similar body size to Hui of 154cm in height and 42.9kg in weight. The donor's sex was not a concern.
Wong noted that on average over the past almost 30 years, patients had to wait more than six months for a transplant. So far, five heart donations were made this year. The figure was eight and 10 in 2021 and 2020 respectively.
"Every year, even without the pandemic, heart transplant cases have been rising and falling, every year is different, this is not a fixed number," Wong said in an earlier appeal on Friday.
"The main reasons for the fluctuations are due to the amount of donations and whether there are suitable matches, there are a lot of different factors."
Lo said he and his wife had been married for 40 years and were each other's first love. He recalled that when they were first married, Hui would wait until late in the evening to have dinner with him.
"During our dinner, we talked about the good and bad things that happened that day," Lo said. "It was very heartwarming, she helped me deal with all the small and big issues at home."
He said this "close relationship" continued even after they retired.
"I hope people who care can donate their deceased family member's heart to bring hope to my wife," Lo said. "My wife and I will carry on with the donor's legacy with gratitude to contribute to society."
Currently, the city takes an opt-in approach to donation, meaning a person will be considered as an organ donor if they have given explicit consent.
In the past few years, discussions on ways to boost the donation rate had been initiated in society following high-profile appeals for organs.
Back in 2017, officials looked into whether the law could be changed to allow children to donate organs as living donors, after a 17-year-old girl was barred from giving part of her liver to save her mother who was dying of acute liver failure. The teenager was three months shy of 18, the legal age for a living donor.
But the idea did not gain much support from the public and it was eventually put aside.
Discussions were also raised on whether the city should adopt an opt-out system, meaning everyone would be assumed a willing donor unless they specifically objected to it.
But studies also found that the opt-out approach, which is being adopted in at least 17 Organisation for Economic Cooperation and Development-registered countries, did not significantly raise the organ donation rate compared with those using the opt-in approach.
In Switzerland, a new opt-out law was passed in a referendum with 60.2 per cent of votes on May 15. However, families can still refuse if they know or suspect their loved one would refuse to donate their organs.
Spain also operates a similar opt-out system.
Additional reporting by Elizabeth Cheung
More from South China Morning Post:
For the latest news from the South China Morning Post download our mobile app. Copyright 2022.
Join our Telegram channel to get our Evening Alerts and breaking news highlights