Strict lockdowns in China during the coronavirus pandemic have brought to attention a reality that many people had taken for granted: food security is no guarantee.
For a small group of Chinese people who have gone through lockdowns, they have transformed their balconies into gardens to achieve "fruit and vegetable freedom" and help improve their mental health.
Shi Huanglei, 39, a Shanghai medical worker who lives with her husband and 11-year-old daughter, said her garden has helped them eat nutritious foods like tomatoes, lettuce and strawberries. She also has grown cilantro and basil for more flavourful cooking.
Do you have questions about the biggest topics and trends from around the world? Get the answers with SCMP Knowledge, our new platform of curated content with explainers, FAQs, analyses and infographics brought to you by our award-winning team.
Shi's gardening adventure began in 2019 when she tossed tomato seeds from fresh tomatoes into a pot without much thought. When they grew into seedlings, she was hooked.
"That is when I became interested in vegetable gardening, and I began to learn by reading books and searching for relevant information online," Shi told the South China Morning Post.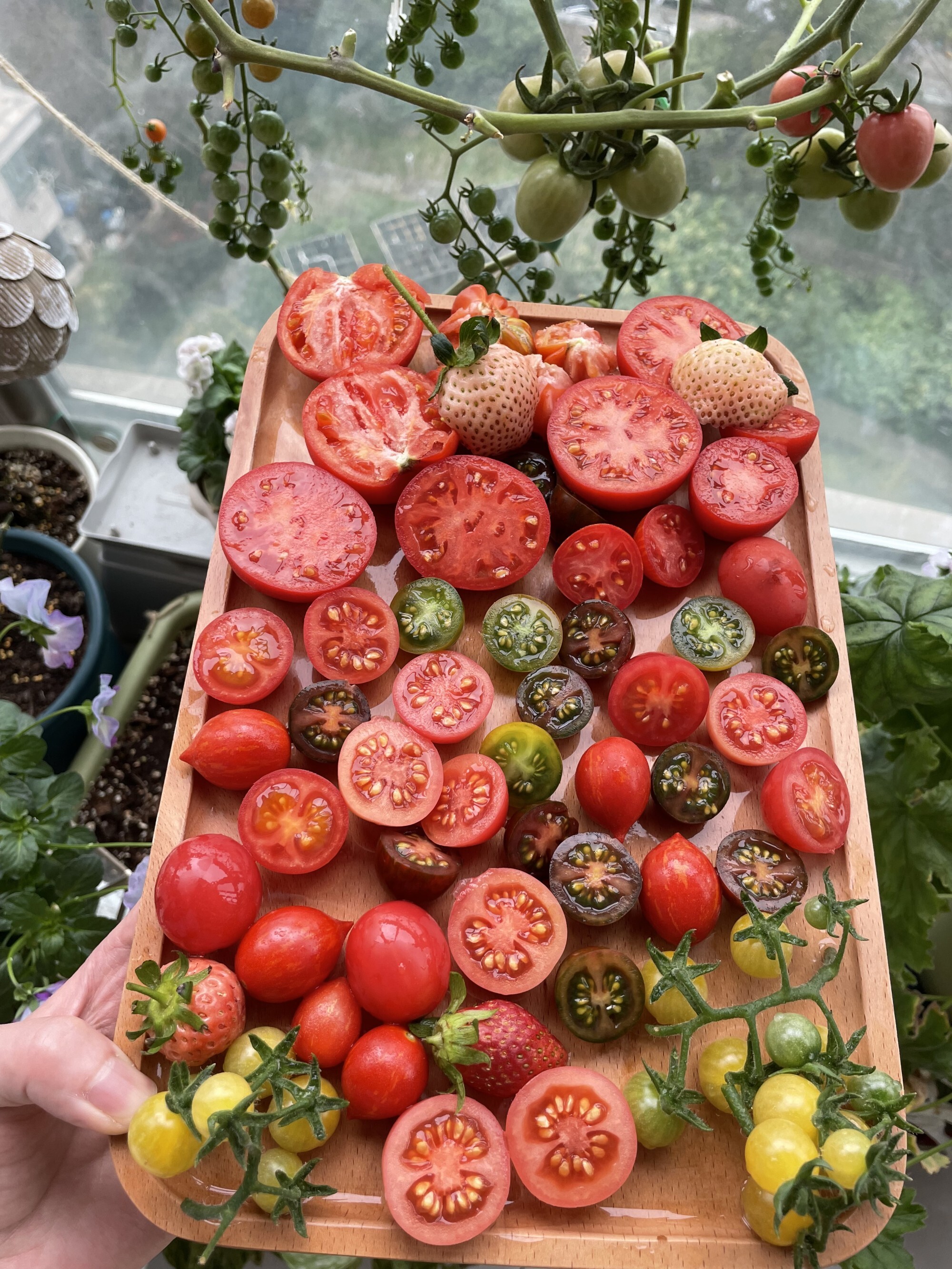 Shi's daughter, Wenwen, helps her with the gardening out of curiosity and joins her in reading books with tips and advice.
"Before that, my daughter had no idea how vegetables and fruits grow, but now she can write about her vegetable-growing experiences in her school essays," Shi said.
As Shanghai continues to battle a severe Omicorn-driven Covid-19 outbreak, Shi has been recruited as front-line epidemic prevention personnel and has worked for more than 10 hours per day since March 28.
Despite her hectic schedule, Shi finds time to care for her plants, which she says have been crucial in helping her manage her mental health during the pandemic.
"Watching them grow calms and soothes my mind," she said. "Even though they are not enough to feed the entire family, they give me a sense of security."
In Shenzhen, Zhong Liu, who grows her own garden on her 5.9-square-metre balcony, echoes Shi's joy.
Zhong, a 32-year-old illustrator, said when Shenzhen entered a lockdown on March 14, she did a cursory check to confirm that the vegetables had sold out but did not feel a need to race around the city trying to snap up any food she could find.
"Going to get vegetables was more of a formality to me during the city's lockdown," Zhong said. "I was not worried because I knew I had an entire balcony of vegetables to eat!"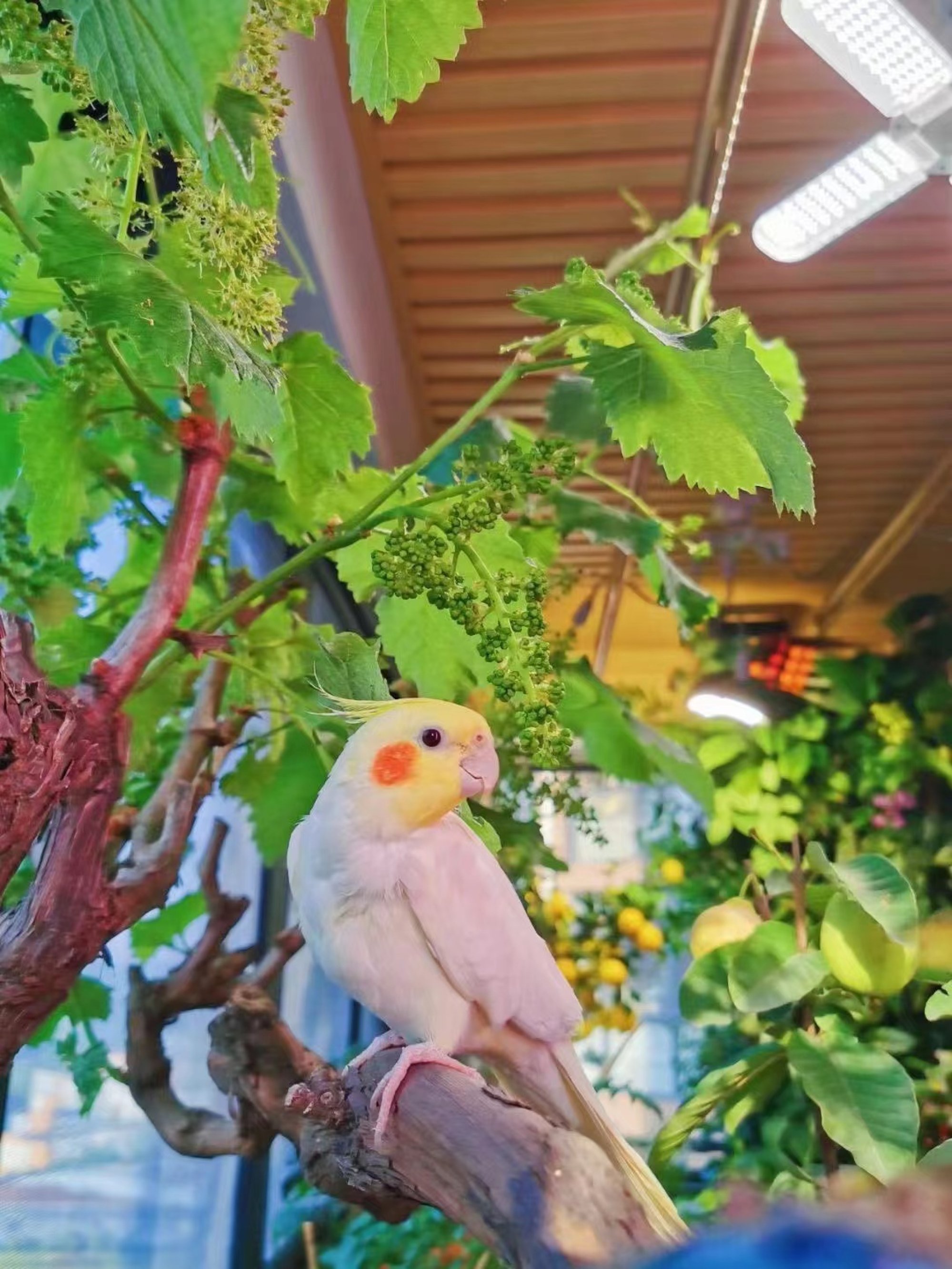 Zhong's balcony is home to a wide range of fruit trees and vegetables, including trees that produce peaches, plums, passion fruits and grapes.
Zhong began planting on her balcony during the 2020 Spring Festival when the coronavirus first emerged in Wuhan.
"My home was locked down because some people who escaped from Wuhan to Shenzhen were found in the compound and were Covid-19 positive," Zhong said.
Zhong's main concern at the time was the inconvenience of buying vegetables. Driven by the fear of running out of vegetables and her desire to find an activity to relieve the boredom of quarantine life, she began planting vegetables on her balcony, beginning with spinach and garlic cloves she bought in markets.
"I realised that planting vegetables is more useful and much easier, and they make me feel especially safe," said Zhong, who had years of experience planting flowers.
She said that two spring onion leaves are enough to season a whole plate of food, and a few mint leaves and a lime can be used to create an aromatic and vitamin-rich glass of water.
Like most gardeners, she had to learn on the job and initially struggled to combat plant pests and diseases.
"During the lockdown, I was raising Chinese roses in addition to vegetables. But my roses became infested with mites, and they ate the cucumbers I seeded that had blossomed and fruited," Zhong said.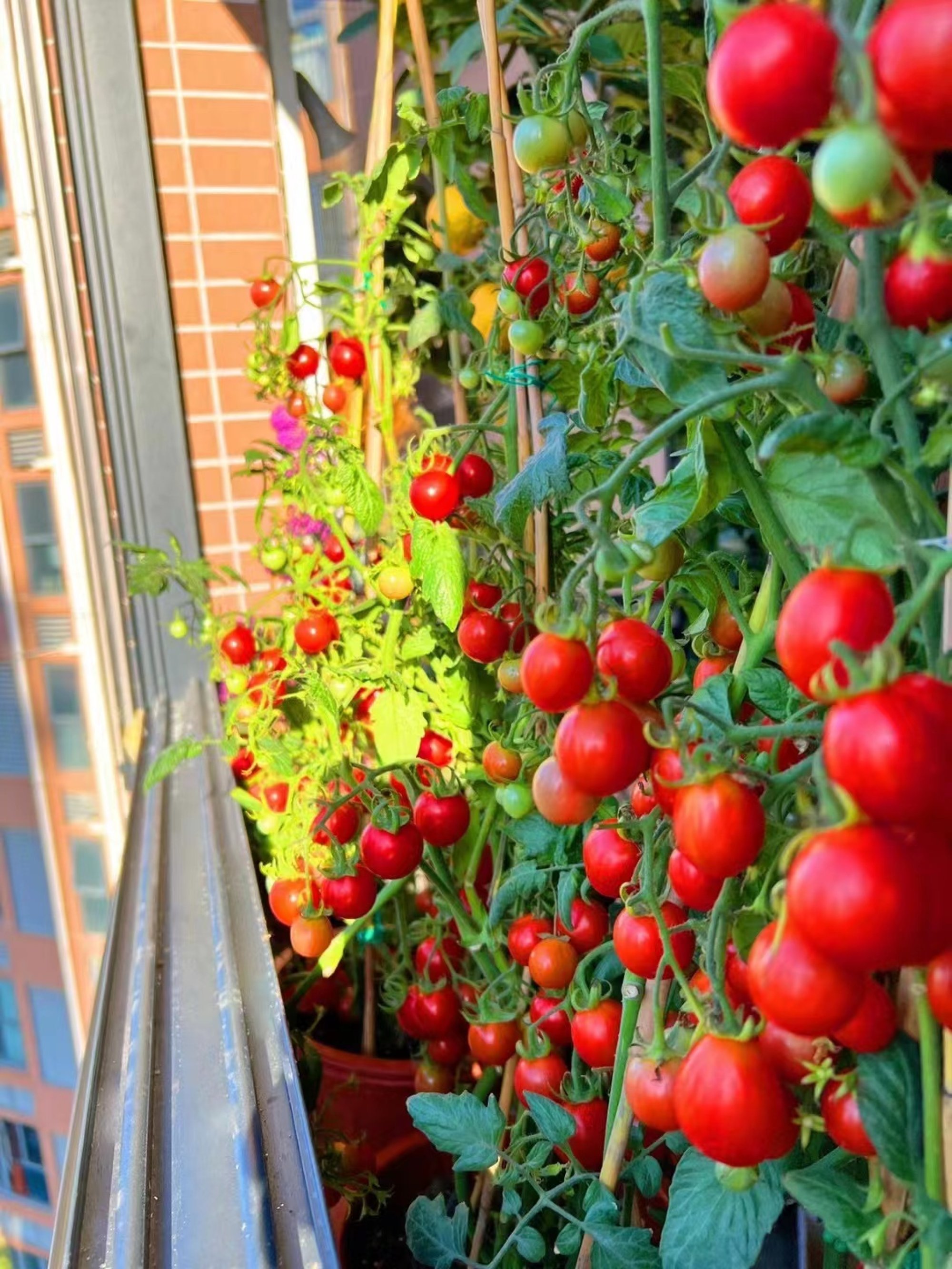 Zhong was then determined to bring about the end of pests after the "insect plague". When she moved to her current flat in March 2021, she installed window screens to keep bugs and pests out.
She also replaced the soil with sterile, high-temperature-processed soil. She prepared odourless sheep manure as organic fertiliser, which she would spread on the bottom of the pots, to solve the problem of nutrient deficiency in the soil.
Zhong's husband helped her install four patch lights, which are turned on nine hours a day, to compensate for the disadvantage of lack of sunlight on the north-facing balcony. He also created a "fish-plant symbiosis system", which can water the plants automatically using the water in the fish tank.
"We do not have to fertilise the plants separately because there is fish waste and food scraps in the water," Zhong explained. "And the tank is refilled with fresh water every day to ensure that the fish have plenty of oxygen."
Growing up in a village with her grandmother, Zhong remembered that there was always a hint of sweetness in the vegetables her grandmother planted, which she missed after moving to Shenzhen.
The vegetables on the balcony, however, had reawakened those memories.
"The taste of the vegetables and fruits I planted is similar to the flavour I remember from my childhood," Zhong said.
Like Shi, Zhong said the balcony garden is equally valuable as a stress reliever, a place to release their worries and enjoy the idyllic scenery.
"In the summer, I get a couch next to the balcony and nap there. It is so comfortable when the wind blows in through the open window," Zhong said.
"The first thing I see when I wake up is my wonderful balcony."
More from South China Morning Post:
For the latest news from the South China Morning Post download our mobile app. Copyright 2022.
Join our Telegram channel to get our Evening Alerts and breaking news highlights