The US government on Monday announced restrictions on transactions with 33 Chinese organisations whose ownership is deemed to be "unverified", and unsealed an indictment against a Shenzhen-based tech company already banned from supplying US federal agencies.
The Commerce Department's new "unverified list" entries are primarily hi-tech manufacturers, including those that produce laser components and pharmaceuticals, government research labs and two universities. US companies seeking to export to entities on the list must obtain a licence to do so.
One of the listed schools, Southern University of Science and Technology in Shenzhen, figured into the indictment of a Massachusetts Institute of Technology professor accused of misrepresenting his relationship to China on funding documents. Charges in that case were dropped last month, when prosecutors said they did not have enough evidence.
Do you have questions about the biggest topics and trends from around the world? Get the answers with SCMP Knowledge, our new platform of curated content with explainers, FAQs, analyses and infographics brought to you by our award-winning team.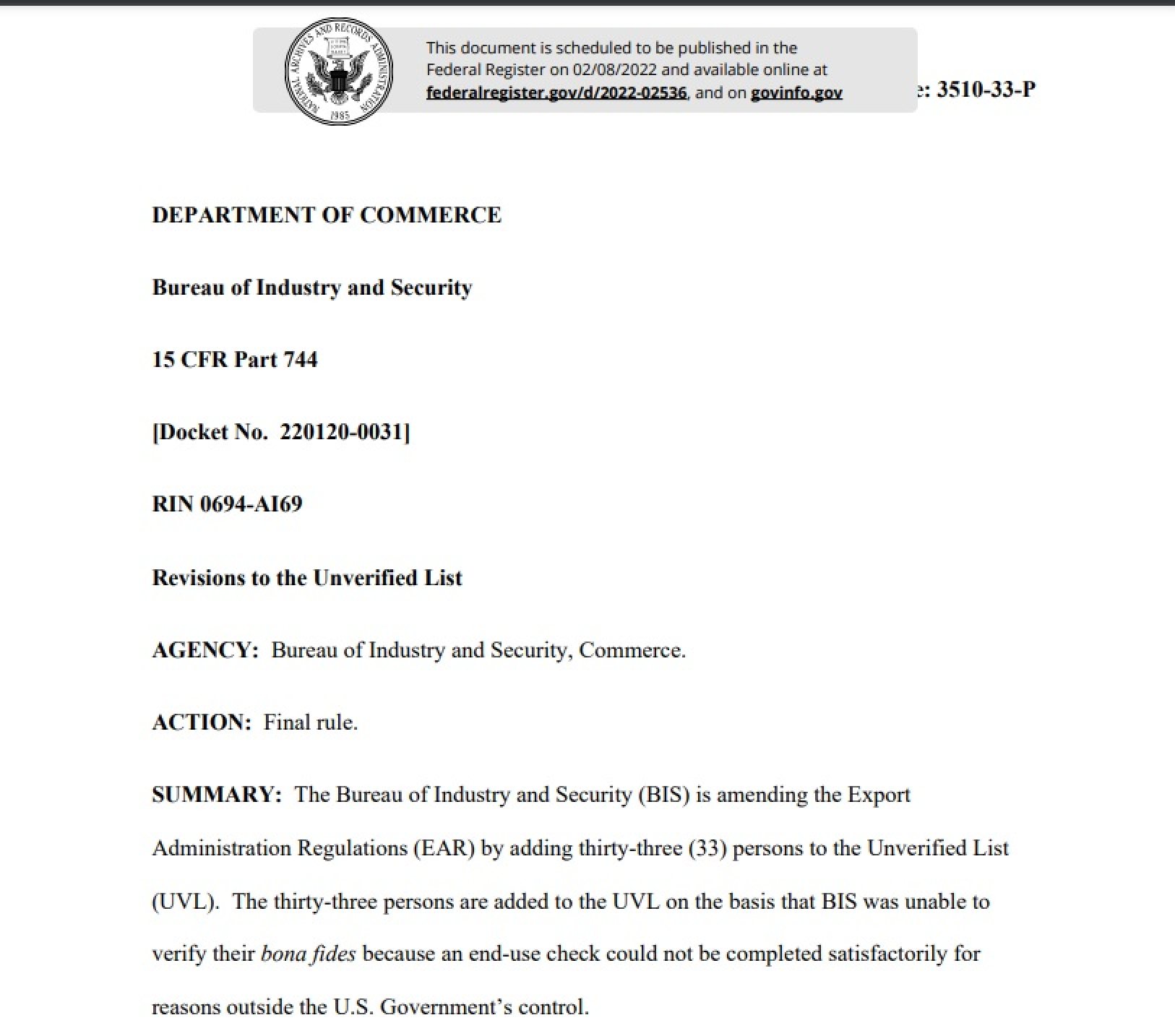 The Commerce Department's Bureau of Industry and Security said of the entities added that it "could not verify their bona fides because an end-use check on transactions subject to [export restrictions] in which these persons were parties could not be completed satisfactorily for reasons outside the US government's control".
The number of Chinese companies flagged by the Commerce Department, including those on the so-called Entity List and "military end-user" list has grown as policymakers try to halt the diversion of technology meant for commercial products to military applications that could undermine US national security.
Also on Monday, the Justice Department unsealed an indictment against Hytera Communications Corp – a Chinese supplier of professional mobile radio systems, also known as walkie-talkies, used by police – saying it conspired with former employees of Motorola Solutions to steal technology.
Prosecutors accused Hytera and the recruited employees, whose names are redacted, of a seven-year effort starting in 2007 to steal Motorola's trade secrets "to accelerate the development of Hytera's [mobile technology] products, train Hytera employees and market and sell Hytera's ... products throughout the world".
The indictment details the defection of a group of employees from Motorola units based in Penang, Malaysia.
In one email cited in the court document, an employee is quoted as saying: "It is going to cause a lot of problem[s] as we are technical people and bring along a lot of knowledge. We have/will signed the NDA [non-disclosure agreement] and some of our lies may cause problems once Motorola finds out."
China's efforts to out-compete the US in the hi-tech arena and acquire technology that could provide an edge in military technology have prompted executive branch programmes like the Justice Department's China Initiative, under which MIT professor Gang Chen was accused, and the various Commerce Department lists meant to hamper such transfers.
They are also the motivation behind bipartisan congressional efforts to counter Beijing on these fronts.
Last week, the House of Representatives passed the America Competes Act, which, along with provisions on the defence and human rights fronts, would set aside more than US$50 billion in federal funds through 2026 to subsidise the domestic manufacturing of semiconductor chips.
A similar China bill, the US Innovation and Competition Act, passed the Senate by a two-thirds margin last summer. Negotiators from the House and Senate will need to negotiate a final bill that both chambers can pass and send to President Joe Biden to sign into law.
More from South China Morning Post:
For the latest news from the South China Morning Post download our mobile app. Copyright 2022.
Subscribe now to our Premium Plan for an ad-free and unlimited reading experience!