Home prices are likely to grow in major markets across the globe in the coming year, according to property analysts.
But there may be one notable exception: mainland China.
In its latest Global Housing and Mortgage Outlook, Fitch Ratings predicts a decline of 3 per cent to 5 per cent in China's home prices in both 2022 and 2023, a sharp reversal of the growth momentum seen in previous years. The credit ratings company predicts more developers defaulting on their loans and increased government intervention in the market.
Do you have questions about the biggest topics and trends from around the world? Get the answers with SCMP Knowledge, our new platform of curated content with explainers, FAQs, analyses and infographics brought to you by our award-winning team.
Home prices were estimated to have grown 2.5 per cent this year.
"Unlike the other countries in this report, China's housing market is expected to face headwinds in both 2022 and 2023 and to experience falling home prices that mark a reversal of recent momentum," the Fitch report said. "While we expect the authorities to intervene to contain market volatility, downside risks are substantial."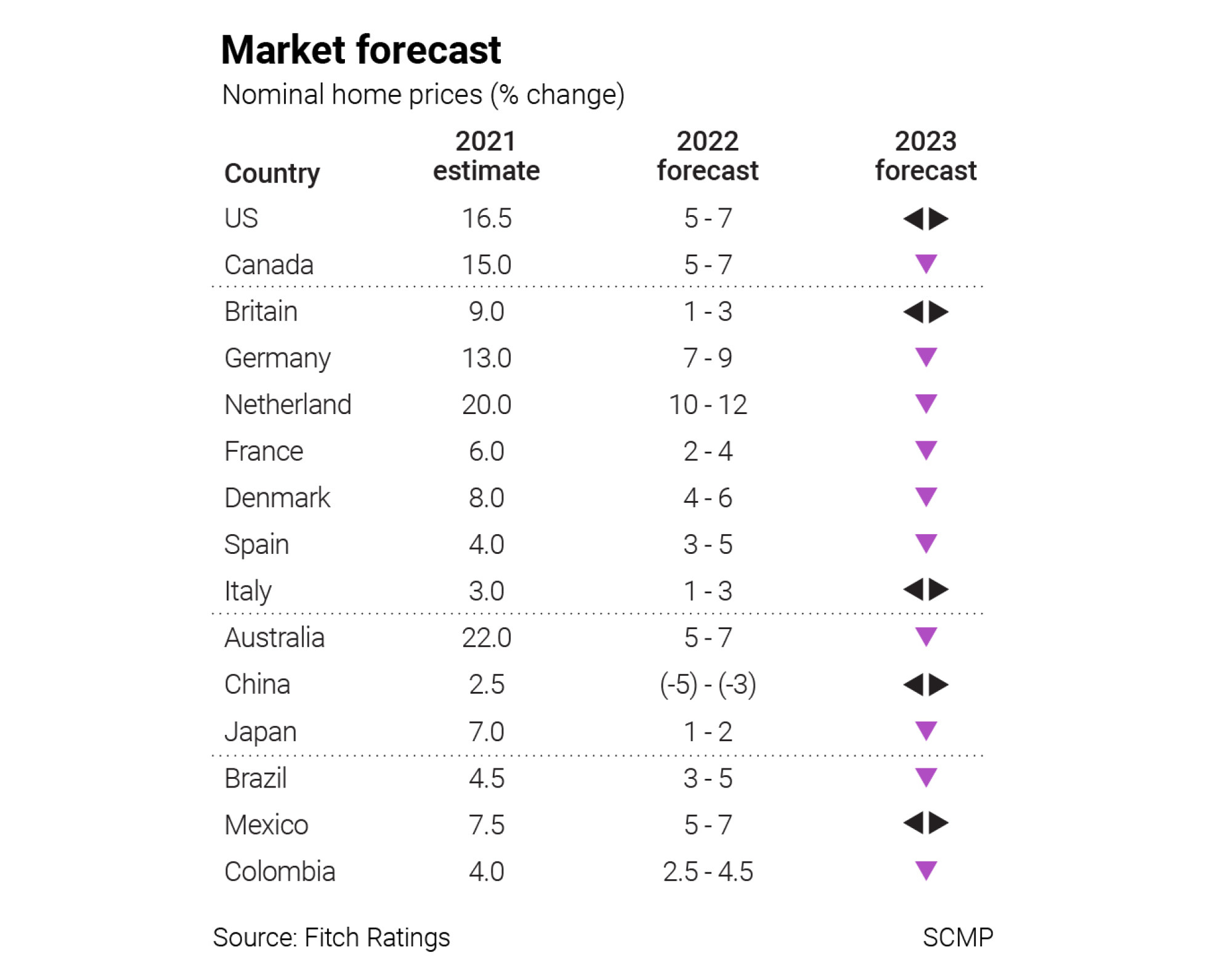 Beijing has cracked down hard on the risky borrowing activities of property developers. It introduced its "three red lines" in 2020 – a set of metrics against which a developer's corporate debt is evaluated, a move intended to improve the sector's financial health.
Since then, mainland developers have been scrambling to get their house in order to meet these requirements.
The biggest, like China Evergrande, the world's most indebted real estate company with more than US$300 billion in liabilities, have been struggling to stay within the mandated thresholds and have found it difficult to service debt and access new loans.
"Government policy, economic growth and debt issue will be the key factors [determining house prices]," said Martin Wong, director, head of research and consultancy, Greater China at Knight Frank.
He believes home prices in China's lower-tier cities may drop slightly in the coming year.
A tightening of financial regulations governing mortgages is also predicted to be a trend in 2022.
The Chinese government is likely to stabilise prices by rolling out additional property taxes, according to Fitch. An expansion of the property tax pilot programme may discourage home buying and encourage investors to sell, adding further downward price pressure.
"Beijing is determined to promote common prosperity, which requires taming out-of-control real estate price growth and making affordable homes available to average workers, even in the biggest cities," said Daniel Ho, Juwai IQI's co-founder and group managing director.
"We don't expect a hard landing in the property sector, but average residential prices could fall 1 per cent in the first half of 2022."
China's property sector generates more than a quarter to its economic output, the single largest contributor. Average home prices, however, have grown to about 46 times the country's median household income.
Coupled with the fact more than 70 per cent of Chinese household wealth is stored in real estate, the stakes are high when it comes to housing prices.
Things look more rosy in other major markets. Other countries will continue to see house prices grow, though at a slower pace, ranging between 1 and 12 per cent, according to Fitch's report.
The Netherlands is forecast to lead the growth, with home prices rising between 10 and 12 per cent, while Japan is likely to see the slowest increase of between 1 and 2 per cent.
Growth drivers will include less volatile macroeconomic environments after Covid-19, as well as continued housing shortages, rising construction costs, moderate mortgage rates and increasing investor appetite.
"The big trend in 2022 will likely be a downshift in the global pandemic-caused price boom. In many markets, prices will continue to climb, but at a slower pace," said Juwai IQI Group co-founder and CEO Kashif Ansari.
"Low inventory, accumulated savings, and pandemic-driven new demand trends will all remain positive factors in international property markets."
Still, uncertainty remains concerning the emergence of coronavirus variants and their likely limitations on growth. Pandemic-related trends like supply shortages and a lack of new construction are also expected to persist into next year.
Land availability is a major issue in Australia, China and parts of Europe, the Fitch report noted. Several countries, including Italy and the US, have experienced construction delays caused by labour and raw material shortages.
Pandemic-related changes in housing preferences have also intensified supply shortages outside city centres.
In 2021, social distancing and remote working trends accelerated demand for larger homes in suburban areas. Fitch expects this trend to continue next year in countries where hybrid working patterns are sticking, such as France, Italy, and the US.
However, growth momentum in a number of markets will be limited by regulatory pressure and rising interest rates. Many first-time buyers in some countries are expected to face the combination of high home prices and household debt levels, prompting regulatory intervention, according to Fitch.
More from South China Morning Post:
For the latest news from the South China Morning Post download our mobile app. Copyright 2021.
Join our Telegram channel to get our Evening Alerts and breaking news highlights