Switzerland's flag carrier has suspended flights in and out of Hong Kong for at least a week, citing the city's tightened coronavirus quarantine measures for aircrew.
Four Zurich-to-Hong Kong flights would be cancelled, with the suspension set to be reviewed on December 11, a spokesman for Swiss International Air Lines said on Sunday.
The airline – the latest to find its operations hamstrung by the city's strict Covid-19 quarantine rules – said Saturday's decision came after "careful consideration", and that it would closely monitor the situation.
Do you have questions about the biggest topics and trends from around the world? Get the answers with SCMP Knowledge, our new platform of curated content with explainers, FAQs, analyses and infographics brought to you by our award-winning team.
"This action has been taken in response to a tightening of the local quarantine provisions for crew members arriving in Hong Kong," the spokesman said. "We are also contacting all the customers concerned."
The development came as Hong Kong added four more nations - Chile, the Cook Islands, Luxembourg and Romania - to its list of high-risk Group A countries over the detection of Omicron variant cases.
The change means that from Wednesday, non-residents will be banned from entering Hong Kong, while residents must serve a 21-day quarantine upon arrival. It followed the addition of Iceland and Singapore to the list of more than 50 countries in the highest category for travellers.
The city's tough measures require all international aircrew who have been in a high-risk place within 21 days of their arrival in Hong Kong to undergo self-isolation at a designated hotel arranged by their employer until they fly out.
Hong Kong considers Switzerland high-risk for the coronavirus, alongside other European countries such as Germany, France and the Netherlands.
Aircrew flying into the city who have not been fully vaccinated are required to complete 21 days of quarantine before they are allowed to take off again.
Hong Kong has also imposed stringent rules on locally based aircrew members, taking a toll on the city's flagship carrier, Cathay Pacific.
The local carrier has already laid out a plan to cut back many of its passenger flights to Hong Kong this month to adjust for a looming staffing shortage over the Christmas and New Year holidays.
Cathay crew members returning from high-risk places are subject to at least 14 days of quarantine in a designated hotel before they can re-enter the community.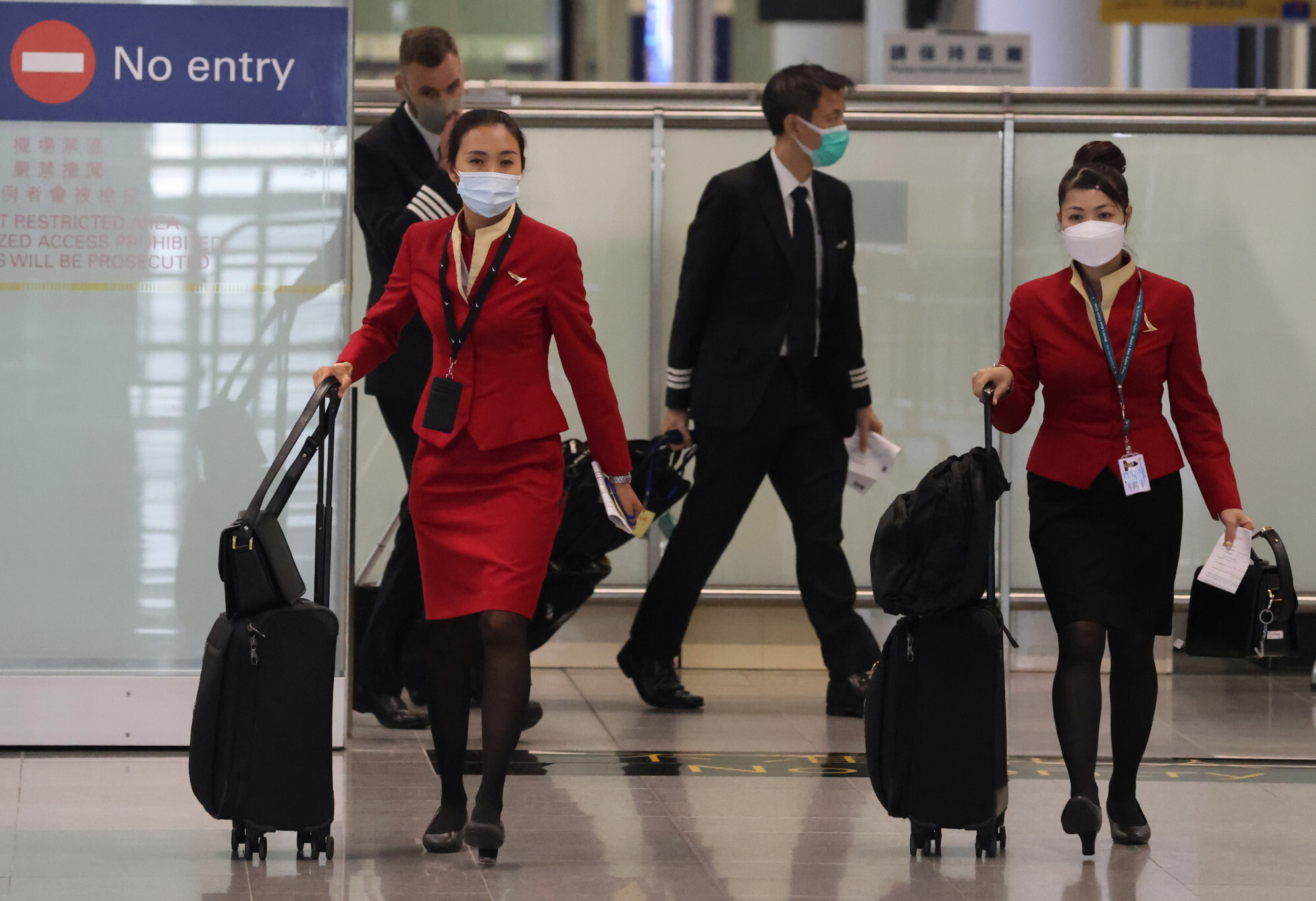 The carrier has been operating on a so-called closed-loop arrangement in which pilots and cabin crew are confined to their hotel rooms between flights for the duration of their three-week shifts, then quarantine for up to 14 days after returning home. The airline largely depends on staff to volunteer for the taxing arrangements.
Last week, British Airways also suspended passenger flights to and from Hong Kong after several of its employees were forced to go into quarantine in a government camp following a positive Covid-19 test result from one of its crew members.
Meanwhile, Hong Kong health authorities confirmed nine imported coronavirus infections on Sunday, bringing the local tally to 12,461 cases, with 213 related deaths.
The fresh cases included six seafarers from coronavirus-hit cargo vessel Glory Sky, which arrived from Japan on Wednesday. All of its crew were already isolating on board after one member was previously confirmed to be infected.
More from South China Morning Post:
For the latest news from the South China Morning Post download our mobile app. Copyright 2021.
Join our Telegram channel to get our Evening Alerts and breaking news highlights