A proposal by Hong Kong authorities to introduce vaccine passports and ban unvaccinated people from venues such as restaurants has run into stiff opposition from across society, including business owners, legal experts and elderly groups.
They said the idea was unfair and could undermine elderly residents' mental health, while some warned the policy could hammer operating revenues by as much as 30 per cent.
Health experts, however, argued the potential move was justified, as unvaccinated diners could bring more risks when they removed their masks to eat.
Do you have questions about the biggest topics and trends from around the world? Get the answers with SCMP Knowledge, our new platform of curated content with explainers, FAQs, analyses and infographics brought to you by our award-winning team.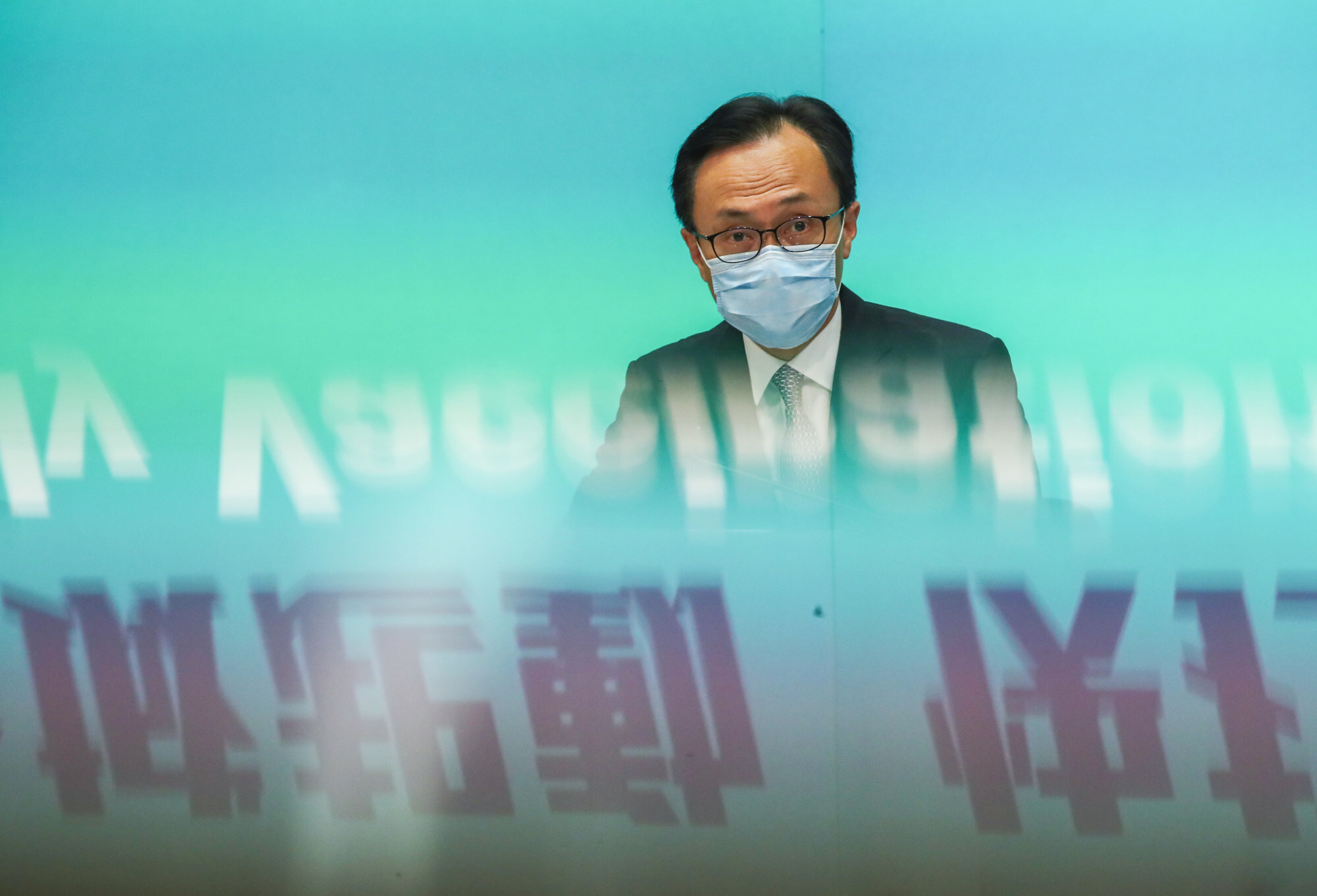 The debate centred on remarks made on Saturday by Secretary for the Civil Service Patrick Nip Tak-kuen, who said health authorities were considering plans to ban unvaccinated residents from entering "high-risk" premises, such as restaurants, schools, hostels, cinemas, performance halls and sports venues.
Nip was responding to concerns over the heavily mutated Omicron coronavirus variant, which scientists fear may be more transmissible.
On Monday, he said: "When some people are choosing not to get the shots for non-medical reasons, we will need to have different treatment for them and those who have been vaccinated.
"Otherwise, the inoculated might have to pay the consequences that will arise from the choices made by the unvaccinated."
Nip added that the move was backed by government advisers such as University of Hong Kong microbiologist Yuen Kwok-yung.
Executive Council convenor Bernard Chan had also said a vaccination rate of at least 80 per cent was needed to reopen the city's border for travellers from mainland China and overseas.
Earlier this week, Hong Kong finally hit its initial target of having 70 per cent of its eligible population vaccinated with a first dose.
"Without reopening the border, how can Hong Kong's economy recover?" Chan said. "Countries or cities worldwide are raising vaccination rates to combat Covid-19, why does Hong Kong not do the same?"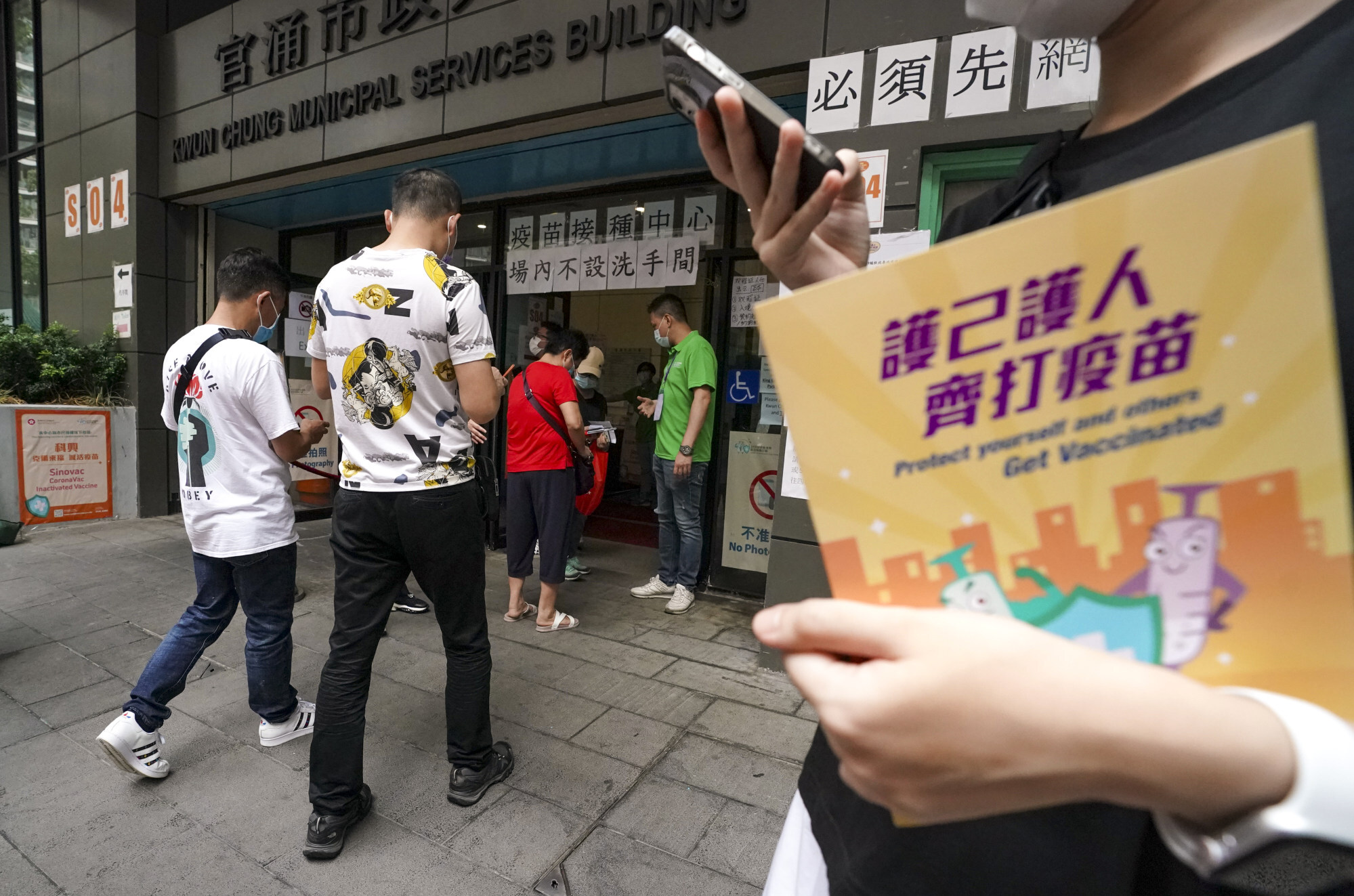 But on the same day, Ricky Chu Man-kin, chairman of the Equal Opportunities Commission, warned that while government policies perceived as unfair might be deemed reasonable for the sake of public health, the introduction of vaccine passports could amount to discrimination.
"Practically, the scope [of restrictions] may be wider under health reasons ... But I think the government should clarify whether, for example, pregnant women can be exempted from the proposed rules," Chu said, citing medical experts' advice against Covid-19 jabs for this group.
Critics have also pointed out that the elderly will be hard hit by the new vaccination policy. Kenneth Chan Chi-yuk, chairman of the Elderly Services Association of Hong Kong, warned vaccine passports would greatly "limit and inconvenience" elderly Hongkongers in the community.
"Those who don't live in care homes may lose the freedom to have a simple meal with friends and family at Chinese restaurants, a great joy in many of their lives, and that will have a detrimental impact on their well-being and mental health."
Another care home operator Grace Li Fai, chairwoman of the Elderly Services Association, also said the policy would not move the dial for those in care facilities, most of whom had not left such premises for a year or more since the pandemic hit.
"Perhaps a more incentivising policy for them would be to allow more family visits at care homes," she added.
On the business front, Leung Chun-wah, chairman of the Association for Hong Kong Catering Services Management, warned that restaurant earnings would plunge by some 30 per cent.
Government pandemic advisers such as Professor David Hui Shu-cheong had argued that a vaccine passport could finally spur the elderly to get jabbed.
"I believe many older people enjoy having tea breaks in restaurants, so they will be motivated to take the vaccine if there's such a requirement," he said. "If there's a fifth wave, the elderly face the greatest risk."
Another infectious disease expert, Joseph Tsang Kay-yan, from the Hong Kong Medical Association said he believed removing masks while eating represented a risk for the unvaccinated.
For residents like Wang, a 24-year-old consultant, the introduction of a vaccine passport would represent a net benefit for the city, particularly in light of the recent emergence of the Omicron variant.
"With Omicron and other new variants coming up, this indicates that Covid-19 is here to stay. It makes sense that people should get themselves vaccinated," she said.
"There is no reason why people shouldn't be vaccinated if they don't have a medically valid cause."
From a legal standpoint, a poorly crafted rule could be judicially challenged by citizens whose rights to go about their normal business in the community could be irreparably infringed, according to barrister Albert Luk Wai-hung.
"The government has to show it has acted in a proportionate, necessary manner in a policy that is urgently called for ... It will be the greatest folly if the government is trying to argue its case [by tying it to the] desire to reopen borders with the mainland."
Luk said authorities might have a better cause if they based their argument on the Omicron defence, by pointing out that the new variant was a game changer and had made matters more urgent. But going down that path would be tantamount to admitting the city's 21-day quarantine was useless in containing imported infections, he added.
Several countries have already imposed restrictions on individuals who are unvaccinated by choice. For example, such residents in Singapore can no longer enter shopping malls, coffee shops or other attractions.
Earlier this month, the city of Vienna in Austria also introduced a lockdown for unvaccinated residents, under which they are only allowed to leave home for limited reasons, such as working or buying food.
Germany is also applying pressure on its citizens to get Covid-19 shots, and will only allow entry to restaurants, bars and public events in areas with high hospitalisation rates for people who are vaccinated or have recovered.
Darcy Davison-Roberts, law lecturer at the University of Hong Kong, said the rise of the Omicron variant meant the legitimacy of the government's position could arguably be stronger as there was a heightened public health threat, but the concern regarding vaccine passports was that they might still indirectly be discriminatory.
"Indirect discrimination occurs when a policy appears to be neutral because it applies equally to everyone but it actually has the effect of discriminating against an identifiable group," she explained.
But if an elderly resident would like to challenge the policy as discriminatory, he or she would need to demonstrate other factors apart from advanced age, such as a health issue, she added.
Davison-Roberts also noted that Ontario and British Columbia in Canada had both seen their vaccine passport policies challenged on a constitutional basis. In Scotland, an application was also brought by affected businesses to delay the implementation of a similar scheme, she said.
The government, meanwhile, announced that eight private medical institutions would be able to administer the BioNTech vaccine from next Monday, adding it would offer a HK$160 subsidy to operators for each jab given and an extra HK$50 if the recipient was aged 60 or above.
More from South China Morning Post:
For the latest news from the South China Morning Post download our mobile app. Copyright 2021.
Join our Telegram channel to get our Evening Alerts and breaking news highlights