A man with a physics doctorate who tried to call for medical attention for a Hong Kong protester shot by police during the civil unrest in 2019 has admitted taking part in an unlawful assembly.
Yau Wang-tat, who obtained a PhD in applied physics at Polytechnic University earlier this year, pleaded guilty at the District Court on Thursday to a charge which, according to his lawyers, could dash his hopes of becoming a prominent physicist in the city.
The 28-year-old was initially charged with rioting alongside Form Five student Tsang Chi-kin and five others over the clashes in Tsuen Wan on October 1, the 70th anniversary of the founding of the People's Republic of China.
Do you have questions about the biggest topics and trends from around the world? Get the answers with SCMP Knowledge, our new platform of curated content with explainers, FAQs, analyses and infographics brought to you by our award-winning team.
Tsang, now 20, was said to be among a group of radical protesters who "strenuously" attacked police with hammers, pliers, rods and umbrellas near Hau Tei Square at around 4pm.
The secondary school pupil was shot in the abdomen after swinging a white rod at a station sergeant, only identified in court by his serial number 54243.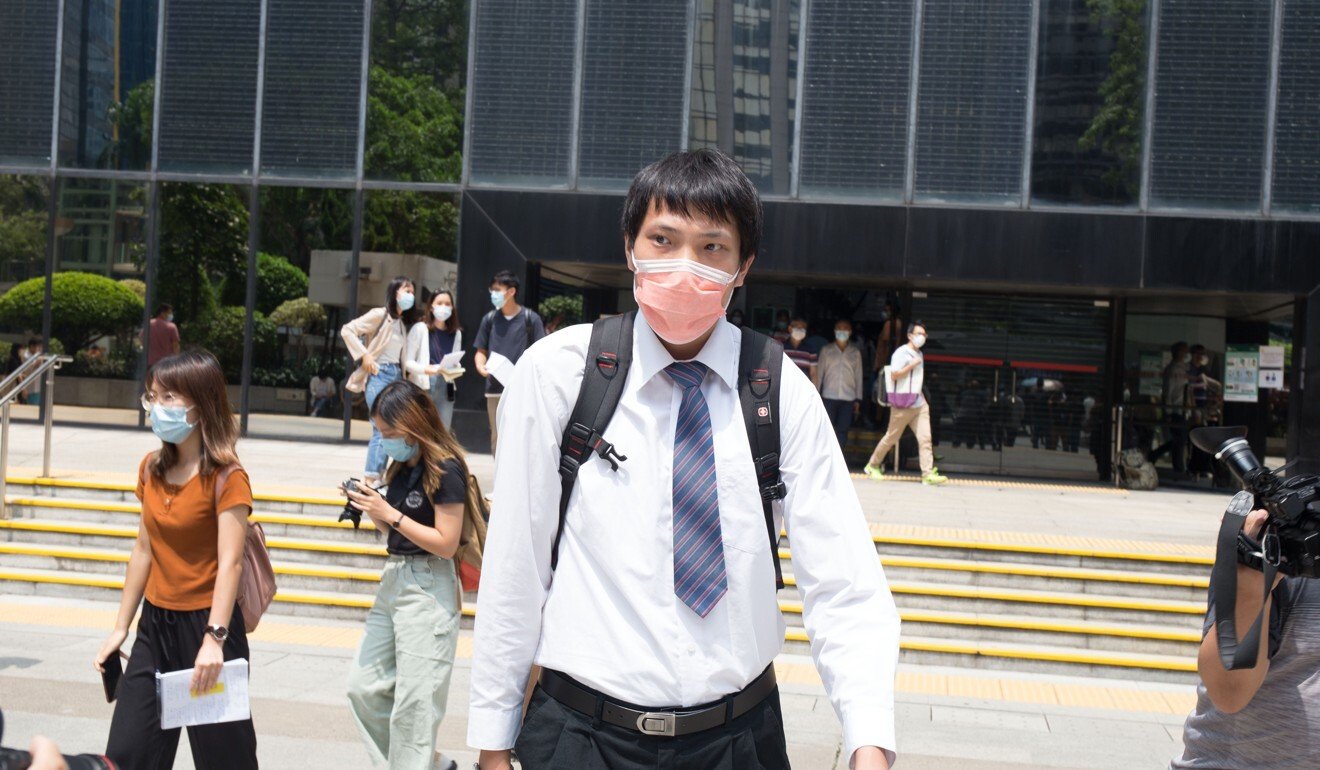 Prosecutor Ivan Cheung Cheuk-kan said the officer was equipped with a Remington shotgun loaded with beanbag rounds, but he ran out of ammunition at the time of the assault and was forced to draw out his pistol to defend himself.
Yau, who was wearing a helmet and respirator, rushed to Tsang's help but was immediately subdued by a constable. He told police he had only wished to rescue the injured protester.
The prosecution agreed to drop the rioting charge, punishable by 10 years in prison, provided Yau admitted taking part in an unlawful assembly, which carries a maximum jail sentence of five years.
In mitigation, Yau's counsel, Hectar Pun Hei SC, said his client had chosen to save Tsang out of "respect for life", but realised he should not have remained on the scene in the first place.
"The defendant did not know [Tsang]. He raised his hand after seeing that person fall to the ground hoping that person could receive timely medical attention," the lawyer said.
In his mitigation letter, Yau outlined his academic years from struggling to enter university to graduating with first class honours in his degree, and then obtaining his doctorate, with his research on electromagnetics.
"I aspired to become a great scientist one day," Yau wrote. "Even if I really fail to become a great scientist, I hope to push forward Hong Kong's scientific advancement alongside other professionals in the field and change the rigid impression that Hong Kong lags behind in scientific research."
"I cannot redeem myself but I will continue my life's journey with my head up high."
Deputy Judge Li Chi-ho extended the defendant's bail until sentencing on October 15, but warned that immediate imprisonment was highly probable.
Tsang last appeared in court in October last year, saying he had decided to admit rioting and believed it would be the "best decision".
But he jumped bail two months later and issued a statement indicating he would "never surrender himself to face political persecution from the Beijing-controlled Hong Kong government".
In May, a different judge jailed four of the other five protesters for up to 56 months for rioting, with the fifth defendant absconding before the trial.
For the latest news from the South China Morning Post download our mobile app. Copyright 2021.
Join our Telegram channel to get our Evening Alerts and breaking news highlights