Seventy per cent of Hongkongers will have received their first shots of a Covid-19 vaccine by the end of September if the city can continue administering them at its current rate of 30,000 a day for the next two months, according to a top official.
Patrick Nip Tak-kuen, the civil service chief who is also in charge of Hong Kong's vaccination campaign, on Sunday said at least 2 million people still needed to get vaccinated and that progress towards achieving herd immunity was dependent on encouraging the elderly to take the jab.
"If we don't make use of the time we have to get vaccinated and reach a vaccination rate of 70 per cent, we will not be able to reach herd immunity," he told a radio show, with the city's inoculation drive still struggling to gain traction.
Do you have questions about the biggest topics and trends from around the world? Get the answers with SCMP Knowledge, our new platform of curated content with explainers, FAQs, analyses and infographics brought to you by our award-winning team.
Nip stressed that herd immunity was a precondition for the city returning to normal and reopening its borders, saying it provided added protection against mutant strains of the coronavirus.
"If we maintain the pace of having about 30,000 people getting their first shot every day, we would get about 1 million vaccinated in a month, which would mean 70 per cent of people would have received their first jab in the following two months," he said.
Herd immunity against the coronavirus is possible when at least 70 per cent of the population have received two doses of a Covid-19 vaccine, according to an assessment by government advisers on public health.
Nip's vaccination plea came as Hong Kong confirmed two new imported Covid-19 cases on Sunday, taking the city's official tally to 11,958 cases, with 211 related deaths.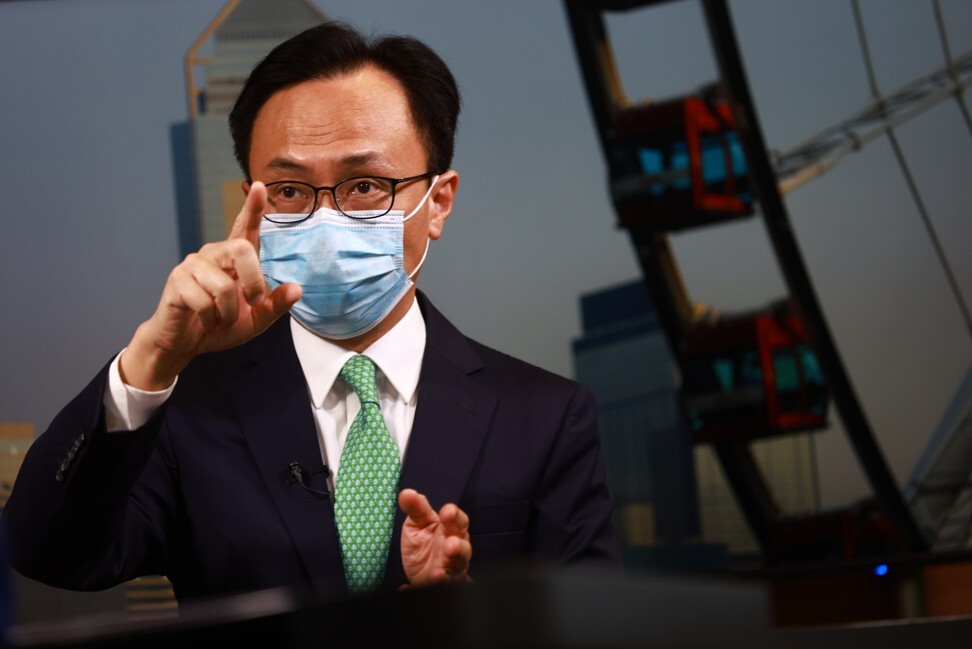 As of Sunday evening, 37.6 per cent of Hong Kong's 7.5 million people had received one dose of the vaccine, and 26.8 per cent have been given both doses.
Nip urged members of the public to book a vaccine appointment as soon as possible.
"The community vaccination centres cannot stay open indefinitely," Nip added, with the 29 centres offering the BioNTech and Sinovac vaccines projected to close at the end of August.
He added that authorities would monitor booking patterns and operations across the inoculation centres over the next two weeks to determine if specific locations needed more vaccination booths.
About 1,000 private doctor clinics administering the Sinovac jabs would continue to operate past the August deadline with a cumulative vaccination capacity of 6,000 shots per day, Nip added.
Less than 25 per cent of those aged 60 and above have received their jabs, which Nip emphasised was a cause of concern as vulnerable groups were more susceptible to the coronavirus.
Only 5 per cent of those living in care homes for the elderly and disabled have received at least one jab as of early July.
While vaccination centres had been fairly busy recently, Nip added the government was exploring arranging walk-in slots for the elderly, so they could turn up for jabs without booking online.
Outreach programmes in which private doctors and medical staff hold seminars explaining the safety and importance of the vaccines would also continue across elderly care homes planning to administer the Sinovac vaccines to its residents.
Since Friday, the government has offered an added incentive of HK$50 to private doctors, who successfully administer the mainland China-produced Sinovac jabs to each elderly patient.
Nip said the new initiative was aimed at compensating doctors for the extra time it took to explain the potential risks of the vaccines and allay safety concerns for the older population, who often also have underlying illnesses.
Civil servants, especially those with frontline duties, were also urged to get vaccinated, as about 30 per cent of government workers still had not.
"People have two options – either get vaccinated or get tested every two weeks [at your own expense]," Nip stressed, referring to civil servants.
Chief Executive Carrie Lam Cheng Yuet-ngor on Thursday told lawmakers that the government was working towards extending compulsory vaccination or testing to cover more of the 170,000-strong civil service, buoyed by the policy achieving high levels of inoculation among 64,000 of Hong Kong's frontline officers.
Under the scheme, frontline workers were required to get coronavirus jabs or undergo regular testing.
Hong Kong has largely kept Covid-19 infections and deaths to a minimum, but has struggled to reopen its borders amid a sluggish vaccination rate.
More from South China Morning Post:
For the latest news from the South China Morning Post download our mobile app. Copyright 2021.
Join our Telegram channel to get our Evening Alerts and breaking news highlights