Pandemic-battered cruise ship companies and travel agents have jumped straight into action after the Hong Kong government revealed plans to allow voyages to nowhere in the summer but the initial response from travellers was mixed.
Officials on Wednesday announced the roll-out of high seas voyages without port visits in late July, and operators such as Royal Caribbean Cruises and Genting Cruise Lines started cooperating with travel agents on a string of offerings.
Cruise ships, crew members and passengers will have to brace for stringent coronavirus-related health controls to set sail.
Do you have questions about the biggest topics and trends from around the world? Get the answers with SCMP Knowledge, our new platform of curated content with explainers, FAQs, analyses and infographics brought to you by our award-winning team.
While the so-called cruises to nowhere mark the start of a possible recovery for an industry battered by the coronavirus crisis over the past 15 months, medical experts warned of infection risks on stop-free trips and said extra precautions were warranted.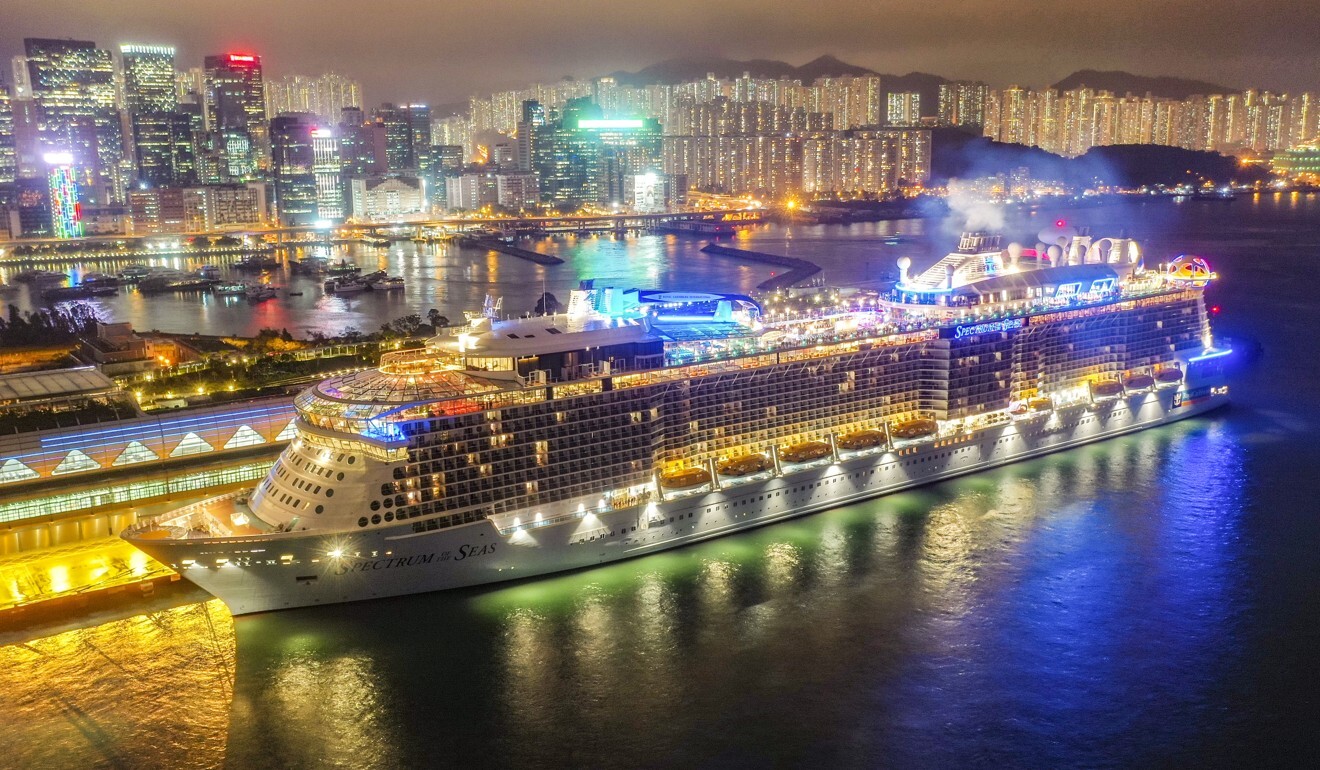 "The main concern is making sure there are no imported cases among seamen operating the vessel for the trips, while passengers also need to follow social-distancing rules," respiratory medicine specialist Dr Leung Chi-chiu said.
Monitoring whether passengers and staff followed social-distancing rules and wore masks would also be difficult, he added.
Hong Kong Travel Agents' Relief Alliance convenor Perry Yiu Pak-leung, who lobbied for the scheme, said allowing ships to take on passengers again was essential for reviving the sector.
"If the government was even one week late in setting out the conditions for the cruises to nowhere, cruise companies would miss out on the entire summer season, which they need as a starting point to resume business after more than a year sitting idle," Yiu said.
Tourism has been devastated since the closure of all but three border checkpoints in Hong Kong, while cruises have not run since February last year when the coronavirus first surfaced in the city.
Hong Kong is not the first in the region with high seas cruises to nowhere. But a recent resurgence of Covid-19 has forced Malaysia and Taiwan to suspend such trips.
Voyages from Singapore remain on offer despite a fresh outbreak this month and the city state's tourism board said 120,000 people had sailed on trips since they started last December. It also boasted of having one-third of the world's cruises during the period.
Genting's World Dream sails from Singapore and the firm's senior vice-president Christine Li said the vessel was fully booked on its debut.
Singapore caps cruise ship capacity at 25 per cent, while for Hong Kong it is 50 per cent. Both cities require crew and passengers to be tested for Covid-19. Hong Kong will also require all crew and passengers to be vaccinated with two doses unless they have a medical reason while Singapore has no such rule.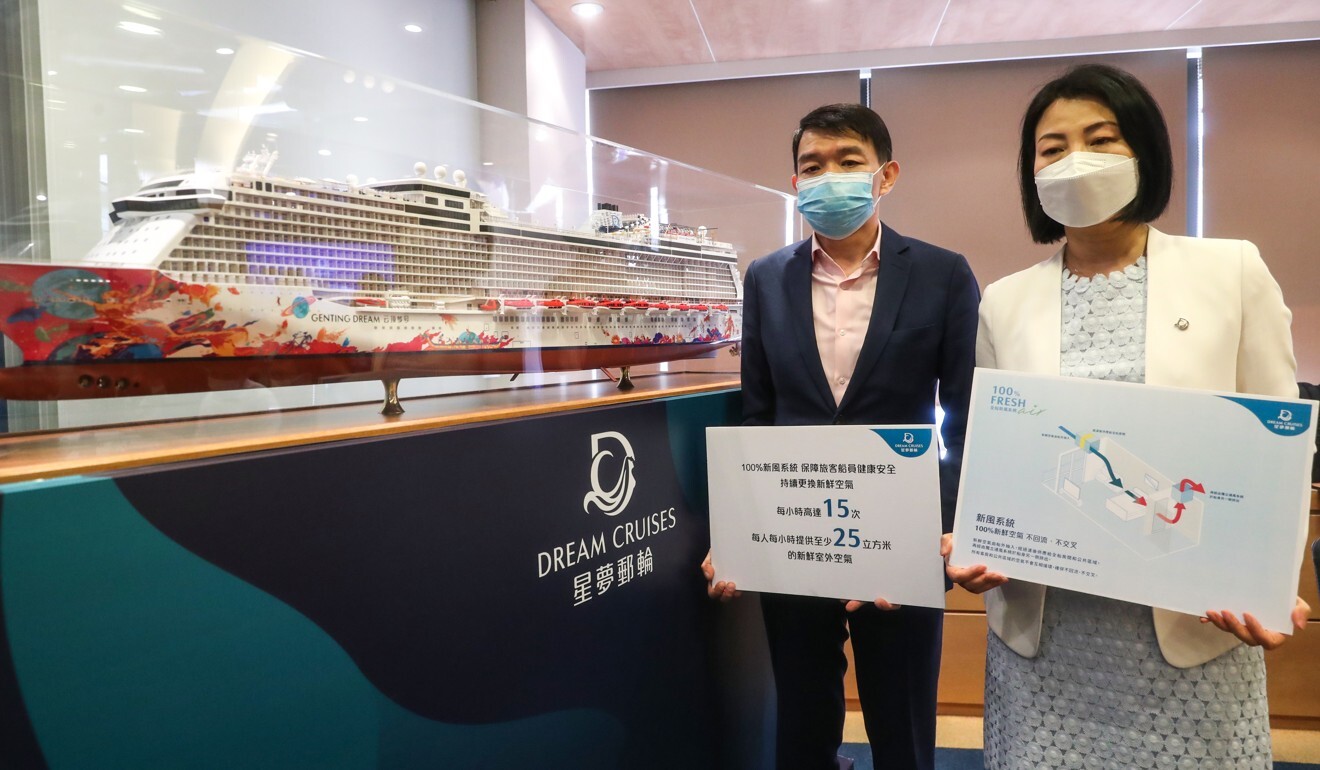 In Hong Kong, Genting will operate Genting Dream, which can carry about 1,800 people under the existing restrictions, with offers from HK$1,188 per person for two people staying in the same room for a two-night trip. Bookings start on Thursday.
Bigger rival Royal Caribbean will run two voyages a week on its Spectrum of the Seas – Asia's largest and newest cruise ship – with each trip lasting between two and four nights, at HK$1,000 a night per passenger. The firm also offers similar voyages in Singapore on Quantum of the Seas.
"We are very excited about the Hong Kong government's announcement and getting prepared to return to sailing in Hong Kong," a Royal Caribbean spokeswoman said.
The Kai Tak Cruise Terminal or Ocean Terminal in Tsim Sha Tsui may be the point of departure and return.
"Travel agents can't wait any more," warned Freddy Yip Hing-ning, president of the Hong Kong Travel Agent Owners Association and managing director of Goldjoy Holidays.
His company was set to start selling packages in the coming two days, although demand was unclear.
Lily Agonoy, managing director of travel agency Jebsen Holidays, said her company was in touch with Royal Caribbean and Dream Cruises for information and pricing of packages.
Agonoy hoped the cruises would generate "good demand" from locals longing to travel, as the trips could be a novel experience compared with hotel staycations.
"The profit margins will not be big but at this point any business counts for us because we want to keep our staff and we haven't had much business for nearly a year already," said Agonoy, who employs around 60 staff in Hong Kong.
She said the cruise firms would brief the agencies about operations, including Covid-19 testing and vaccination requirements.
But for some Hongkongers the idea of a cruise held little appeal.
Dentist Alan Lam Kwing-tong and his wife were among the thousands of passengers trapped for days on board the coronavirus-stricken Diamond Princess cruise ship last year.
"Generally speaking, I support the cruise-to-nowhere offer and the requirement to have passengers vaccinated," he said. "But my wife and I are still suffering from cruise phobia. We don't think we will consider a cruise for the coming five years."
Cruise fan Ms Yeung said she would refrain from travelling for the rest of this year because of the unstable coronavirus situation in Hong Kong and elsewhere.
"Even in Hong Kong, I will avoid crowds, not to mention thousands of people on a cruise ship," she said. "Another issue I am concerned about is the side effects of vaccines and will wait some time before getting vaccinated. So I won't be qualified to join the voyages."
Hong Kong's inoculation rate remains low, hampered by residents' reluctance to take shots. Three months on from the start of the mass vaccination roll-out, only about 1.23 million people, or 17 per cent of the city's population, have received their first dose. More than 934,000 people have taken their second shot.
To support the government's vaccination drive, meanwhile, the Airport Authority announced that 60,000 air tickets would be given away by lucky draw to residents and airport staff who had received shots. Authority staff will also have a chance to win another 1,000 tickets if they get vaccinated before the end of September.
More from South China Morning Post:
For the latest news from the South China Morning Post download our mobile app. Copyright 2021.
Subscribe now to our Premium Plan for an ad-free and unlimited reading experience!