Kingdee International Software Group, China's biggest enterprise software company, is expanding in cloud services at the expense of short-term profits to capitalise on what its president calls a "once-in-a-lifetime" opportunity, as the US-China tech war pushes local firms to rethink their reliance on American technology.
Cosmic, Kingdee's cloud services business for large corporations, is expected to double its revenue in 2021, capturing part of a domestic boom fuelled by the country's push for technological self-reliance and software localisation, the company's rotating president Shen Chongfeng said in an interview with the South China Morning Post in Shenzhen on April 21.
Revenue for Cosmic, which targets large Chinese enterprises, tripled in 2020, reaching 190 million yuan (US$29.3 million) as it signed up more than 300 new clients. Tensions between Washington and Beijing have led Chinese state-owned enterprises (SOEs) to start ditching software from US-based Oracle and Germany's SAP for homegrown technology providers.
Do you have questions about the biggest topics and trends from around the world? Get the answers with SCMP Knowledge, our new platform of curated content with explainers, FAQs, analyses and infographics brought to you by our award-winning team.
"We are facing clients that have the demand to replace their enterprise software with domestic systems, especially state-owned enterprises, and even those that used to be clients of SAP and Oracle," Shen said.
In recent years, Beijing has stepped up its push for homegrown technology development in the semiconductor and software sectors, offering tax incentives and broadening channels for financing, among other policies, amid a protracted tech war that has expanded from 5G and chips to internet services. Chinese President Xi Jinping has called on domestic companies to be patriotic and innovative, asking them to align their business strategies with China's needs.
Kingdee hopes its new clients, which include embattled Shenzhen-based telecoms equipment giant Huawei Technologies Co and state-owned electricity provider State Power Investment Corp, will be models for other large Chinese enterprises looking to shift their operations to a domestic corporate software company, according to Shen.
"We want to work together with other Chinese companies to break the stranglehold of technology, especially after the US-China trade war," Shen said. "Kingdee's Cloud Cosmic platform is entirely based on open-source technology, free of reliance on any foreign operating systems and databases to be compatible domestically. We will seize this opportunity."
Kingdee has also been undergoing a transformation of its own, as it increasingly relies on offering software as a service (SaaS), a subscription-based cloud service model that brings in recurring revenue for software stored and maintained on external servers. The model, already common in the US, often helps companies reduce costs by not having to maintain their own large tech support teams and servers.
This transformation, however, means continuous investment in new technologies and divestment of traditional software licensed for personal computers. Shen said the company terminated the sale of two licensed products last year, which used to bring in 400 million yuan in profit, and hired more than 1,000 research and development personnel for Cosmic.
As a result, Hong Kong-listed Kingdee reported a loss of 335 million yuan last year, swinging from 373 million yuan in profit in 2019. Revenue increased 1 per cent for the year to 3.4 billion yuan, 57 per cent of which came from its fast-growing cloud business, which has not kept up with the decline of its enterprise resource planning (ERP) software business.
"Our revenues and profits are under some pressure ... but we must seize the once-in-a-lifetime, historical opportunity for the cloud transformation amid China's push for domestic replacements, and continue to actively boost our investments," Shen said.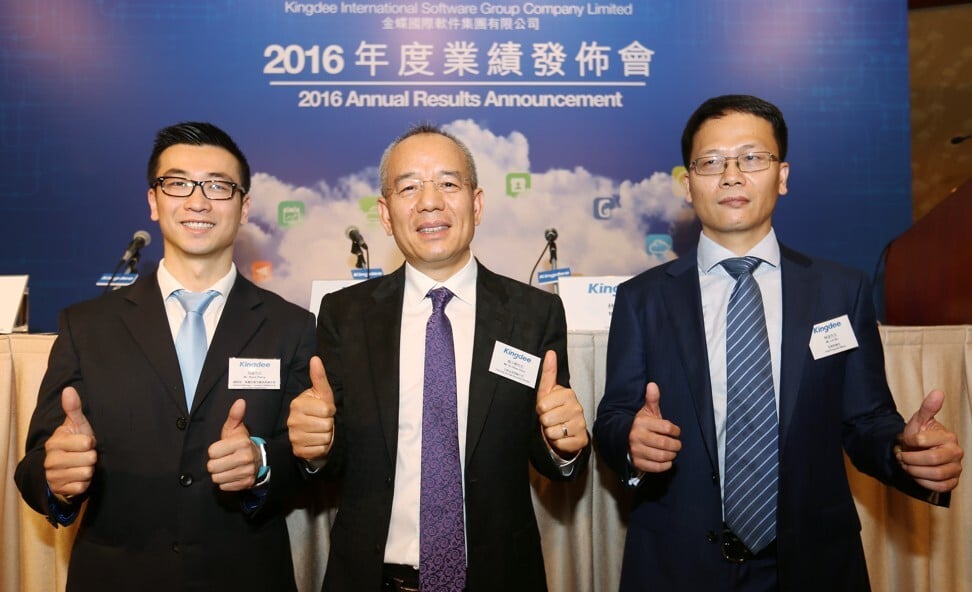 Kingdee, whose Chinese name jindie literally means golden butterfly, was created by former finance official Xu Shaochun in the early 1990s to offer a localised accounting tool for Chinese businesses.
As the country's economy boomed in the following decades, Kingdee emerged as one of the largest corporate software developers in China. It started advocating cloud computing in 2012, according to the company's website. In 2014, in a symbolic gesture of Kingdee's commitment to a cloud-based future, Xu publicly smashed a piece of server hardware.
Kingdee is now one of the biggest players in China's enterprise SaaS industry, making up 5.8 per cent of the market. The industry remains highly fragmented, with the top five vendors making up a fifth of the market in China, according to IDC, which estimated its size at US$1.4 billion in the first half of 2020.
Much of the market's future growth could rely on small and medium-sized enterprises (SMEs), which may not have the resources to invest in their own technological infrastructure. IDC estimates that cost-cutting from small businesses will result in stagnant industry growth this year, rebounding 40 per cent in 2022 as companies start to recover from the pandemic, which hit the service industry hard during lockdowns.
SMEs are an important part of Kingdee's bottom line, accounting for 60 per cent of its cloud business in 2020, according to financial filings. Large clients like Huawei only accounted for 10 per cent of cloud revenues last year.
Shen said the company offered cloud subscription discounts to some of its small clients in 2020. Revenues from Kingdee's Cloud Galaxy, its SME-facing platform, grew 31 per cent to 1.14 billion yuan in 2020, slower than its 44 per cent growth in the previous year.
However, Shen struck a positive note for 2021: Kingdee's cloud business for SMEs showed strong growth in the first quarter, he said.
For the latest news from the South China Morning Post download our mobile app. Copyright 2021.