Four people convicted of rioting in Hong Kong during National Day protests in 2019 have been jailed for up to 56 months, with the presiding judge ruling that those at the scene who did nothing violent still shared the same culpability as active participants.
Janitor Chan Hang, 40, was slapped with the heaviest sentence after he was caught on camera hurling objects at police and burning a banner on the street during the unrest in Tsuen Wan on October 1 that year.
The remaining three – kitchen worker Chan Kam-kwok, 21, programmer Lee Chun-man, 27, and social work assistant Kwok Siu-kam, 24 – were also given jail sentences despite a lack of evidence showing they had committed any violent acts.
Do you have questions about the biggest topics and trends from around the world? Get the answers with SCMP Knowledge, our new platform of curated content with explainers, FAQs, analyses and infographics brought to you by our award-winning team.
The sentences were premised on the legal principle of "joint enterprise", which was recently upheld by the Court of Appeal as a doctrine capable of indicting a wide range of suspects in a riot or unlawful assembly, Judge Ernest Michael Lin Kam-hung ruled in Wednesday's hearing at the District Court.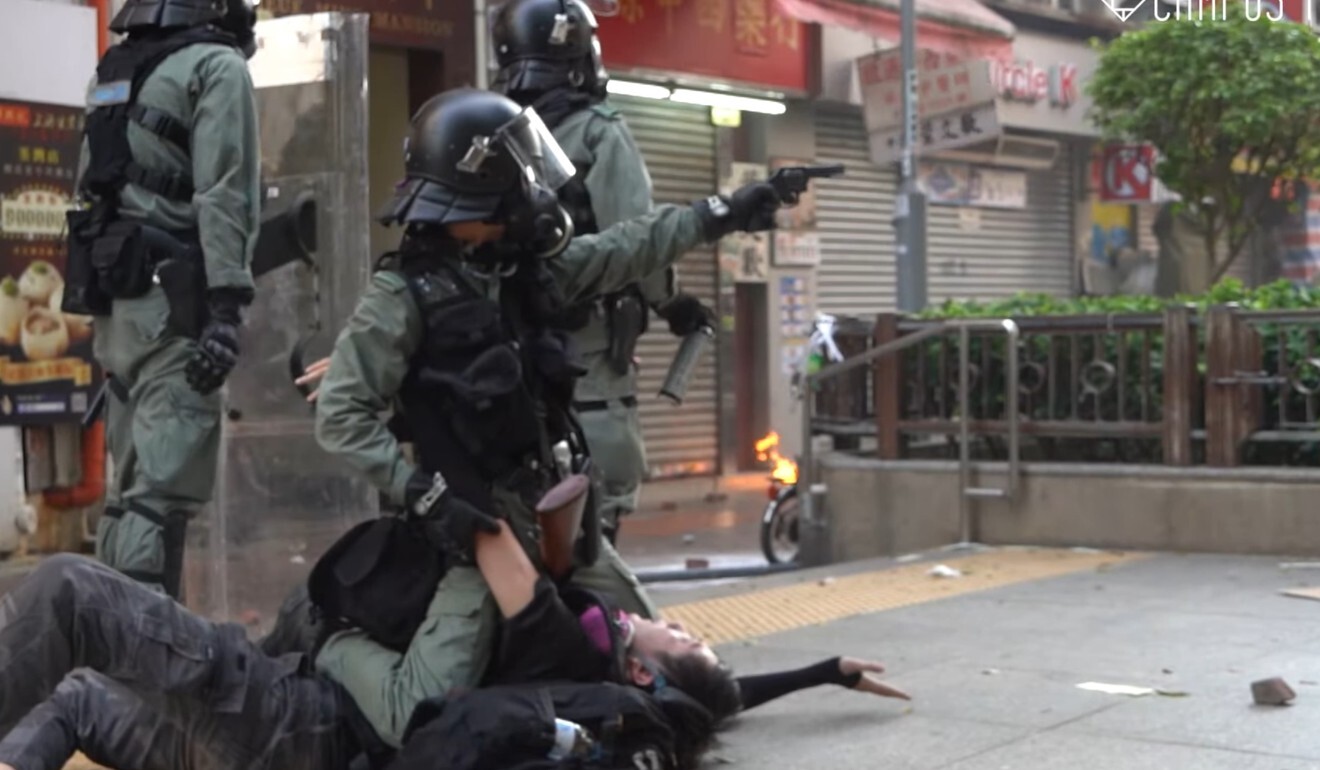 Lin jailed Chan and Lee for 51 months in consideration of their clear criminal records and the fact they had agreed with most of the prosecution's case during the trial in March.
But the fourth defendant Kwok, also with no criminal record, was handed a jail term of 53 months after the judge noted she remained adamant following her conviction, claiming she had only walked past the area and "unknowingly" became involved.
More than 200 protesters were said to have confronted police at the junction of Tai Ho Road and Hoi Pa Street in the afternoon of October 1, more than three months into the anti-government protests that year.
The trial heard that black-clad protesters, many of whom also wore protective gear, hurled petrol bombs, bricks, water bottles and rubbish at officers from behind a movable roadblock made of umbrellas. Officers responded by firing tear gas and rubber bullets.
In his verdict last month, Lin convicted the janitor of rioting and arson by referring to various news clippings showing his offences.
The judge also found the remaining three guilty of rioting, saying that their black attire and presence "in the eye of the storm" were enough to show they had either taken part in the riot or abetted others to do so, as there was no evidence they were duty-bound to stay or could not leave the scene.
Police did not exhaust their weapons. The difference in power of both sides was so huge that had it become a real war, the result would have been obvious
The court heard on Wednesday that janitor Chan had told his probation officer that he hoped to express his discontent with the government and attract the attention of foreign countries, especially the United States.
Kwok, meanwhile, said she was merely at the scene "out of curiosity" and had "unknowingly" become embroiled in the violent conflict.
But Lin said a deterrent sentence was required to prevent similar incidents occurring in the future.
The judge also praised police officers on duty that day for showing restraint and tolerance, despite the aggressiveness displayed by their opponents during what he called "a mini-war".
"What protesters relied on for their demonstration was the support or consent from a portion of society, as well as the restraint and tolerance by police.
"Police did not exhaust their weapons. The difference in power of both sides was so huge that had it become a real war, the result would have been obvious."
Ten people have been convicted after trial of rioting in cases stemming from the civil unrest in 2019, triggered by a now-withdrawn extradition bill.
Twenty-one riot suspects, including two men who assaulted protesters and train commuters at Yuen Long station on July 21, 2019, have pleaded guilty without trial, while 25 defendants were acquitted after trial.
Those who pleaded guilty to rioting offences were either sent to correctional training or jailed between 39 months and four years, while those convicted after trial were handed jail sentences ranging from four to 5½ years.
More from South China Morning Post:
For the latest news from the South China Morning Post download our mobile app. Copyright 2021.