Huawei Technologies executive Meng Wanzhou has won an application to adjourn her Canadian extradition case for more than three months in light of new evidence being provided by the bank HSBC, throwing the schedule for the already-marathon case into disarray.
The final phase of the legal battle, which has lasted 28 months and has upended China's relations with Canada and the US, had been scheduled to begin next week. But Associate Chief Justice Heather Holmes ruled in the Supreme Court of British Columbia on Wednesday that Meng's bid to adjourn the case should be granted so the defence can examine the bank documents they believe may be relevant.
Meng's lawyers had said on Monday that some of the material has already been provided by HSBC, with more expected to be delivered over the next six weeks.
Do you have questions about the biggest topics and trends from around the world? Get the answers with SCMP Knowledge, our new platform of curated content with explainers, FAQs, analyses and infographics brought to you by our award-winning team.
Holmes vacated three weeks of court hearings scheduled from April 26 to May 14. She ordered them rescheduled on or about August 3.
The decision scrambles the end game for the case. Holmes, Meng's lawyers and the Canadian government lawyers representing US interests will hold a conference on April 28 to chart a new path forward.
In her brief oral ruling, which included no reasons for the decision, Holmes said new applications resulting from the HSBC evidence would have to be made before August 3. Written reasons for the decision would be forthcoming, she said.
HSBC agreed to turn over documents to Meng – who is Huawei's chief financial officer and the daughter of company founder Ren Zhengfei – after settling a case with her in the High Court of Hong Kong. Previously, HSBC had defeated another request to turn over the material in the British courts.
The Canadian Department of Justice's top lawyer, Robert Frater, had said it was "inexplicable" that HSBC had acquiesced to Meng in Hong Kong, considering the bank had "won on every point" in the British case.
Frater, whose team opposed the application, had characterised Meng as engaging in a global fishing expedition for evidence that had no place in the Canadian extradition hearing and should instead be presented at a US trial.
But Meng's lawyers had claimed the material from HSBC could support their contention that US authorities have deceived the Canadian court, and Meng's extradition should therefore be thrown out.
Meng is accused by US authorities of defrauding HSBC by lying to the bank about Huawei's business dealings in Iran, thus putting the bank at risk of breaching US sanctions.
She was arrested at Vancouver's airport on December 1, 2018, and has been fighting a US request to have her extradited to face trial in New York ever since. Her treatment has infuriated Beijing.
The new HSBC material is said by Meng's lawyers to relate to the relationship between Huawei and HSBC and two subsidiaries – Skycom, through which Huawei did business in Iran, and a shell company called Canicula.
Meng's lawyer Richard Peck had said on Monday the material would be "copious", but none of it has been made public. Its unknown nature apparently dismayed Frater, who had told Holmes: "They do not know what is in these documents and they do not know when they are going to get them."
The schedule for the case has been tightly calibrated and the subject of much negotiation between the government side, which is seeking to hasten proceedings, and Meng's team, apparently happy to extend them.
Peck had denied that Meng was "trying to string this out"; the adjournment was a matter of fundamental fairness, he had said.
The government's written response to the application, however, had lambasted the request. "Two and a half years from the start of these proceedings, countless hours spent fashioning a schedule agreed by both sides, and mere days from reaching the finishing line, the applicant asks this court to take a several month pause," it said.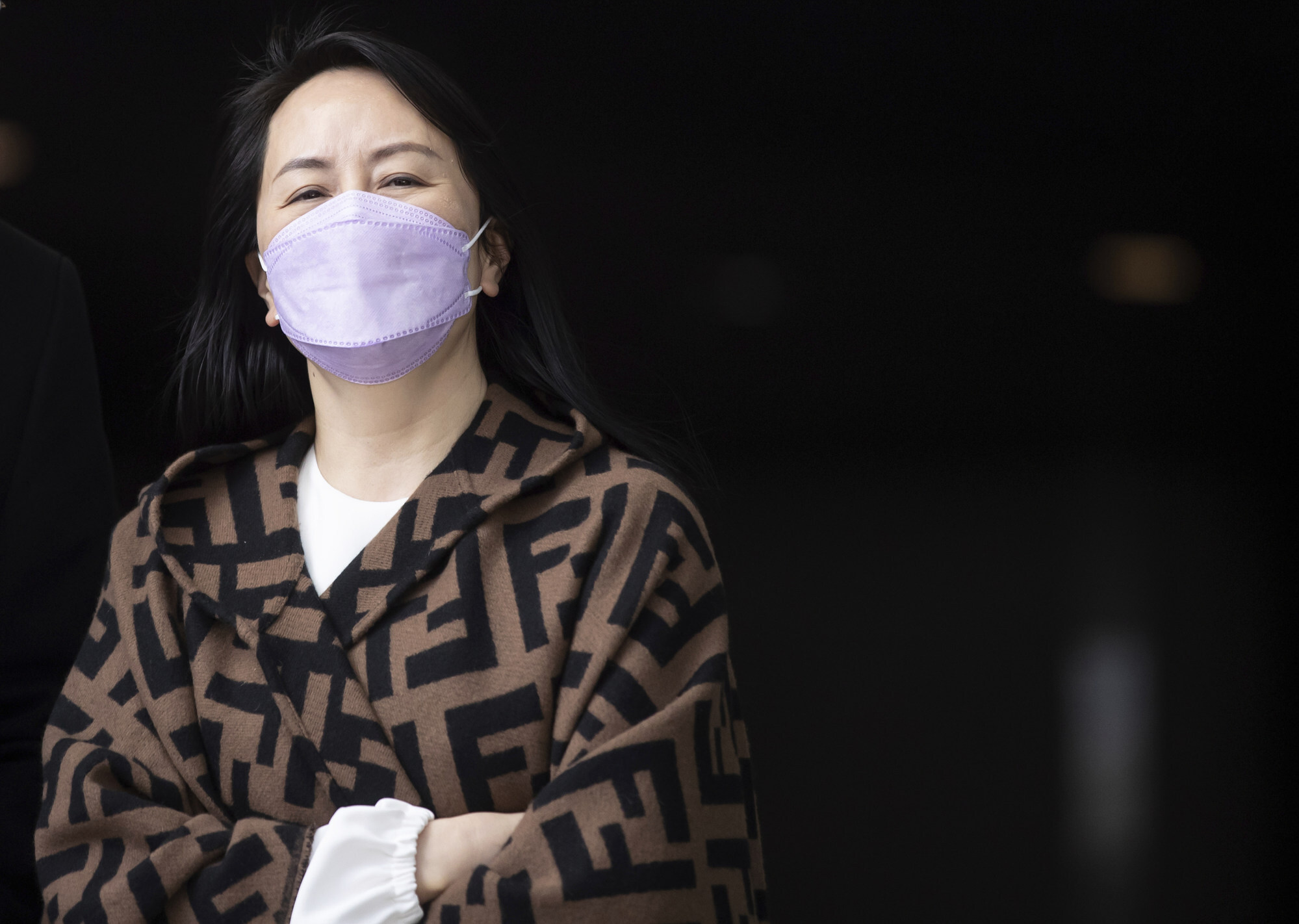 In court on Monday, Frater had said "there is literally no basis for this request ... they are asking once again to have this court turn itself into a trial court".
But Holmes disagreed. Now both sides will try to map out the rest of the complicated case, which involves some of Canada's leading defence and government lawyers, negotiating pandemic travel restrictions on both sides of the country with a mix of in-person, video and telephone hearings.
Meng will await the resumption of her case under partial house arrest in her C$13.7 million (US$11 million) home, one of two houses she owns in Vancouver.
In the days after her arrest, Canadians Michael Kovrig and Michael Spavor were detained in China and accused of espionage. Last month, they underwent closed-door trials that each lasted only a couple of hours; no verdicts have been announced.
Canada's government says Kovrig and Spavor are victims of hostage diplomacy and has called for their release. China, meanwhile, has repeatedly called on Canada to free Meng, categorising her arrest in similar terms.
More from South China Morning Post:
For the latest news from the South China Morning Post download our mobile app. Copyright 2021.
Join our Telegram channel to get our Evening Alerts and breaking news highlights