Cathay Pacific Airways has warned of some "extremely challenging" months ahead as stringent quarantine measures in Hong Kong dampened hopes of any near-term recovery.
The airline made the comments on Wednesday, as its latest report revealed it carried 981 passengers a day last month, the lowest rate since June last year.
Cathay kick-started a difficult 2021 with the lowest rate of passengers filling its planes in January on record, the company revealed in its monthly business report.
Get the latest insights and analysis from our Global Impact newsletter on the big stories originating in China.
"The year has already got off to a difficult start," Ronald Lam Siu-por, the airline's executive director, said. "Many of the challenges of 2020 continued into January, while a number of new ones have also emerged, most notably new Covid-19 strains and more severe lockdowns in some of our key markets."
Hong Kong's flag carrier has been forced to eliminate 11 routes to Europe, North America and regionally in response to the city requiring local pilots and cabin crew to quarantine upon their return, if they stayed outside China.
The measures could increase Cathay's cash burn by up to HK$400 million (US$51.6 million) a month. It was already losing HK$1 billion to HK$1.5 billion a month.
The quarantine order for local flight crews will start on Saturday.
"As long as stringent quarantine measures continue to be in place in Hong Kong and elsewhere, the coming months will be extremely challenging," Lam said, adding Cathay's ability to adapt to the measures would be key.
In January, the company carried 30,410 passengers, and the metric to indicate how full its planes were stood at 13.3 per cent – an all-time low.
The airline warned last month the quarantine measures could force it to cut passenger flight capacity by 60 per cent – a figure closely linked to how far the carrier flies and the number of seats per plane offered for sale – and trim space for air cargo by a quarter.
Flight operations before the latest cutback in flights were 90 per cent smaller than pre-pandemic levels.
Next month, Cathay will unveil its 2020 financial results, which are expected to show losses in excess of HK$20 billion.
Health authorities have imposed a 14-day quarantine order and seven days of medical surveillance on aircrew, during which they must not leave home unless absolutely necessary. The measures will kick in on February 20.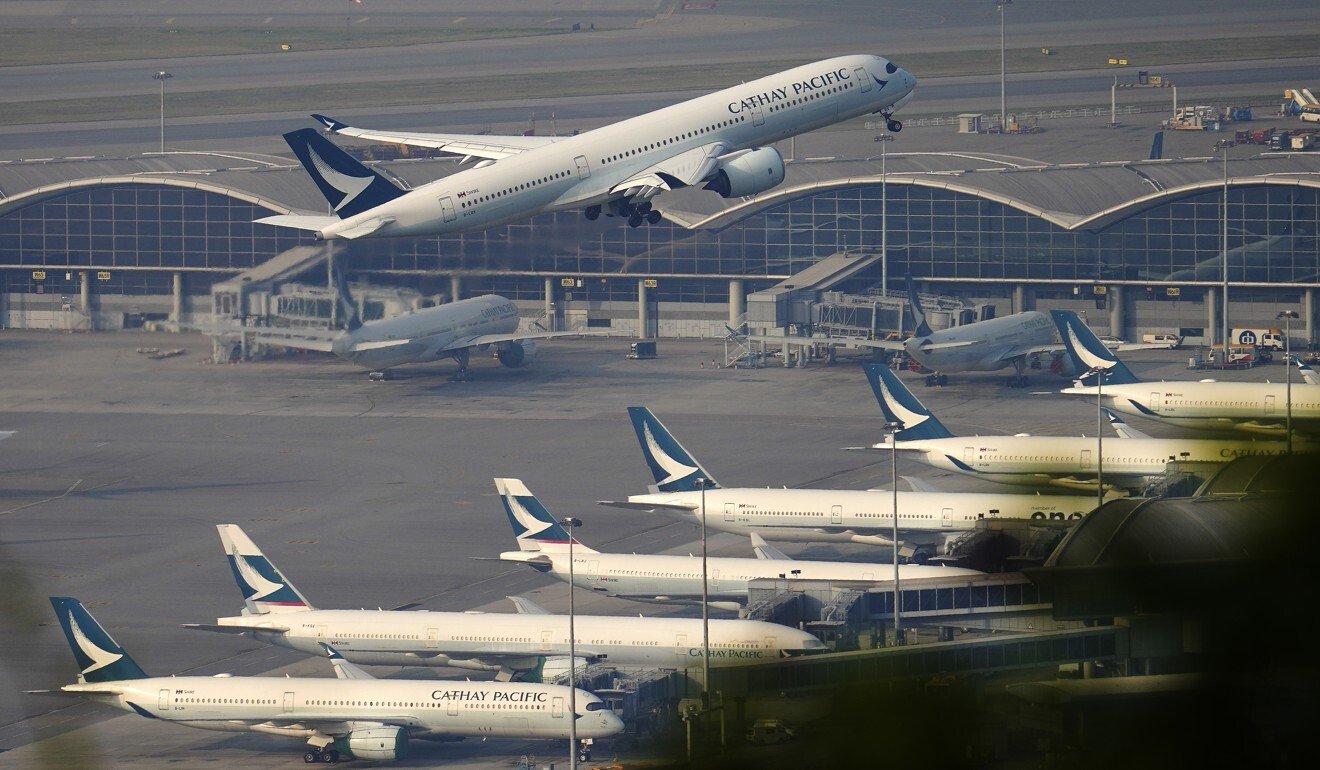 Flights involving local crew flying to another city and returning to Hong Kong would not need quarantine, as long as they do not leave the aircraft.
In response to the quarantine order, Cathay sought staff to volunteer for three weeks of flying duties before undertaking a fortnight of quarantine.
For now, long-haul routes temporarily cut until the end of February are Brisbane, Perth, Melbourne, Auckland, Frankfurt, Vancouver, San Francisco and Amsterdam. Within the region, the airline will cut Seoul, Kuala Lumpur and Ho Chi Minh City.
Flights in the region that will go ahead are: Taipei, Beijing, Shanghai, Jakarta, Surabaya, Osaka, Tokyo, Manila, Singapore and Bangkok.
Surviving longer-haul flights include: Sydney, Los Angeles, New York, Toronto, plus flights one-way from Hong Kong to London and one-way from Amsterdam to Hong Kong.
The airline axed 5,900 jobs last year and scrapped its regional carrier, Cathay Dragon, in October after the pandemic crippled the global aviation industry. - South China Morning Post:
Join our Telegram channel to get our Evening Alerts and breaking news highlights