CYBERJAYA: More than two million people in Petaling Jaya, Putrajaya and Kuala Lumpur will have to endure a month of water rationing from tomorrow – with two days of supply followed by two days of dry taps.
The second phase of the water rationing – to be in effect until March 31 – will involve 431,617 households and businesses in the districts of Gombak, Kuala Lumpur, Petaling, Klang, Shah Alam, Kuala Selangor and Hulu Selangor.
The seven districts will be divided into Zone 1 and Zone 2 – with each getting supply on a two-day rotation.
They will have water for 41 hours after which there will be no supply for 55 hours.
The rationing schedule, which will start in Zone 2 from Sunday, was announced during a press conference yesterday by the National Water Services Commission (SPAN) and Syarikat Bekalan Air Selangor Sdn Bhd (Syabas).
SPAN chairman Datuk Ismail Kassim said rationing had to be imposed because of the reduced amount of water released from the Selangor and Klang Gate dams both of which face low reserve levels.
The level at the Selangor dam is 47.5%, while at the Klang Gates, it is 54%, both of which are deemed critical.
He said there might also be supply disruptions in parts of Johor and Negri Sembilan due to the lack of rain since early this year.
"No disruptions are expected for the water supply in other states."
Ismail said that in Johor, residents in the Kluang district, who were already affected by the first phase of water rationing, would continue to face disruptions.
A total of 51,036 households in the district would get two days of water supply, followed by two days of dry taps, from today.
Before this, they had two days of supply followed by one day of water cut.
The nearby town of Kahang has also been placed on high alert with the level at the Kahang dam continuing to drop lower.
As for Negri Sembilan, he said although there would not be any disruptions for now, Syarikat Air Negri Sembilan (SAINS) would study the possibility of rationing for Tampin and Rembau if the situation got worse.
The first phase of the water rationing exercise in Hulu Langat, Kuala Langat and Sepang districts, affecting 60,185 households, began on Thursday.
Syabas said in a statement yesterday that all areas had received supply as planned.
On complaints on the quality of water in the beginning stages when supply was resumed, it said water from the pipes was murky due to sediments, adding that quality would improve after a while.
Syabas' operations division executive director Yusof Saroji said 168 valves would be switched on and off each day to control supply with 230 officers involved in manning the operation.
"We will begin turning on or off valves between 9am and 11am each day.
"Supply may be delayed to those living further and on hilly areas but they should receive water latest by 4pm.
He said water tankers would only be used if the affected areas did not get supply as scheduled.
Meanwhile, the Meteorological Department's cloud seeding operations were still on hold due to the lack of suitable clouds.
Its forecast director Muhammad Helmi Abdullah said work would begin as soon as cumulus clouds, which are suitable for seeding, were sighted.
The department had planned to undertake cloud seeding over water catchment areas in Selangor, Johor, Malacca and Negri Sembilan on Wednesday.
Water ration schedule
Under the rationing exercise from March 2 to 31, each zone will get water supply every two days. The supply disruption will start with areas in Zone 2. This means areas in Zone 1 will have water supply tomorrow and on Monday.
---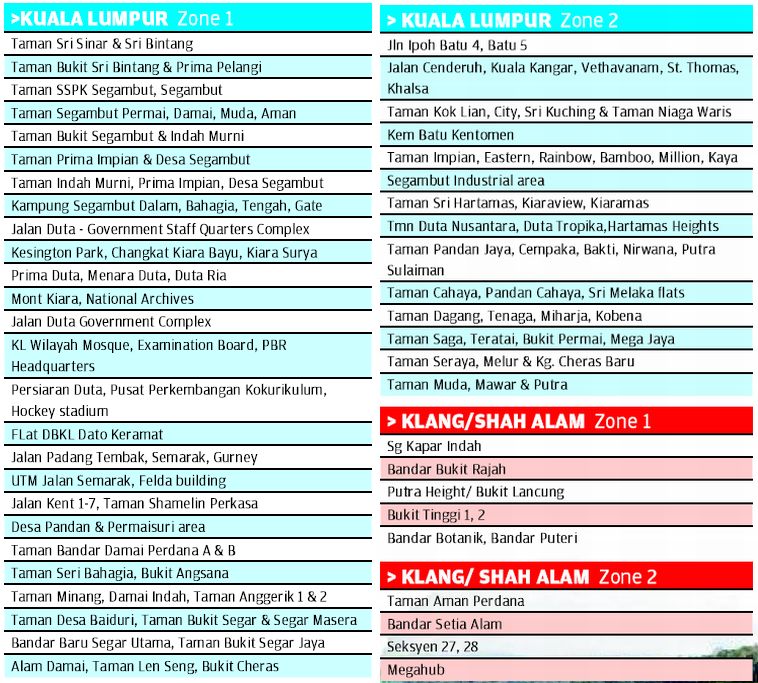 ---
Related stories:
Crazy rush for pails and storage containers
Fighting bushfires a challenging task for firemen
Rationing water woes at welfare home
Many turn to divine intervention for rain
Subscribe now to our Premium Plan for an ad-free and unlimited reading experience!