Investors need to know the intricacies of the poultry business in order to make a success of it.
ONE of the reasons some long-term investors would shy away from poultry stocks is the cyclical nature of the business. 
The key factors needed to thrive in this cutthroat business are cost and production efficiency, volume and cashflow. 
As one player put simply, "supply and demand affect average selling prices". 
While the statement may sound over simplistic, the factors affecting supply and demand in the poultry business can be intricate.  
First of all, the players are dealing with livestock. The chickens' living environment like temperature, cleanliness and food will influence their productivity.  
"We are not like goods manufacturers whereby the number of items we produce are predictable. 
"Without experience and quality control, it is difficult to produce at the optimal capacity," he says.   
One of the wildcards, such as an outbreak, can wipe out a farm. 
Not just that, whenever there is a disease, consumers will shy away from the livestock and the plunge in demand could be a double-whammy for poultry farmers. \
Over the years, the hygiene standards of farms have improved and chickens are now reared in enclosed farms, reducing risks of diseases transmitted from wild birds, the player explains.  
Demand is also affected by festivity. During Chinese New Year, average farm prices for live chicken increased by 18% in February compared to January.
But based on the quarter ended December 31, 2014, only a handful of companies are able to deliver profits. 
A number of them suffered due to lower average selling prices of chicken in the third quarter of 2014. 
Huat Lai Resources Bhd

made a loss of RM9.59mil, CAB Cakaran Corp Bhd

lost RM3.24mil and DBE Gurney Resources Bhd lost RM5.12mil when they announced their latest quarterly results.  
On the other hand, egg sellers have enjoyed a good profit because of improved selling prices coupled with low commodity prices.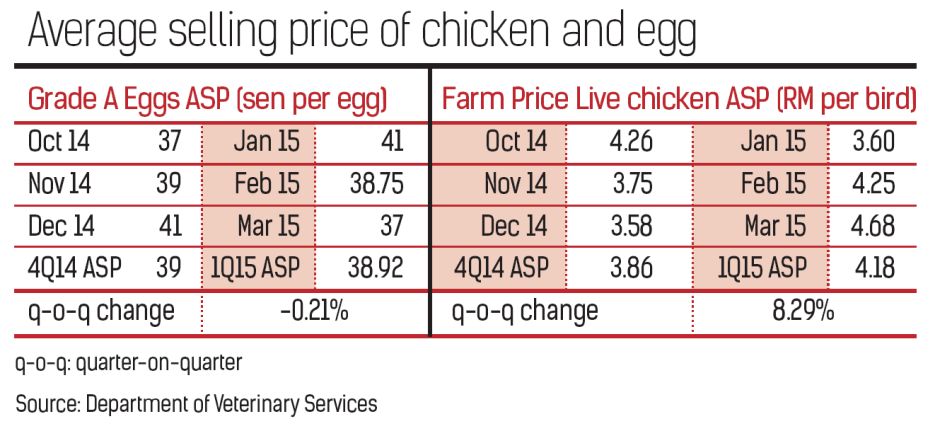 Gainers for the quarter ended December 31, 2014 are Teo Seng Capital Bhd

(RM17.97mil), Lay Hong Bhd

(RM6.3mil) and LTKM Bhd

(RM7.92mil). 
One analyst points out that it is more important to look at whether their margins are sustainable rather than short-term financial numbers. 
"It is hard to find a poultry stock that is profitable every quarter. It is more important to look at the bigger picture such as their strategic plans."
That said, what separates a well-run company from one that's less is how it manages its operations and balance sheet.   
"It's a volume game, so it boils down to our cost," one player quips.
An industry player notes that 45% of the broilers in the market are supplied by small farmers while 72% of eggs in the market are supplied by small farmers. 
Take Teo Seng Capital Bhd as an example, being part of the much bigger Leong Hup Group enables it to purchase raw feed material in bulk and hence the bargain power for lower prices. Because of that, it enjoys net margins in the teens, which is considered impressive for the sector.  
In an interview with StarBizWeek previously, Leong Hup's head honcho Tan Sri Francis Lau Tuang Nguang said the group buys 1.6 to two million tonnes of raw material for fee stock per year. At that volume, a discount of 2% to 3% will save it a lot of money.  
Meanwhile, some players see it as a cashflow game. 
"Our turnover is more important than profit. We have to grow bigger to be in the competition," says another player. 
Some players in the industry have higher gearing but they continue to stay in the game as they buy up their smaller competitors. 
Because of that, they may have to trade off their margins for the acquisitions as the synergy could only come in later. 
On that, an analyst comments: "It is important to be a big player in the market but making profit is even more important." 
However, each company has a different strategy to expand. 
Another analyst reckons that as long as the company has a strong balance sheet to absorb the fluctuation in margins, it should be able to return to profitability quickly.   
Poultry companies are sensitive to prices in soybean and corn - the main raw material for feedstock. In a year, soybean declined 33% and corn decreased 23%.
The drop in commodity prices offset the weaker ringgit, which softened by 12% compared to the US dollar.  
A player says the higher costs in feedstock are usually passed down to consumers because chicken and egg are basic items.  
"No one can predict the currency so we don't see the reason to hedge," he adds.  
It takes about three months to see the changes in the costs of raw material because that's the time needed for corn and soybean to be shipped from America to Malaysia, explains the player. 
To mitigate the volatile earnings, most poultry players have supplementary businesses to bolster their core earnings.  
Some of them manufacture packaging for their products and sell animal health products. 
To reduce cost, most of them adopt the integrated livestock farm concept. 
Others move downstream to sell processed food that offers better margins.   
In some cases, they venture into retail stores or even property development.
Recently, CAB Cakaran signed an agreement with Japan's New Chemical Trading Co Ltd and Seri Kedah Corp Sdn Bhd to provide biomass energy from chicken waste. 
The new business is expected to generate 10% of CAB Cakaran's topline in two years. 
"The business of chicken and egg is considered recession-proof so investors should not avoid the sector altogether," says an analyst.
Did you find this article insightful?